Every day, propane is used in households and workplaces around us. However, moving propane from the tank to a burner tip, where it may be used, necessitates the use of specialized equipment and accessories.
Propane hoses can only be used to link propane to gas appliances like grills and fire pits. The propane tank regulator and the propane equipment are connected by a hose. On the other hand, natural gas hoses are used in furnaces and appliances where compressed or uncompressed gas exists.
There are a variety of propane hoses available, including one with a different fitting on the end to work with various regulators and appliances. Any hose used for propane transmission must be certified, and must be built of plastic or rubber, with a steel mesh coating for extra durability.
Propane and natural gas are both sources of fuel. They are more efficient and cheaper than electricity, which is why they are often chosen by households and businesses.
Differences Between Propane Hose and Natural Gas Hose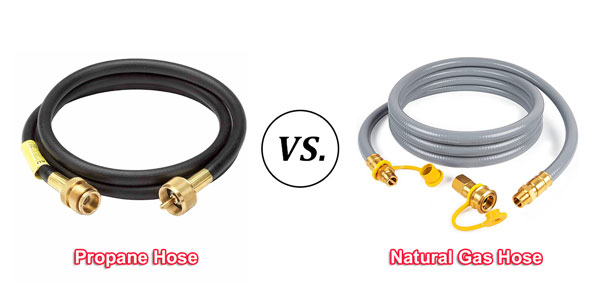 Natural Gas vs. Propane
The key distinction for homeowners is that propane is compressed into a liquid form and sold in portable canisters or supplied to a long-lasting storage tank on their property by truck. Natural gas, on the other hand, is transported to the residence in a gaseous state through a pipeline.
Used for / Application
Propane hoses are only suitable for a limited number of uses, such as gas grills. The propane tank regulator and the propane appliance are connected by a hose. There are several distinct types of propane hoses, each with a different fitting on the tip to work with various regulators and equipment.
Natural gas hoses are typically used in metal fabrication such as assembly, soldering, cutting, pre-heating, post-heating, melting, and many other welding projects.
Pressure Range
Low pressure hoses are designed for natural gas, oxygen, acetylene, and other neutral gases. High pressure hoses are designed to withstand pressure that is greater than 140 bar. In addition, it is also used to load and unload gas cylinders.
Fittings Matching Type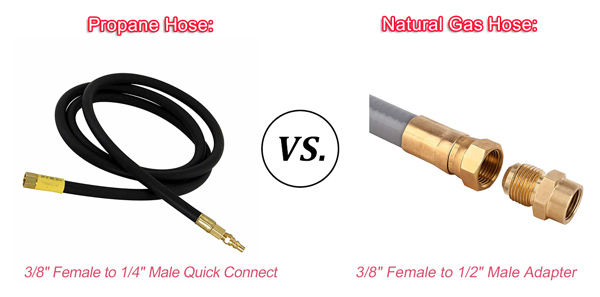 A 3/8″ NPT fitting is commonly found on the line coming out of the regulator and providing propane to your appliances, with the female end on the regulator and the male end on the supply hose.
Price
A standard 8' high-pressure propane hose costs around $20 to $35. The price depends on the length and features of the hose. On the other hand, a ¾ inch natural gas hose with connecting fittings can cost $30 to $100. This will also depend on the length and conversion kits included.
Propane Hose vs. Natural Gas Hose: Quick Comparison Chart
| | | |
| --- | --- | --- |
| | Used for gas appliances and grills & firepits | Used for compressed and uncompressed gases |
| | NL1770 nitrile rubber, synthetic rubber, high-tensile braided yarn | Polyvinyl Chloride (PVC), Stainless steel, Nitril rubber, Polyester |
| | limited uses, such as gas grills. | typically used in metal fabrication such as cutting, assembly, pre-heating, soldering, melting, post-heating, and other welding projects. |
| | | |
| | | |
Can A Propane Hose Be Used For Natural Gas?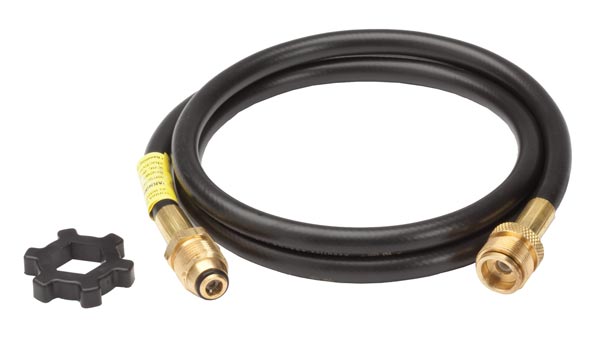 Technically, the reason why propane hose will not work with natural gas is because of the difference in gas service pressure. The opening of the pipe for natural gas is larger than that of propane. Thus, using a propane device with natural gas will likely result in a very small flame or no flame at all.
Final Verdict
Natural gas is a resource that is only supplied in specific places and is delivered to homes through pipelines. Propane is stored in tanks that must be refilled and replaced on a regular basis.
Different hose materials have different qualities. Therefore, knowing the material properties for your application and medium is critical. Each fuel source requires different gas usage fittings, thus they are not interchangeable.