Gardeners and plant enthusiasts demand a product that offers convenience and maximum coverage for an efficient watering system. That's why soaker hoses are appealing to their taste since not only are they water savers, they are more practical as well for your garden care if time is not always at your side.
Introduction to (Mr.) Rain Barrel Soaker Hose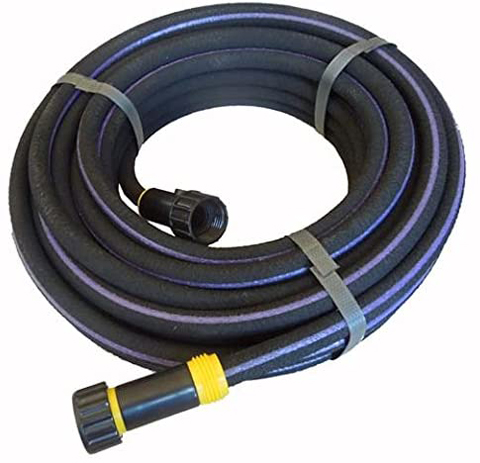 Enter Rain Barrel Soaker Hose, the Mother Nature-friendly tool for your garden and plant needs. It promises all the benefits that a soaker hose can provide – as long as you can also live with its compromises.
The Rain Barrel Soaker Hose does not want things to be complicated. Just as the name suggests, it will just require a literal barrel that catches rain from your gutters. I like features that use the properties of nature. For busy garden lovers who love taking care of plants but preoccupied with a lot of things, this will be the perfect product for you. It just wants to genuinely care for their users as well as their plants.
If you're a hardcore garden enthusiast, you may also get exposed to its shortcomings. The barrel may require frequent cleaning, which can be a pain. And the hose may be susceptible to clogging since, after all, rain from the gutters may wash unwanted elements. The hose is not porous since it only relies on gravity for water distribution. And also, pricing may not be palatable for garden owners, especially when you need to expand.
Dimensions & Specifications
| | |
| --- | --- |
| | |
| | |
| | |
| | |
| | |
| | |
| | |
| | |
| | 30 days refund/replacement, 3 years manufacturer's warranty |
Features and Benefits
The Rain Barrel Soaker Hose offers all the benefits of natural garden care for homeowners.
Easy Setup
The Rain Barrel soaker hose comes with a T-filter mesh that can be easily connected to any barrel that catches rainwater from your gutter. Just fit the hose to its connecting ends and that's it. No need to use glue, clamps, or anything else as it will fit right in securely. Don't forget to measure first and sketch your garden lot before laying it out. If the 50 feet variant won't be enough, then you can purchase additional hose and fittings.
Gravity-Controlled Pressure
The best thing about the Rain Barrel Soaker Hose is it will do its job naturally without the need to check routinely if your plants are taken care of. No need as well to tinker with pressure sensitivities; no need to worry about manually sprinkling water on your garden, or even setting it up electrically. Earth's gravity will take care of the water without impeding the flow. The manufacturer discourages users from connecting the hose directly to a water faucet, showing the confidence in its capabilities.
They also recommend the barrel to be more elevated to maximize greater water pressure. You can be assured that time is on your hands, and that's the thing I love about this product – total convenience.
Expandable
Let's say you began to grow your garden lot which means expanding your irrigation system. Not to worry, because since it is easy to customize, expansion of your water distribution system will be a breeze since you purchase additional hoses, couplings, elbows, etc.
Through this, you can customize a variety of installation methods suitable for your garden; you can do a closed-loop for smaller spaced gardens or even expand for larger acreage.
Tips for Using the (Mr.) Rain Barrel Soaker Hose
The manufacturer highly recommends 500 liters of the barrel and elevated to get more pressure out of the soaker hose. Also, they refrain users from connecting it to a direct faucet as it may affect water pressure integrity.
Also, before splicing your hose, it will be good to have good measurements and a sketch of your garden to have a good layout on how your hose will be laid. Since parts such as filters and connectors can be purchased separately, you can set it up based on how your garden looks.
Cleaning of barrels and filters is recommended twice per year but it may depend if molds and slimes may accumulate, especially during the rainy season.
(Mr.) Rain Barrel Soaker Hose Reviews
Reviews from owners of the Rain Barrel were a mixed bag. Most were bright spots mentioned from satisfied customers based on their Amazon and Walmart purchase like the following:

Alternatives
The Water Right Soaker Hose can be connected directly to a water faucet and can be regulated to different water pressure settings which Rain Barrel cannot (or wouldn't) do. Ideal not only for gardening but also an all-purpose hose for cleaning, and drinking. It is also durable and doesn't kink.
What if you want a soaker hose that can double the length of Rain Barrel with the same functionality and priced affordably? Unlike its counterpart, the Flexon soaker hose can be connected directly to a faucet, expanding its length up to 100 feet, and also safe in case your pets may wander around your garden.
Made from recycled rubber and guaranteed to save more water than any other soakers. However, the Element soaker hose requires a direct connection to a water line. Like the Rain Barrel, setting up is also a breeze.
Final Verdict
If you are an environmentally conscious garden lover and deeply believe that nature should nurture your garden, then the Rain Barrel Soaker Hose will be the perfect complement for that. It is basic to use and does its job without the need to check for settings and perform calibrations.