Bernini No Kink Metal Garden Hose Reviews:
Ease of Use

Quality

Performance

Price
Quick Summary:
Its lightweight design makes it convenient and easy to carry. Having an adjustable nozzle also makes it uniquely different from other hoses.
Are you one of those people who, like me, are tired of the traditional green garden hoses that get all twisty and kinked up that water won't pass through, thus creating those unnecessary leaks? Worry no more as after scouring Google for different brands, I've come across the Bernini No Kink Metal Garden Hose.
Introduction of Bernini Hose
Made of 304 stainless steel, Bernini designed its features that offer durability, versatility, and flexibility. The hose claims to be lightweight and easy to use, which makes it easier to move from place to place comfortably.
Bernini No Kink Metal Garden Hose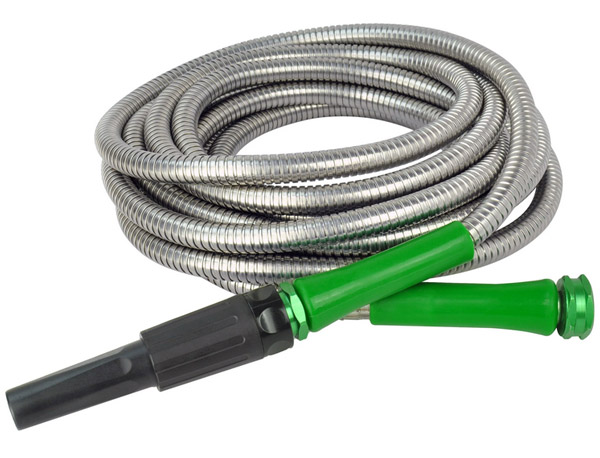 When scouting for the best garden accessory, one of the factors to consider is its durability, quality, and effectiveness. If you're after these features, this lightweight hose might be your new garden buddy. Bernini Hose keeps you free from those tangled twisted knots as it is here to make your gardening duty easier and stress-free. It's perfect for places that use high water pressure such as outdoor and commercial use as well as car washes.
| | |
| --- | --- |
| | Bernini No Kink Metal Garden Hose |
| | |
| | |
| | |
| | 304 Grade Stainless Steel |
| | |
| | 10.91 x 9.96 x 4.13 inches |
| | |
| | |
Features and Benefits
Kink-free Design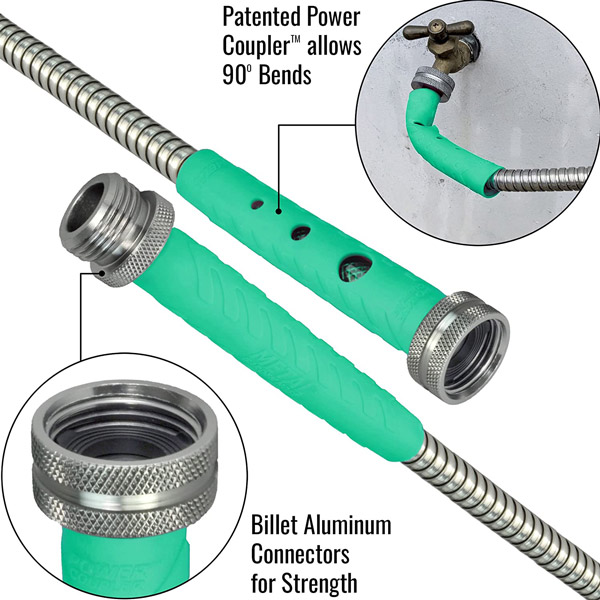 This hose is designed to not easily kink, allowing users to go on with their tasks without needing to keep undoing knots. Unlike cheaper hoses, the Bernini hose ensures that water will continue flowing as its stainless steel casing keeps it straight during unraveling.
Flexible and Easy to Store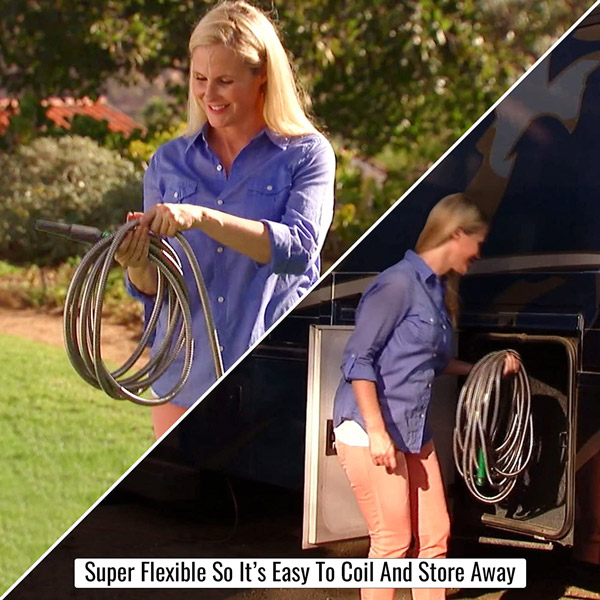 Contrary to what most people think, stainless steel hoses can be more flexible than ordinary rubber hoses. Since the Bernini Hose is kink-free, it can be easily stored away when not in use.
Adjustable Spray Nozzle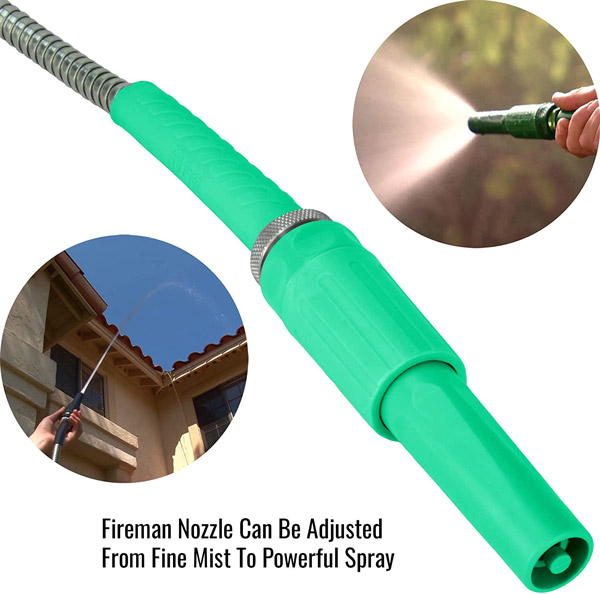 Having a fireman-style spray nozzle is convenient as users can easily adjust its flow power, depending on their need – from a fine delicate mist for small plants to a spray powerful enough to wash away the dirt on floors, decks, and driveways.
Durable and Resilient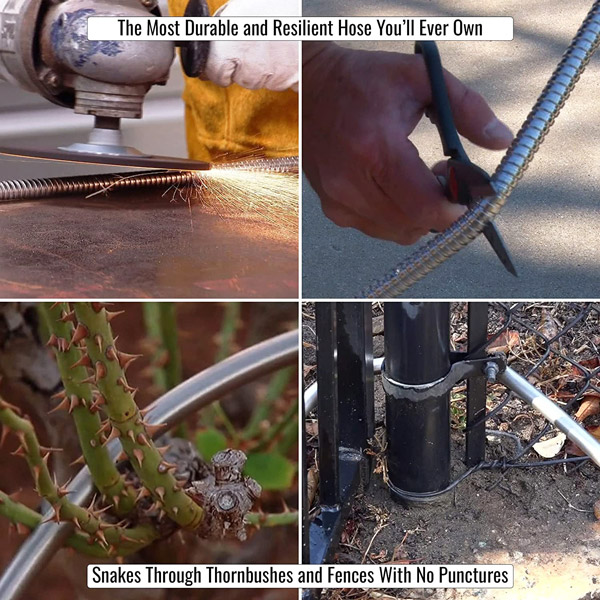 Made of 304-grade stainless steel, it gives the hose the durability to withstand harsh conditions, making it perfect for outdoor use. You don't have to worry about pulling the hose through bushes, barbed wire fences or even leaving the hose outside during hot, sunny days or cold, freezing nights. Its protective coating can resist rust and corrosion when exposed to wind, snow, and rain. Count on more reliable years by using this resilient hose.
Tips for Using the Bernini Hose
When using its sprayer, just twist the nozzle in the direction you want, and turn it on from a delicate mist to almost like a pressure washer.
Another tip to save up! – Connect two 50ft hoses to become 100ft and it weighs only around 10lbs, still pretty lightweight.
Customer Reviews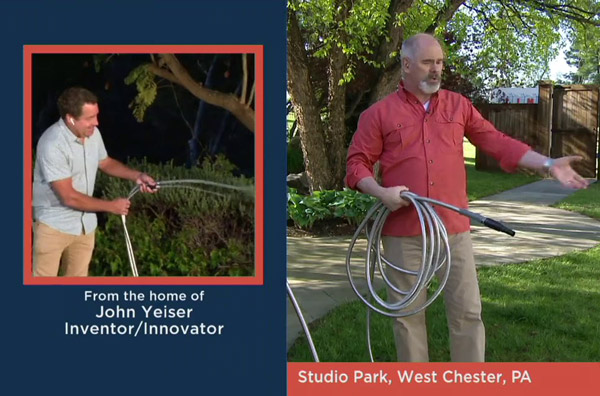 Having a rating of 3.8 out of 5 stars on Amazon.com, most customers recommend the Bernini No Kink Metal Garden Hose.
Its lightweight material makes it convenient for users to carry even when filled with water as it does not tangle up and easily coils up for storage. Vouched by some, its ergonomic handle makes it easy to grip so no more struggling on its nozzle setting.
Alternatives
Made with a micro-weave design, the lightweight Bionic Flex Pro Hose is just like the Bernini Hose as it won't tangle or kink. Its durability makes it resistant to tears, punctures, and leaks and has all-weather flexibility. Thanks to its brass fittings, it can withstand scuffs, and extreme forces, as it can maintain its shape.
Like the Bernini Hose, this lightweight hose does not tangle or kink. Its protective fiber jacket makes the hose durable, flexible, and abrasion-resistant. Its fittings, on the other hand, are solid and leak-proof. Its fittings allow the water to be safe enough to drink. Perfect to fit lawns, gardens, and many more!
Its puncture-proof and flexible housing makes this stainless steel hose extremely durable. Unlike hoses with ordinary fittings, Bionic Steel garden hose boasts of its aluminum crush-resistant fittings, which remain solid even under pressure. Unlike the Bernini Hose, this hose has multiple coatings to resist tear and kink both inside and outside.
Final Verdict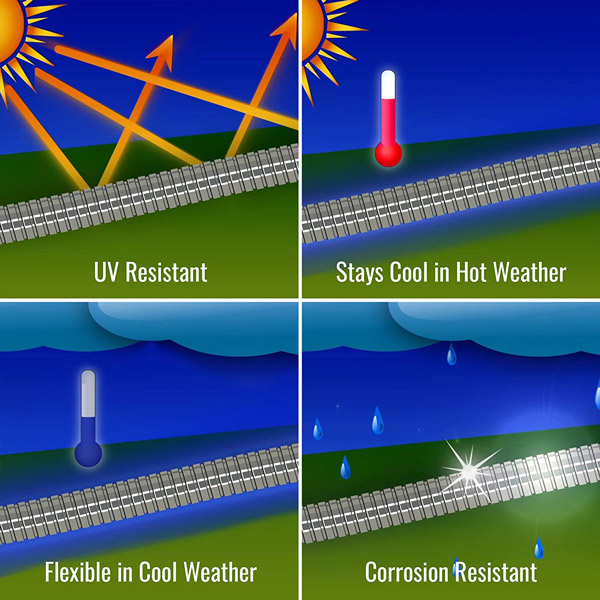 For something ultra-lightweight, ultra-kink-free, and flexible, look no further as the Bernini Hose might just be right for you. Said to be virtually indestructible, its stainless steel material can withstand general wear and tear.
Check out here to find out more about the product and why most users recommend it.