HydroTech Expandable Burst Proof Hose Reviews:
Ease of Use

Quality

Performance

Price
Quick Summary:
Very convenient to use; expands when necessary, and shrinks when stored.
Your garden needs enough sunlight, nutrients, and water in order to thrive. This is what a water hose is for. When choosing a water hose, it's important to pick one with high quality. While a hose seems just like a simple device, it can help you in a lot of ways. Aside from gardening, a water hose can also be useful in cleaning your car and even bathing your pets.
One such product is the HydroTech Expandable Burst Proof Hose. Read on to learn about the product's features, specs, and how it can help you.
HydroTech Expandable Burst Proof Hose
Whether you're working in your garden, garage, or campsite, the HydroTech Expandable Burst Proof Hose can work with you. Easy to transport, the hose will not break or burst even with heavy duty use. Light but durable, flexible, and always providing optimal water pressure, it is intended to be the only garden hose you'll ever need!
Dimensions and Specifications
| | |
| --- | --- |
| | HydroTech Expandable Burst Proof Hose |
| | |
| | |
| | |
| | |
| | |
| | |
| | |
| | |
| | |
Features and Benefits
Following are some of the main features and benefits of the HydroTech Expandable Burst Proof Hose that make the product stand out from the rest:
Burst-Proof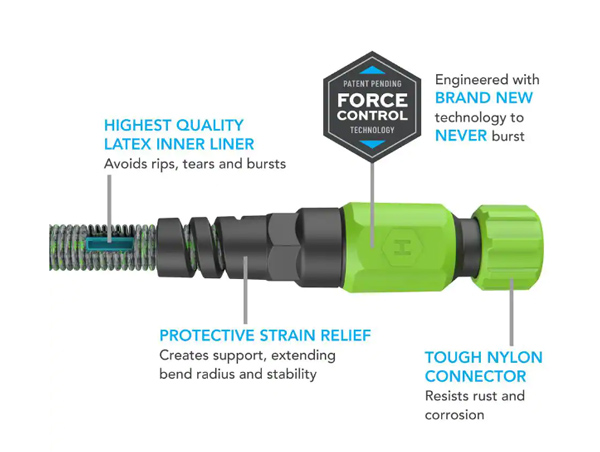 The HydroTech hose is equipped with force control technology (patent-pending). This feature makes sure that water flow is well under control, and the hose doesn't burst – even with extreme water pressure.
Durable Brass Valve
The hose's valve is made from high quality brass. It has a shut-off flow control feature that allows easy control of the water flow. You can maintain the desired pressure consistently.
Lightweight & Easy to Store
The hose weighs just a bit over 3 lbs. This is much lighter than regular hoses that have an average weight of 7 lbs. You can easily move it around when gardening or washing your car. The HydroTech expandable garden hose can help you in all your gardening tasks.
In addition, the 50-foot hose can shrink to as small as 17 feet when fully drained and ready to store.
Corrosion-Resistant Connectors
The connectors are made of tough and corrosion-free nylon. This ensures a tight and leak-free seal when attaching the hose to the spigot.
Thick Interior Lining
The hose's interior is lined with thick latex. This adds an extra protection layer and toughness to the hose, and prevents rips and tears.
Mold & Mildew Resistant
The hose exterior is made of mold & mildew resistant nylon. This ensures that the product is protected from unwanted growth that can damage it, and affect your health.
Solid Nylon-Connector Support
The hose is equipped with a strain relief guard. This ensures solid connection while extending the hose's flexibility and bend radius.
Tips for Using the HydroTech Expandable Burst Proof Hose
Here are some useful tips for optimum use and to prolong the life of your HydroTech Expandable Burst Proof Hose:
Make it a point to completely drain the hose after using; allow it to shrink to about 1/3 of its extended size before storing.
Avoid storing the hose in direct sunlight; it is best to keep it indoors.
Avoid exposure to extreme winter weather conditions.
Refrain from using the hose unless it is filled with water.
Keep your expandable hose away from sharp objects.
Customer Reviews of HydroTech Expandable Burst Proof Hose
We scoured the internet for reviews about the HydroTech Expandable Burst Proof Hose. We found both positive and negative reviews that can help give you an idea on the overall performance of the product.
Many users are pleased about the product's overall performance. Some reviewers rave about its light weight, maneuverablility, and convenience of use.
However, there are also some reviewers that are disappointed with how the hose head breaks easily after only a few months. This should only be a minor concern since the product is covered with a full warranty.
Alternatives
Lightweight yet very durable, the Flexi Hose is ideal for heavy duty use. It also comes with strong and reliable fittings that ensure leak-free connections to regular taps in the US.
TheFitLife expandable garden hose is quick-expanding when used, and is suitable for various purposes. It is made of premium quality materials that guarantees long useful life.
The GardGuard garden hose comes with a 10-function nozzle, which is more than what other brands have. It is lightweight, flexible, kink-free, and comes with solid fittings.
Final Verdict
The advent of the expandable garden hose has solved some of the main concerns that many regular garden hose users faced in the past – kinking and tangling, heavy weight, and maneuverability problems, among others.
The HydroTech Expandable Burst Proof Hose addresses all these issues – and more. Designed for durability and heavy duty performance, the hose claims to be the only garden hose you will ever need. This is a big claim, but many satisfied users agree that it lives up to this promise.
Check out the product here, and let us know what your think.