Joeys Garden Expandable Garden Hose Reviews:
Ease of Use

Quality

Performance

Price
Quick Summary:
Very easy to use, durable, and flexible, the product is backed by a lifetime warranty.
If you're looking for a garden hose that's quick and convenient to use, flexible, and easy to store, then an expandable garden hose is ideal for you. It expands to 3x the original size when used, then turns back to its original compact size after use for easy storage.
Joeys Garden Expandable Garden Hose has all these features – and more. Read the rest of this Joeys Garden Expandable Garden Hose review for more details about the product – its specs, features, and benefits, among others.
Joeys Garden Expandable Garden Hose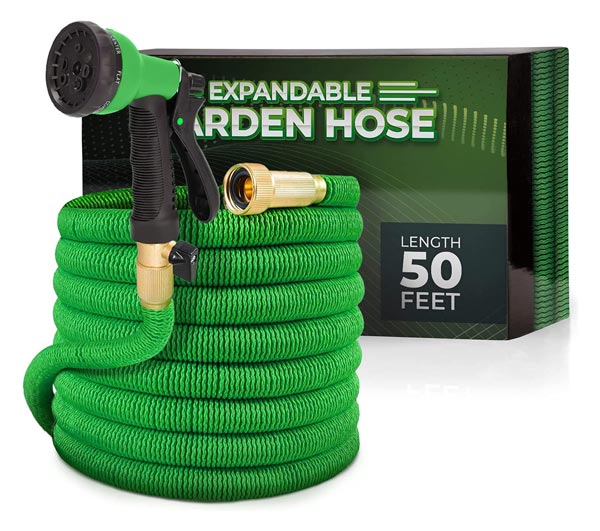 Joeys Garden Expandable Garden Hose is highly rated for being extremely easy to use. It is also comfortable to handle and maneuver, flexible, lighter than regular hoses, and durable enough for an expandable garden hose.
The product is perfect if you only intend to use it for simple garden watering tasks on a level-ground garden without rough or sharp terrain that might damage the hose's outer layer. It is affordable despite being made from quality materials.
| | |
| --- | --- |
| | Joeys Garden Expandable Garden Hose |
| | |
| | |
| | |
| | |
| | |
| | |
| | |
| | |
| | |
Features and Benefits
Here are some of the main features and benefits of the Joeys Garden Expandable Garden Hose:
Easy to Handle
Joeys Garden Expandable Garden hose is very easy to handle that even seniors and bigger kids can enjoy using it. It is easy to maneuver and not too heavy to carry around the yard or garden.
Quick to Expand and Retract
The hose expands quickly with low water pressure, then drains and empties itself in a matter of seconds once you're done.
Solid Brass Connectors and Multi-Function Nozzle
With leak-free and heavy duty connectors, water flow control is easier. The 8-pattern sprayer, on the other hand, allows for watering versatility.
High Quality Materials
The hose has a 3-layer latex interior and elastic fabric exterior that is one of the toughest materials around. The hose underwent rigid testing for durability to guarantee leak-free operation.
Tips for Using the Joeys Garden Expandable Garden Hose
Although expandable garden hoses are notorious for being less durable than regular rubber hoses, there are some things that you can do to extend the useful life of your Joeys Garden hose:
Always remember that the hose is intended to run water only, and not any other liquid.

Don't use the Joeys Garden Expandable Garden Hose around sharp objects to avoid abrasions and punctures.

Store the hose indoors and away from harsh weather conditions.

Don't forget to turn off the water source when the hose is not in use.

After using and allowing the hose to drain on its own, squeeze the nozzle to get rid of any remaining water. Only store the hose once you're sure it is completely drained.
Joeys Garden Expandable Garden Hose Customer Reviews
Being a popular product, you'll find many reviews about Joeys Garden Expandable Garden Hose online, most of which are positive.
Satisfied users rave about how the product is easy to use and carry around. Others like its affordable price despite being made from high quality materials.
On the other hand, unhappy users, although happy with its performance, are disappointed that the hose broke within a short time. Other negative reviews say the product is not ideal for use on rough terrain.
Here are screenshots of some of the online reviews we found:
Alternatives
Made from durable materials and with an innovative design, the TBI Pro Expandable Garden Hose is leak-free, and has solved the common problems that other expandable hoses encounter: punctures, kinks, and twists.
The Knoikos Expandable Garden Hose is equipped with a 10-pattern spray nozzle, which is more than what other hoses offer. It is also durable and designed to be leak-free.
Covered in smooth fabric casing, the Delxo Expandable Garden Hose doesn't easily kink and tangle. It expands to more than 3x its original length when used.
Final Verdict
If you are looking for an easy to use expandable garden hose for simple day to day gardening tasks, and on relatively even ground, then the Joeys Garden expandable hose is a good choice. It can suit your intended use well. In addition, it is affordable, considering it is made from quality materials.
If you need more information about the Joeys Garden Expandable Garden Hose, check it out on Amazon. Let us know what you think by leaving a comment or feedback below.