Bionic Flex Pro Hose Garden Hose Reviews:
Ease of Use

Quality

Performance

Price
Quick Summary:
A great replacement for heavy and traditional hoses, the Bionic Flex Hose is lightweight, durable, flexible, and easy to go around different corners.
Traditional garden hoses do not have kink-resistant and tangle-resistant features wherein you spend a lot of time removing those tangles before starting any work. By the time you've detangled it, you're already tired. But with the Bionic Flex Pro Garden Hose, there is no need for all the pre-work. But even if it gets tied up sometimes, it wouldn't be a bother as water would still flow, so undoing it wouldn't be necessary.
Introduction of Bionic Flex Pro Hose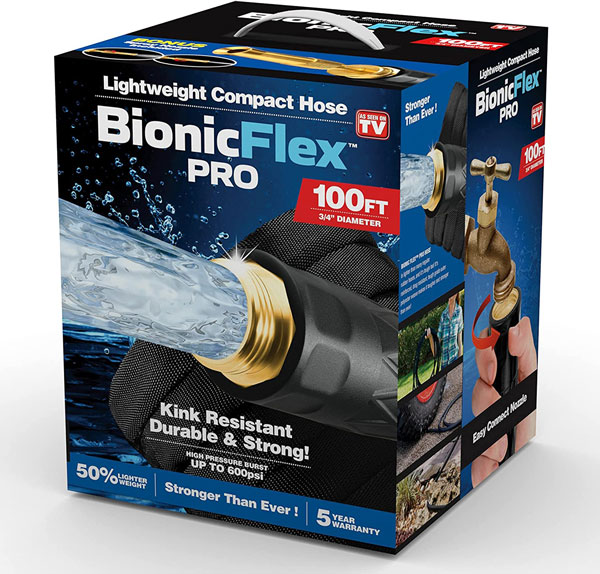 Made from a durable hybrid polyester weave, the Bionic Flex Pro Garden Hose is not only heavy-duty and lightweight but it is also heat resistant, weatherproof, and kink-free! The hose has a 5/8" diameter, solid brass crush-resistant fittings, and has up to 500psi burst strength.
Equipped with an adjustable brass spray nozzle, it can shoot water whether mist close or far. Its non-expandable feature is great for a steady and uninterrupted flow of water.
| | |
| --- | --- |
| | Bionic Flex Pro Garden Hose |
| | |
| | |
| | |
| | |
| | |
| | |
| | |
| | |
| | |
Features and Benefits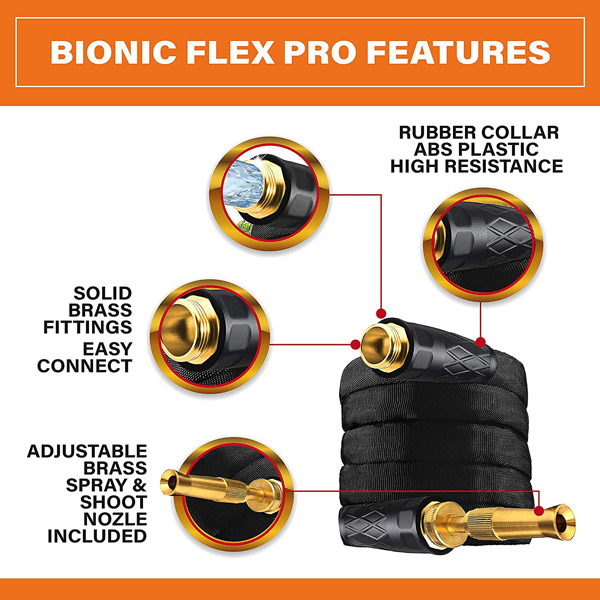 Lightweight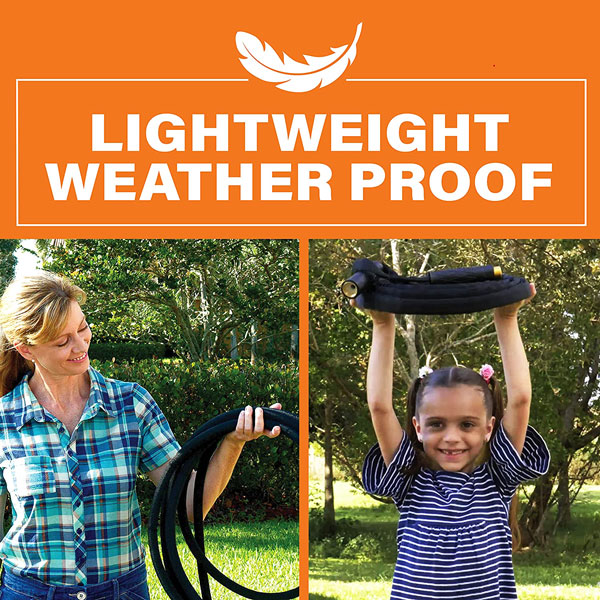 This hose is lightweight enough that even kids, seniors, and other adults with mobility issues will have no problem lifting and moving it around. With this, you'll be able to do more tasks faster.
Commercial Grade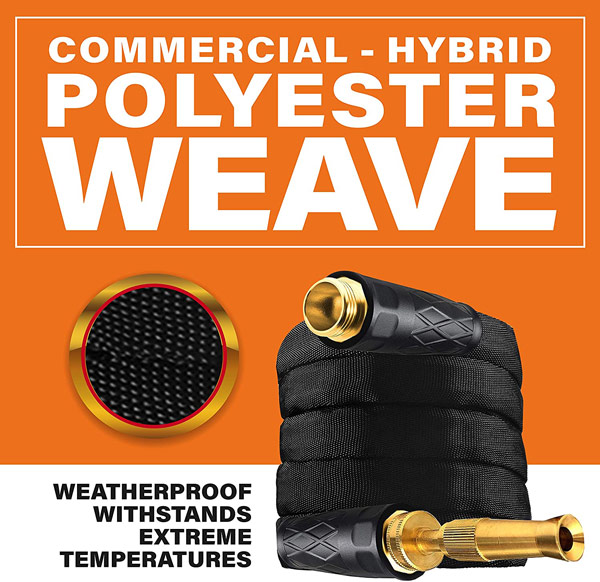 Made with drag-resistant, reinforced, and commercial grade material, the hose's outer polyester weaves makes it tough and strong.
Solid Brass Fittings and Tear Resistant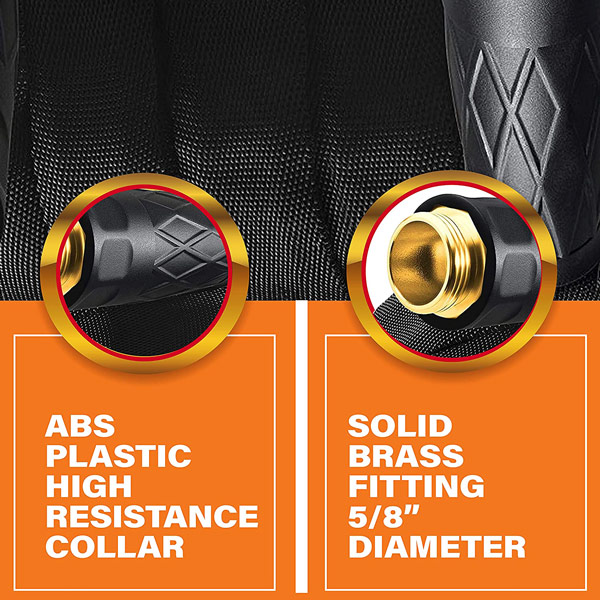 Instead of plastic fittings, the hose's fittings are durable enough to resist a car tire's pressure. Other flexible hoses can wear and tear, but not this hose as the Bionic Flex Pro's rugged design can withstand rough terrain.
Weatherproof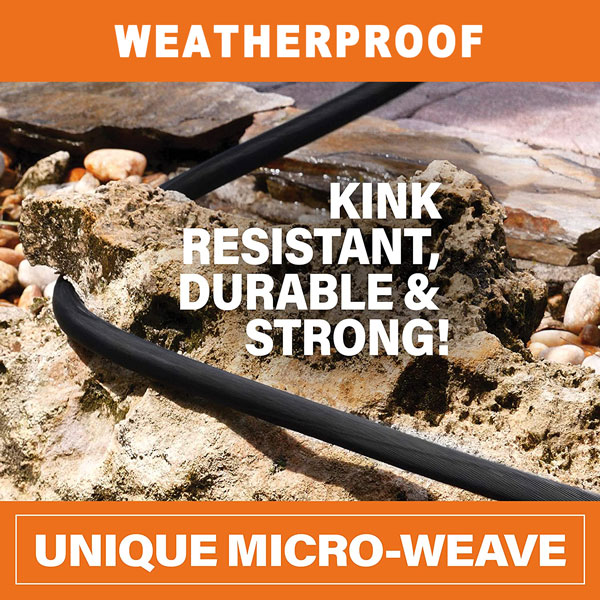 Built to withstand harsh weather conditions, you'll be able to leave the hose out for long hours or even days.
Tips for Using the Bionic Flex Pro Garden Hose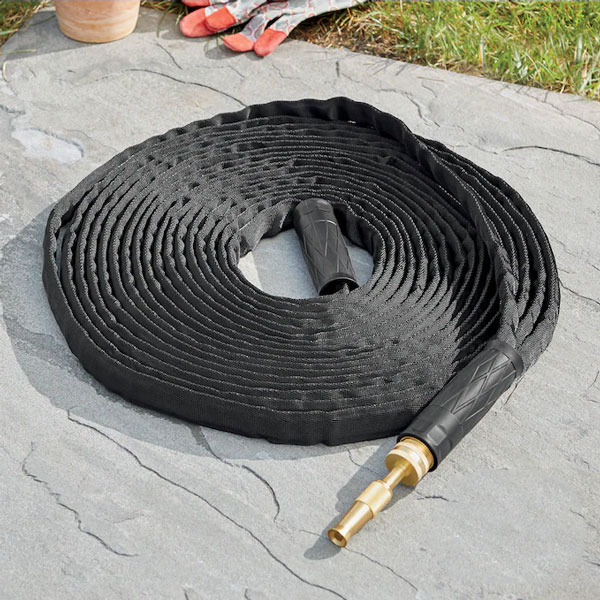 First, attach the end opposite the nozzle to where you'd attach the hose to. Then, turn on the spigot so water can start coming out. To keep the spray mist light, turn the nozzle to the left while turning it to the right for a more powerful spray.
After aligning the hose's water flow according to your needs, move the hose around the designated area. Once you're finished, turn off the source and coil the hose up to keep it in storage.
Bionic Flex Pro Hose Reviews: As Seen On TV?
Having a rating of 4 out of 5 stars on Amazon.com, customers shared varied responses about their experiences with using the Bionic Flex Pro Garden Hose.
Several 4 and 5-star customers say it lives up to its performance by spending extra to get better quality products. But despite the company's promise of kink-free and tangle-free hoses, some customers say that they experienced problems with it twisting when filled with water. Holes and leaks were evident after usage but with a warranty, replacements are available.
Alternatives
Like the Bionic Flex Hose, the Aqua Joe Fiber Jacket Hose claims to be lightweight and will not tangle or kink. It is also designed to withstand extreme temperatures up to 0 degrees. Materials are BPA-free, Phthalate-free, and Lead-free, which are drinking water safe, unlike the Bionic Flex Hose.
Same as the Bionic Flex Hose, the flexible Bernini hose is easy to carry and lightweight. Both promise to be kink-free and durable enough to go through bushes, fences, and even rocky ground surfaces. Coil it up so that it'll be easy to store away when not in use. Its protective casing is good enough to resist puncture, rust, and corrosion. Unlike other water hoses, they claim to be the only metal hose to pass the 90-degree pull test due to their Power Coupler technology.
The technology inside the Bionic Steel garden hose is of a stainless steel housing that makes the hose indestructible. Unlike ordinary hose fittings, the Bionic Steel with aluminum material makes it durable under pressure.
Final Verdict
Designed to resist tangling, bursting, or kinking, the Bionic Flex Pro is of solid brass fittings and a commercial-grade polyester weave for its outer shell suitable for watering plants and blasting away dirt and debris on surfaces. Not only that, attach the hoses to any outdoor spigot or coil it around for storage when not in use.