Flexon Soaker Hose Review:
Ease of Use

Quality

Performance

Price
Quick Summary
The Flexon Soaker Hose is hassle-free, durable, and affordable.
1. Cheaper than irrigation system and sprinklers.
2. Consistent and efficient watering.
3. Less water evaporative waste.
4. Directly waters the base of the plants.
When you ask me what I use to water my plants, I'd answer garden hose right away. It's what we all use right?
Well, that's what I thought until a friend of mine told me that there's a more efficient way of doing this. He told me about the Flexon Soaker Hose.
It trickles water directly to the ground which gives your plants the moisture they need without the harsh pressure of hoses on their leaves. It's less water consumption and less effort on my end. What more can I ask for?
Flexon Soaker Hose
Flexon Soaker Hose Kit features a 100 ft. long hose with a non-clogging and porous design that's made with premium quality rubber which the Flexon brand is known for.
It's easy to set up and customize too. It comes with 20 connectors and detailed instructions depending on what type of function you'll use it for – whether for gardening, circular, or landscaping.
Flexon claims that this soaker hose kit saves 70% of water consumption despite the consistent flow of water.
This is great for those who have medium to large-sized gardens that need an easily customizable hose. It may, however, not work for those looking for a safer and more environmentally-friendly option as the Flexon soaker hose doesn't state that it meets the lead standards.
| | |
| --- | --- |
| | Flexon WS100KITCN 20-Piece Soaker Hose Kit |
| | |
| | |
| | |
| | |
| | |
| | |
| | |
| | |
| | |
| | |
Features and Benefits: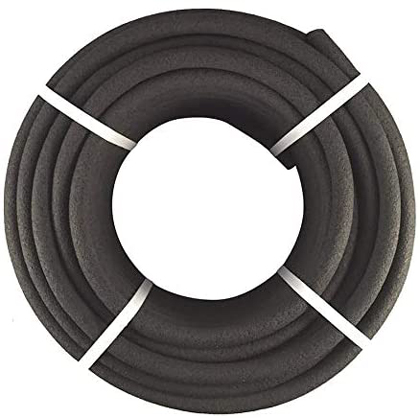 100 ft. Long Non-Clogging Porous Design
Due to its length, the Flexon Soaker Hose is beneficial to people with large areas that need consistent watering. It can be cut into two 50 ft. long hoses or four 20 ft. hoses. It can even be placed above or below the soil and it will produce even flow all throughout. This is great for those wanting to save money and up for some customization.
Includes 20 connectors
Flexon Soaker Hose is a complete kit that a beginner in gardening would find convenient. It includes Male, Female, and T connectors, as well as feeders and plugs.
When you buy a single hose and find yourself needing to add more or cut it up, you would need to buy the connectors separately and you have to check if it works and seals your hoses together properly.
Easy Installation with Detailed Instructions
The Flexon Soaker Hose includes step-by-step instructions that are easy to understand. It comes with graphic instructions and guides, depending on your purpose. Many are surprised at how easy it is for them to set it up for the first time.
Made with Flexon Premium Quality Rubber
The Flexon brand is known for its premium quality rubber products and this is why Flexon Soaker Hose is expected to be durable and worth every penny. It's widely available and affordable.
Easily Adapts to Your Garden Arrangement
The product is a whole kit. This means you'll have everything you'll need if you want to cut and connect the hose to your preference. It's highly manageable and works with rows, curves, or circular arrangements. This is all in a single purchase.
Tips for Using the Flexon Soaker Hose:
Before using the hose, lay it directly under the sun for an hour to soften it.
Determine how your garden layout would be and cut the hose to your desired length.
Use the connectors when needed and ensure that the hose is connected ½ inch into the connectors for a tight seal.
Attach a garden hose to your water source and then use it to connect your soaker system. Remove restrictors in the female connectors if the water flow seems weak.
Flexon Soaker Hose Reviews
Based on the Amazon reviews, the product rated highly at 4.5 stars out of 5. This is mainly because it does what it was advertised to do. It soaks the ground well, it's easy to set up, and users didn't report any bursts or leakage issues.
The critical reviews came from customers that expected the hose to be lead-free but were disappointed and complaints about the strong chemical smell when they opened it.
Alternative Products:
100 ft. long with ⅝ inch diameter
Made from 70% recycled rubber and 30% polyethylene products
It has no ends and 25 PSI regulator is needed
Mr. Soaker Hose has the same in the customizability function of the Flexon Soaker Hose. However, the product doesn't include connectors and it comes with no ends. It also needs extra care to avoid clogging in the long run. This is best for those that have extra connectors and just need a soaker hose to add length and rows.
25 ft. long kink-free hose
Works well even in freezing temperatures
Made with flexible and UV stabilized Polyurethane and brass fittings
Lead-free
If you're looking for a soaker hose that's lead-free, premium quality, and you're okay with spending a bit more, then you can consider the Water Right Soaker Hose. Plus factor is if you're looking for a different color other than black, the Water Right Soaker Hose comes in Bristle Grass color. It can be adjusted too but the connectors are sold separately by the brand.
75 ft. long flat soaker hose
Material is made from Vinyl
Offers extreme flexibility
The end cap is rust-resistant
The Melnor Soaker Hose boasts of its extreme flexibility due to the material that's used to make it. It's also easy to store, and is lightweight. It doesn't claim to be lead-free so that's one thing to consider with this hose. It can be cut and connected to other hoses as well. This is great if you have to move or store your soaker hose around frequently.
Final Verdict
We all want to be able to do things efficiently in the most convenient way possible and I think when it comes to choosing a soaker hose that exactly does that, the Flexon Soaker Hose is the first thing that comes to mind. The things you need to set it up are included in one package, including the connectors, the hose, and instructions.
The Flexon Soaker Hose is recommended for first-time users and those who need a custom-made soaker system. It's hassle-free, durable, and affordable. Check it out at this link.