TBI Pro Expandable Garden Hose Reviews:
Ease of Use

Quality

Performance

Price
Quick Summary:
Made of quality materials, the hose is tough and easy to use.
I tested 4 expandable hose models to determine which one will best suit my needs and preferences. Read on to know how the TBI Pro Garden Hose Expandable and Flexible met my criteria.
I have been a garden hobbyist for many years now, and I always thought that constantly dealing with hose kinks and tangles, as well as lugging heavy rubber hoses around were all part of enjoying the hobby – until I heard about lightweight, flexible, and expandable garden hoses! So I immediately researched the innovative product and decided to test a few.
Among the 4 expandable hoses that I tested, TBI Pro Garden Hose came out on top. So this review will focus on how the TBI Pro passed the tests and how well it performed. Read on.
Introduction to TBI Pro Expandable Garden Hose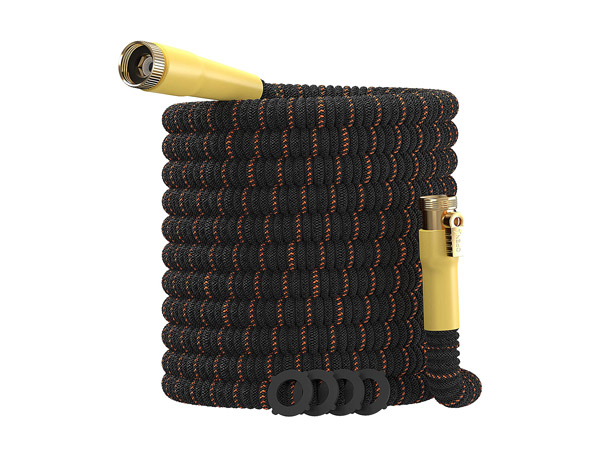 Right off the bat, you'll notice that the TBI is well-made as the package indicates that it is made of 4 layers of premium latex interior and durable outer protective fabric that ensure durability. However, the high-quality materials come with a price – additional weight.
Although still lightweight at 3.8 lbs., it is a bit heavier compared to the other expandable hose models that I tested. But in terms of efficiency and performance, the TBI pro can hold its own. In less than 2 minutes, it expanded to 50' without twisting, kinking, tangling, or bursting under normal water pressure.
Note:
The TBI Pro Garden Hose Expandable and Flexible comes in a complete set that also includes a 2-way hose splitter, 8-way zinc sprayer, hose hanger, storage bag, extra washers, and user's guide.
Dimensions and Specifications
| | |
| --- | --- |
| | TBI Pro Expandable Garden Hose |
| | |
| | |
| | |
| | |
| | |
| | |
| | |
| | |
| | |
Features and Benefits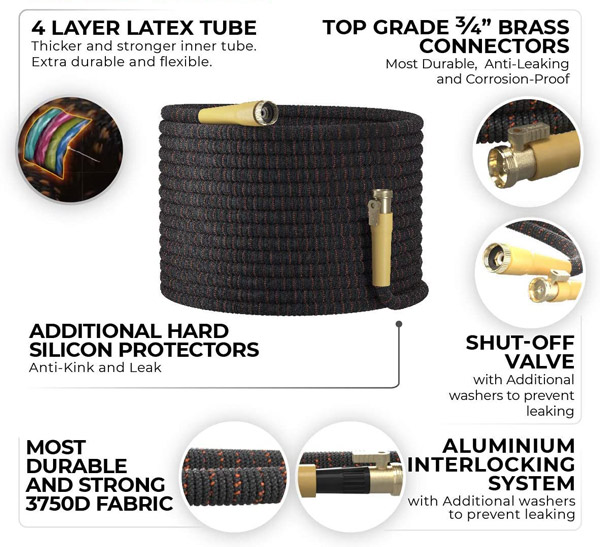 After the rigorous testing the TBI Pro underwent, the following features and benefits became apparent.
Easy to Use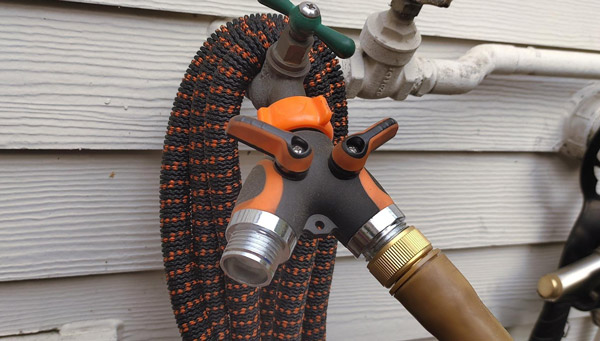 All I had to do was attach the hose to my outdoor spigot, turn on the water, and the hose expanded to 50' in a short while. I had no trouble maneuvering the hose around several trees in my yard, and the easy to control sprayer with non-slip grip was a bonus. Compared to most sprayer types, TBI Pro is more ergonomic. Water flow control is a breeze!
Complete Set
When I unboxed the product, it came with everything I would need in my gardening hobby. Aside from the hose, the delivery included a hose hanger and a storage bag to neatly store the hose when not in use. The 8-way zinc sprayer and 2-way hose splitter covers practically all watering needs I can imagine.
The extra washers would come in handy to prevent leaks. And if you need guidance on how to properly use the product, you can always refer to the user's guide.
Multiple Applications
Aside from garden watering, I also used the hose to clean my car, wash the sidewalk, and bathe my furry friend, among many others. My favorite use for the hose, however, is seeing how my little angel bonds with her grandma.
I particularly enjoyed watching my 65 year old mom as she filled the kiddie pool with water, while my 9 year old daughter waited in for the pool to fill and acted as if she was frolicking in the "rain". The fun bonding moment is priceless!
Tough and Durable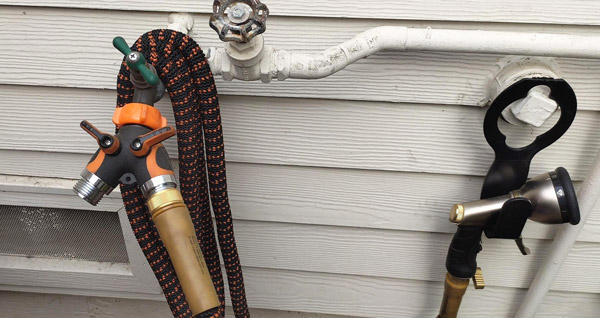 Just by looking at and holding the TBI pro, you'll get the impression that it is durable. But, is it actually as durable as it looks? After using the product, I was convinced of the product's toughness and durability.
To test its toughness, I used the hose every day for several hours each day just to see if it would leak or kink. It did not.
One time, I was on a rush as I was running late for a meeting. The hose was left lying on the garage, probably by my mom after using it with my kid. I accidentally backed over the hose. I had no time to check as I drove out of the garage quickly. I just hoped the hose was ok.
To my surprise, when I got home, I saw my mom using the hose as if nothing happened. That's a relief!
High Quality Materials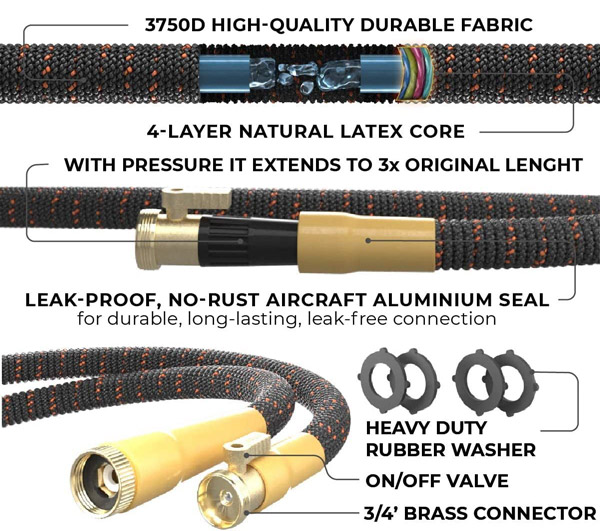 The hose is made with a 4-layer latex interior tube that helps prevent bursts, abrasions, and punctures. The outer protection is provided by the durable and tough 3750 fabric.
I witnessed the hose's toughness firsthand when it easily endured being dragged through the rougher surfaces in my yard. There were no visible signs of damage when I checked it before putting it away for storage.
Tips for Using the TBI Pro Expandable Garden Hose
The TBI Pro hose already comes in a complete set that can address most of your gardening needs, but unfortunately, using it with a sprinkler system is not among them. Remember that the hose is expandable, and when you turn off the water supply, it will contract fast, pulling the sprinkler with it.
To mimic a sprinkler, what I did was to use the included hose splitter and chose the sprayer pattern that resembles sprinkler action the most. You can also refer to the user's guide for more tips.
Customer Reviews of TBI Pro Expandable Garden Hose
Most users are satisfied with the TBI Pro Garden Hose's performance. They are impressed by the high quality materials used to manufacture the product. Some are happy with the durable nozzle and attachments that don't give in even with frequent use.
However, there are also unhappy customers. Some claim that the hose started to leak after only a few months of use, while another user claims that the hose became completely unusable after only a year.
Following are some of the online reviews we found about the TBI Pro Expandable Garden Hose.
Alternatives
If you are not convinced that TBI Pro is for you or you want to compare it with other hose models, you can check out the following:
The HydroTech expandable hose model boasts of its durable and burst-free features. It is also very flexible, thanks to its strain relief guard. You can take and use the hose anywhere.
VIENECI Expandable Garden Hose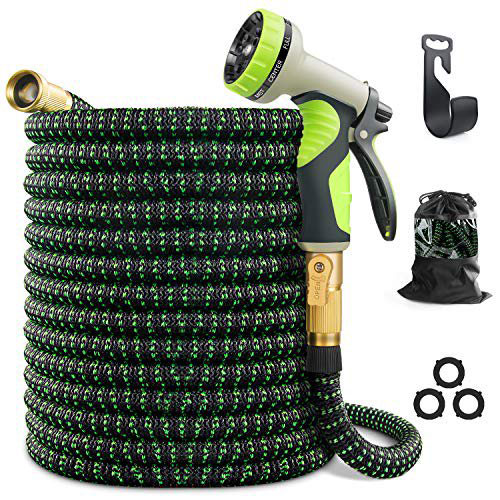 The hose comes with a 10-pattern spray, which is more than what most expandable hoses offer. It is compact, easy to store, and ideal for various applications.
The Yuharq Expandable Garden Hose is designed to make your gardening tasks more convenient and fun. It is lightweight, self-draining, portable, compact, and easy to store.
Final Verdict
If you are looking for a compact, durable, flexible, and portable garden hose, you may consider the TBI Pro Garden Hose Expandable and Flexible model. It comes complete with all the accessories you may need for various watering needs – 2-way hose splitter, 8-way zinc sprayer, hose hanger, storage bag, extra washers, and user's guide, aside from the 50' hose.
However, although the hose is much lighter than traditional rubber hoses, it is a bit heavier than some of the lightweight expandable hoses, and you cannot use it with a sprinkler system. The TBI pro hose is likewise available only in 50', although you can easily connect it to another hose if you need more length.
Overall, the TBI Pro hose is suitable for most everyday gardening needs. This review rates it at 4.8 out of 5 stars for its overall solid performance. You can check out the product here for more information.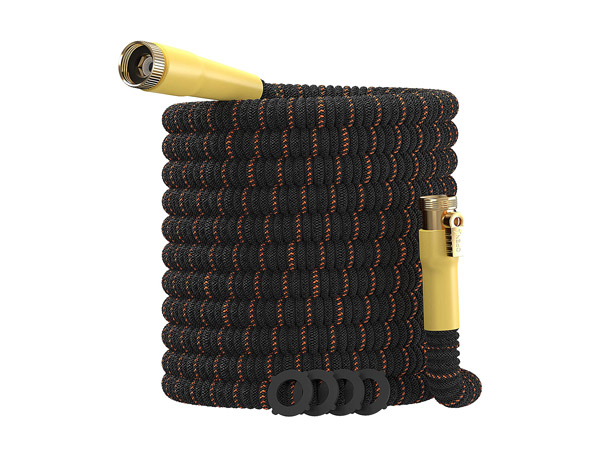 Let us know what you think by leaving a comment or feedback below.