Xflex Hose Reviews:
Ease of Use

Quality

Performance

Price
Quick Summary:
The hose has an impressive design, lightweight and flexible, but sometimes prone to leaking and kinking.
When looking for accessories to make your gardening life more pleasant, an easy to use hose is usually something that comes to mind first. A flexible and lightweight garden hose can make distributing water in your lawn or garden easier. It is also perfect for cleaning your car, home exterior, equipment, and even pets.
Read this Swan XFlex Heavy Duty Hose Review to know if the product is the best for you.
Introduction of Swan Xflex Heavy Duty Hose
Probably the best thing we like about the XFlex is how quickly it fills with water, and when not in use, it just flattens back out. This way, it is easy to use and store. You can conveniently keep the hose in your outbuilding or garage without eating a lot of space.
The manufacturer claims it is kink-free, but some users reported that it kinks and is sometimes difficult to roll. It sometimes leaks at low pressure, and this usually happens when you first turn it on. While other users claim otherwise, it is still something of concern since it happens to a number of users.
Dimensions and Specifications
| | |
| --- | --- |
| | Swan Xflex Heavy Duty Hose |
| | |
| | |
| | |
| | |
| | |
| | |
| | |
| | |
| | |
Features and Benefits
Knowing the features of a particular product can give you a hint on how well it can serve your needs. Having said that, following are the features and benefits of the Swan XFlex Heavy Duty Hose:
400+ PSI Rating
The PSI indicates how well the hose can handle water pressure. Hoses with low PSI tend to easily burst or get damaged from a surge in water pressure. While a 400+ PSI rating isn't the highest around, it indicates that the hose can handle more than average pressure.
Crush-Proof Couplings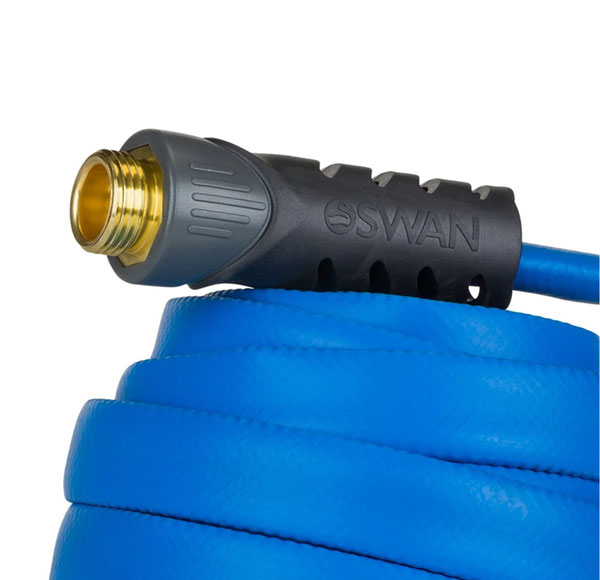 A hose's couplings help determine the product's toughness and durability. It gives a good idea if the hose will start to drip and leak when you attach it to a sprayer, spigot, or sprinkler. The Swan XFlex's couplings have a crush-proof design, which means it is more durable compared to low-quality alternatives.
Lightweight
At 3 lbs., the XFlex weighs lighter than a traditional garden hose. Thus, it is easy to move around and control. It is easy to maneuver when watering your garden or cleaning your car.
Flexible
When empty, the XFlex flattens out, allowing you to easily spool or wind up for storage. The hose's flexibility also makes maneuvering the hose easy even when filled with water. Designed to be kink-resistant, it won't develop pinholes or crack due to bending or flexing in specific locations during use.
Lead-Free
The XFlex is lead-free, which supposedly makes the hose safe to use for drinking. Drinking from hoses that are not lead-free increases the risk of contracting diseases. However, even if the hose is lead-free, it is still not recommended to drink directly from it as there may be debris and other contaminants that are not safe to ingest.
Tips for Using the Swan XFlex Heavy Duty Hose
Following are some tips and suggestions to maximize the benefits of your water hose:
Turn water off after every use.
Refrain from dragging the hose.
Use a hose reel and roll up carefully to avoid tangling.
Drain the hose thoroughly before storing.
Never store under direct sunlight.
Customer Reviews of Xflex Hose
We searched for reviews online and found some positive comments about the product. We also found negative reviews to help you weigh the pros and cons.
Many positive reviews rave that the product performs exactly as expected. They appreciate that the product is light and easy to carry, yet durable at the same time.
On the negative side, one reviewer mentioned that it is hard to use; you need to flatten it first before water can flow through.
Alternatives
To help you better decide on which hose is best for your needs, here are some alternatives that you can consider:
The Gilmour hose has a 4-layer construction that guarantees durability and flexibility. It has a polished, dirt-resistant cover that prevents abrasions. Made in USA, it is backed by a lifetime warranty.
Designed to last long, the Craftsman garden hose doesn't easily get busted and damaged, unlike regular, cheap garden hoses. It has a burst strength of 500 psi that indicates it can withstand extreme pressure.
Made by a leading manufacturer, the Flexzilla garden hose is equipped with advanced technology that guarantees durability and convenience of use. While it is lightweight, it is ideal for heavy duty use.
Final Verdict
A hose that is heavy and difficult to maneuver around your garden can be frustrating. Thus, when buying, you must choose a hose that is not only lightweight and flexible, but tough as well, to make sure that it is worth the money you spend for it.
The Swan XFlex Heavy Duty Hose fits the bill. You can check out the product here. However, if you think it does not suit your particular needs, you can try the alternative products featured in this post.