J&B XpandaHose Expandable Garden Hose Reviews:
Ease of Use

Quality

Performance

Price
Quick Summary
Very light for a 75' hose, flexible, and easy to use, though not the most durable.
This post is an independent review of the J&B XpandaHose 75' Expandable Garden Hose w/ Holder. Find out how the product fared in our testing.
For the longest time, I have been using, and very satisfied, with my 50' expandable hose – until I extended my garden by adding several flower beds. Thus, my current hose isn't long enough to reach the farthest point of my garden.
I had two options – buy and attach a 25' or another 50' hose, OR buy a longer hose – to achieve the length I need. However, the former would require more connection points and higher chances for leaks, so I decided that buying a longer hose would be the better option.
After researching on available 75' hoses, I decided to check out the J&B XpandaHose 75' Expandable Garden Hose w/ Holder first. Here's my take on the hose.
J&B XpandaHose Expandable Garden Hose
The J&B XpandaHose 75' Expandable Garden Hose is touted as the "strongest hose available." On paper, it really looks like the real deal. Made from 3-layer latex core, solid brass, and heavy-duty polyester cover, the J&B XpandaHose seems lightweight and easy to maneuver. Likewise, it should be very tough and durable, but is it?
The real test of a product's true worth is in its performance. This can only be determined once you actually use the hose.
Note:
The hose is backed up by a lifetime warranty, so if you receive a defective product, immediately contact the seller for a replacement.
| | |
| --- | --- |
| | J&B XpandaHose 75ft Expandable Garden Hose with Holder |
| | |
| | |
| | |
| | 3750 Polyester Fabric, Latex, Brass |
| | |
| | |
| | |
| | |
| | |
Features and Benefits
Following are the features and benefits of the J&B XpandaHose 75' Expandable Garden Hose w/ Holder Expandable Garden Hose that I find most helpful:
Complete Accessories
The J&B XpandaHose is delivered in a complete set with a 10-setting nozzle, brass connectors for a snug and leak-free connection, extra washers, a hose holder, and a storage bag. I use the holder to hang the hose when not in use, and the bag comes in handy every time I need to transport the hose. It makes the hose portable.
Lightweight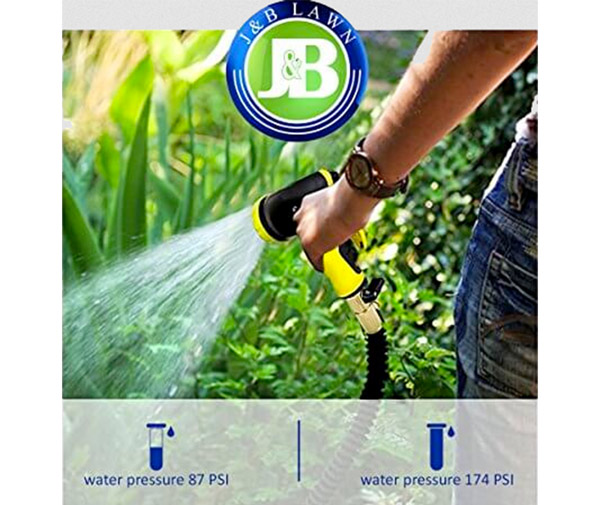 At 2.5 lbs., the hose is lighter compared to other 75' hoses. I didn't have a hard time lugging it from the water source to the flower beds, the farthest point in my garden. There were also no leaks and tangles. It wouldn't be easy to accomplish with my old rubber hose.
Convenient and Easy to Use
With the 10-function sprayer, finding the right setting for specific needs was a breeze. For instance, the mist function is perfect for plants that need light watering. I used the soaker or full settings when the plants need more water.
The nozzle boasts of an ergonomic design, and the rubber-coated handle is non-slip. It is not tiring to use as you don't need to always squeeze the trigger. With a simple flick on the latch, you can take your finger off the trigger.
Backed by Lifetime Warranty
Nothing is more assuring than knowing that your hose is guaranteed from craftsmanship and manufacturing defects – for a lifetime! This shows that the manufacturer is confident about the quality their product. After all, they boast that their product is the toughest and most durable on the market today.
However, it will take a little more time to say for certain if the hose will last for a long time. But, after a couple of weeks of using the hose, I didn't see any signs of deterioration in the XpandaHose's performance. I just hope it will last for a long time.
Tips for Using the J&B XpandaHose Expandable Garden Hose
The J&B XpandaHose is not designed for prolonged exposure to the elements. Thus, avoid storing it in the open. To prolong its useful life, store the hose in a covered space when not in use.
Although the hose is touted to be the "toughest and most durable" expandable hose around", it is not 100% puncture-resistant. Its fabric outer cover may not be able to completely protect the XpandaHose from punctures and abrasions. It is therefore a good idea to refrain from using it around sharp objects or at least take extreme care when using the hose on rough surfaces.
J&B XpandaHose Expandable Garden Hose Customer Reviews
To confirm if my experience in using the XpandaHose is normal, I searched for reviews from other actual users.
Most rave reviews mentioned the hose's lightweight and easy to maneuver features. Some said that they loved how the hose eliminated the tedious task of undoing tangled hoses and dealing with kinks. Others claim that their most-liked feature is the multi-function and convenient to use sprayer.
However, some unhappy users claimed that the product delivered to them was defective, and started to leak from the start. This shouldn't be a big issue since the hose comes with a lifetime warranty. Others are not satisfied with the product's durability, while a few others say it's pricey.
Following are some screenshots of reviews from actual J&B XpandaHose users:
Alternatives
Here are a few alternatives to the J&B XpandaHose 75' Expandable Garden Hose w/ Holder that you may consider: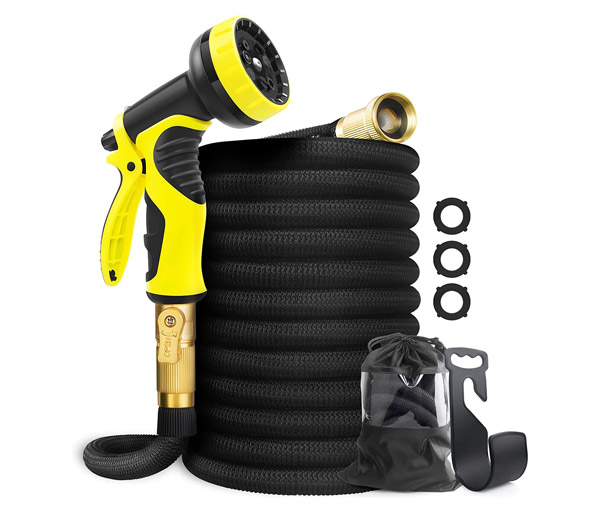 The 75' version of the Aterod Expandable Hose is, like its other siblings, durable, kink- and tangle-free, lightweight, and easy to use. It also delivers in extreme weather conditions.
The Xhose Pro is extremely light at only 2 lbs., but tough enough to endure use under any type of weather. The price is more affordable compared to other expandable hoses.
The Silver Bullet Expandable Garden Hose is designed with an exclusive, tough, and durable outer shell and inner tubing that can resist tearing, snagging, and kinking. It is also lightweight and flexible.
Final Verdict
Choosing the hose of the right size is important to make your gardening tasks more convenient and efficient. A short hose may not allow you to cover the entire garden, while a long hose would pose problems with carrying excess weight.
If you find a 25' or 50' hose too short, and a 100' or more hose too long, then perhaps the 75' version would be fine. In my case 75' was perfect – no need to reduce the length or add another hose just to achieve the length I needed.
The J&B XpandaHose 75' Expandable Garden Hose w/ Holder is a good product to consider. It is lightweight, flexible, easy to use, and backed with a lifetime warranty. It comes with a 10-setting sprayer that can cover any watering need, as well as a holder and bag for portability and easy storage.
Performance-wise, the hose is reliable, although it may take at least a few months to determine if the product is durable enough to last for a long time. I have been using my XpandaHose for only a couple of weeks, and it has so far delivered.
The XpandaHose is available on Amazon and Walmart, if you are considering buying or simply want to know more about the product.