Delxo Expandable Garden Hose Review:
Ease of Use

Quality

Performance

Price
Summary
With durable and tough outer cover, the hose comes in a 7-in-1 package with a DIY repair kit, and other accessories.
My search for a long garden hose led me to several models, including the Delxo Expandable Garden Hose 100ft. Find out if the product met my expectations in this review.
I have a big garden, so understandably, I need a long hose – long enough to reach the end of the garden from my outdoor water source. I stumbled upon good reviews of the 100' long Delxo Expandable Garden Hose, so I decided to try it. According to the reviews I read, the hose is tough and durable, and it is also supposed to be reliable. But is it? Find out how it fared in my tests. Read on.
Delxo Expandable Garden Hose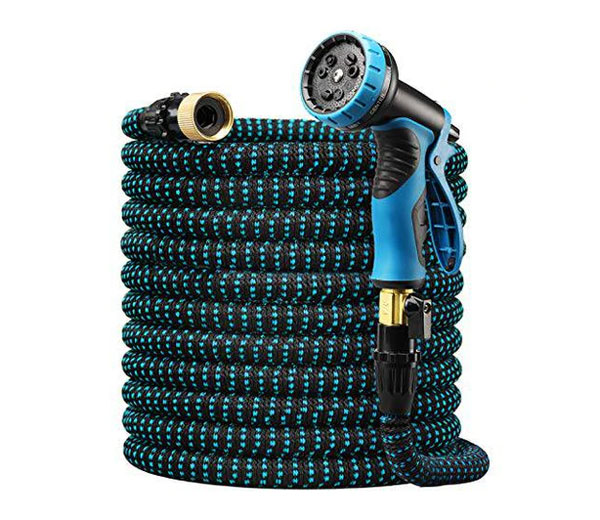 Upon unboxing, the Delxo Expandable Garden Hose looked impressive to me. The fabric casing felt smooth, and gave me the idea that it wouldn't easily kink and tangle. From its original length of around 30', it can expand to up to a little more than 100' when filled with water.
The hose came in a 7-in-1 package that also included a 9-pattern nozzle sprayer, a repair kit (hose clamp, 3 extra rubber gaskets, and leak-proof tape), hose splitter, and a carry/storage bag. This means, you can repair minor damages on your own, when necessary.
Note:
While it is not advisable to use the hose with a sprinkler, you can do so, provided proper precautions are taken. Make sure to switch the valve off before shifting from nozzle to sprinkler. This way, the hose won't contract when you do the switch.
| | |
| --- | --- |
| | Delxo Expandable Garden Hose |
| | |
| | |
| | |
| | 3750 Polyester Fabric, Latex, Brass |
| | |
| | |
| | |
| | |
| | |
Features and Benefits
The Delxo Expandable Garden Hose indeed looks impressive, but it is not the appearance that matters. Instead, it's the performance, and here's how I find the product:
Durable
The hose is made from tough materials and it showed when I dragged the hose around tree trunks and textured cement. Although it resulted in a few scratches, it was understandable as the cover is fabric.
The biggest test of durability, however, came when I was in a hurry to get out of the garage for an errand. I forgot to put the hose away and left it lying across the floor. I accidentally backed over it. To my surprise, it was as if nothing happened.
Compact and Easy to Store
When not in use, the hose reverts from more than 100' to its original length of around 30', making it easy to coil and fit into the storage bag. It is so compact and doesn't take up a lot of storage space in your garage or tool shed. It is also easy to transport with the bag.
Repair Kit
Not all expandable hoses come with a repair kit that you can use for minor DIY repairs. When I experienced some leaks at a connection point, I found out that the washer was spent, so I replaced it with a spare washer. It fixed the problem!
The hose clamp and leak proof tape also came in handy when I discovered a tiny puncture in the body. I was glad to get rid of the problem early before it turned into something bigger.
Lightweight
For a 100'ft. hose, 5 lbs. is not too heavy to carry around for an adult gardening hobbyist. It may be a tad heavier than other expandable hoses, but it is definitely much lighter compared to traditional 100' rubber hoses. I also found the hose relatively easy to maneuver.
Hose Splitter
The splitter is very useful when you need a couple of tasks done at the same time. One instance this feature proved helpful was when I had to wash away the mud off my car immediately before it hardened, and my wife needed to water her plants before rushing to the supermarket.
Tips for Using the Delxo Expandable Garden Hose
Remember that the outer cover of the hose is made of fabric. It may be tough and durable, but it is not completely immune to abrasions and punctures. Thus, it is a good idea to keep it away from sharp objects and dragging it in rough surfaces.
The hose is likewise not intended to run hot water. So only use the hose with normal tap water temperature.
Another tip to prolong the life of your Delxo Expandable Garden Hose is to store it in a covered space when not in use. It may be your garage, tool shed, or any roofed area. Just don't leave it outdoors and exposed to the elements for a long time.
Delxo Expandable Garden Hose Customer Reviews
Before deciding to try the Delxo Expandable Hose myself, I read some online reviews to find out what other users think of the product.
Most positive reviews I read expounded on how tough and durable the hose is. Others are very happy with the storage bag and repair kit that came with the hose as they are really very helpful. Others also expressed satisfaction over the product's overall performance.
On the other hand, there were unhappy customers that complained of hand-fatigue while using the hose. They said that it would have been easier if the nozzle was thumb-controlled and not trigger type. Other users found the hose not durable enough to last even a few months.
Here are a few screenshots of actual reviews from Delxo Expandable Hose users:
Alternatives
The Flexi Hose is highly rated in online review sites for its lightweight, easy to maneuver, and durability features. It is a plus that the customer service team is responsive.
One of GardGuard Expandable Garden Hose's best features is its 10-function nozzle sprayer. It is also easy to use with the non-slip, ergonomic hand grip. The hose is billed as leak- and bust-free.
Vieneci Expandable Garden Hose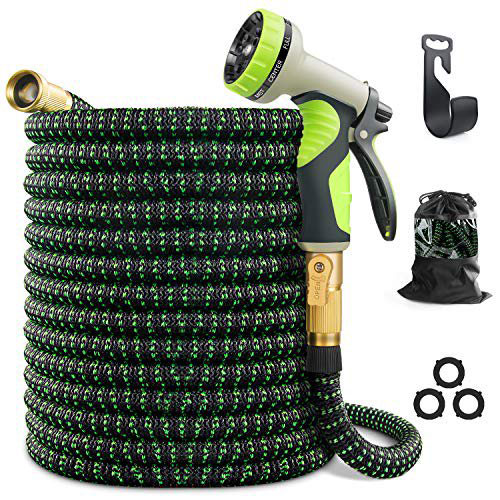 With its ¾" inner diameter and brass fittings, the Vieneci Expandable Garden Hose can be used for pressure washing, though it is not recommended by expandable hose manufacturers. It is also lightweight and durable.
Final Verdict
100' garden hoses are ideal for use in larger gardens or work areas. Because the hose is long enough, you do not have to attach two or more hoses just to achieve the length you need. One of the good models to consider is the 100' Delxo Expandable Garden Hose.
In its contracted state, the hose is compact and easy to store. It also comes in a 7-in-1 set that also includes a repair kit for minor DIY repairs, a two-way hose splitter to allow you to use two hoses at the same time, and a drawstring bag for easy transport and storage.
However, while the spray nozzle works fine, it is a bit burdensome to use. It is trigger-type, which can cause hand fatigue. You can replace the nozzle with a more convenient thumb-controlled sprayer, but it will cost you a few bucks more.
Check out the product page for more information about the Delxo Expandable Garden Hose. You can leave your comments or feedback below.