One Stop Gardens Flat Seeper Soaker Hose Review:
Ease of Use

Quality

Performance

Price
Quick Summary
Made from woven nylon, the hose just lies flat as it weeps water directly to the roots without causing damage to the plant.
When in search for a soaker hose to seep water to your vegetable garden or flower lawn, you want one that offers consistent high quality performance. You want your soaker hose to gently deliver water to your plants' roots consistently, with minimal water wastage. All you have to do is turn the power source on at the desired pressure, then let the hose do its job.
The One Stop Gardens Flat Seeper Soaker Hose can do the rest for you. Continue reading this One Stop Gardens soaker hose review to know more about the product's features, specs, and how it can help in making your gardening tasks convenient and manageable.
Introduction to One Stop Gardens Flat Seeper Soaker Hose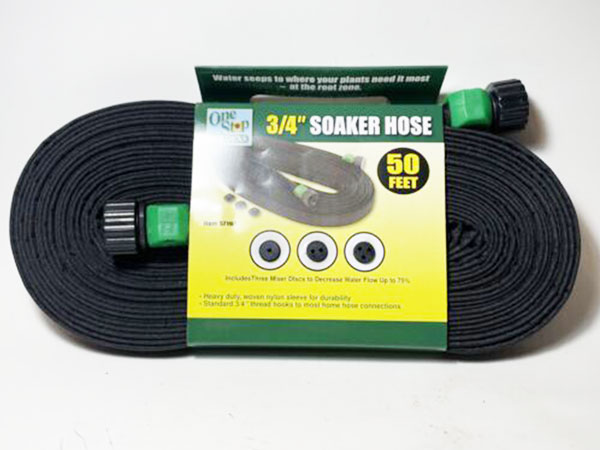 The One Stop Gardens Flat Seeper Soaker Hose is ideal for use by both experienced and beginner gardening enthusiasts, especially the latter as nurturing fruits and veggie gardens can be tough. This is what the One Stop Gardens soaker hose is for.
The hose is equipped with 4 different gaskets for superior water pressure and volume control. It does your garden irrigation task without requiring much time and effort from you.
| | |
| --- | --- |
| | One Stop Gardens Flat Seeper Soaker Hose |
| | |
| | |
| | |
| | |
| | |
| | |
| | |
| | |
| | |
Features and Benefits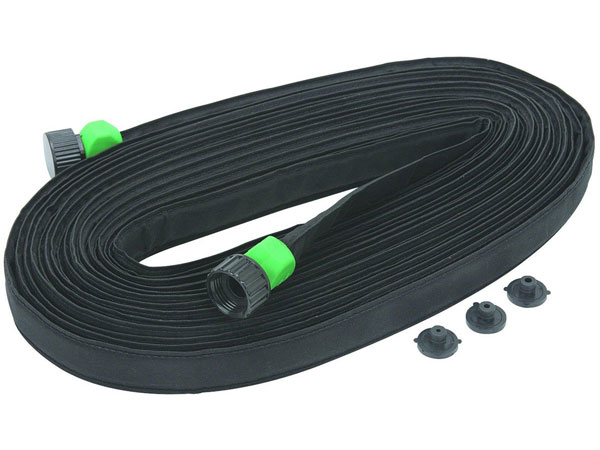 Here are the features and benefits of the One Stop Gardens Flat Seeper Soaker Hose:
Flat
Compared to a round soaker hose, a flat soaker hose is the better option to use on straight and even areas that require little maneuvering. It simply lies flat as it consistently delivers water for optimum irrigation of flower and vegetable gardens.
Efficient
To use, the hose is laid down on the ground. It therefore efficiently soaks plant roots directly without damaging the plants and wasting water. This is more efficient than using a regular hose.
The One Stop Gardens Flat Soaker hose delivers water from the seams, and not from all over. This way, it brings just the right amount of water.
Water Flow Control
The level of water pressure is critical in gardening. Too much water can damage the plants. Thus, it is important to control the water flow. The soaker hose allows good water flow control with or without the use of miser discs.
Easy to Connect
Most household water sources come with ¾" pipes and spigots. One Stop Garden hoses are equipped with standard ¾" thread hooks. Thus, the hose can easily connect to most household water sources.
Heavy-Duty Hose Sleeve
A hose's sleeve protects the product from accidental damages, abrasions, potential injury, and normal wear and tear. The sleeve of the One Stop Garden hose is made of heavy-duty woven nylon to enhance overall durability.
Tips for Using the One Stop Gardens Flat Seeper Soaker Hose
Here are some useful tips that can help prolong the useful life of your One Stop Gardens Flat Seeper Soaker Hose:
Never use the hose to run other liquids except water.

Avoid connecting your One Stop Gardens Soaker Hose to a sprinkler system. The pressure that runs through the sprinkler system may be too great for a soaker hose to handle.
Don't remove the end caps even when testing if the water will run through the length of the soaker hose.
Completely fill the hose with water before using.
Avoid extremely high water pressure. Make sure to use the hose under the manufacturer's indicated maximum pressure level.
One Stop Gardens Flat Seeper Soaker Hose Customer Reviews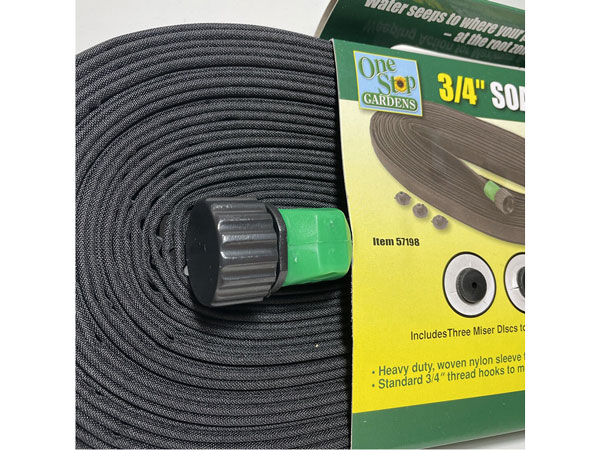 The One Stop Gardens Flat Seeper Soaker Hose is a popular brand on Amazon and other marketplaces. Thus, you can expect to see lots of user reviews about the product.
Most online reviews you can find are positive. Satisfied users are impressed with the product's design and how well it controls water flow. One even went as far as saying it is better than any other soaker hose he has used in the past.
Some negative comments focus mainly on the product's supposed poor construction. Some users found the product to be flimsy and not durable enough to endure normal wear and tear.
Here are screenshots of some of the actual reviews we found online: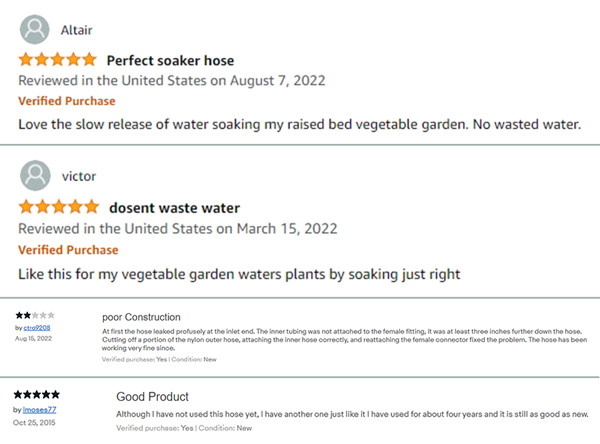 Alternatives
Made from perforated PVC liner covered with strong fabric, the Rocky Mountain Goods Flat Soaker hose is designed to be tougher and more durable than most vinyl soak hoses that split easily.
The Hinker Flat Soaker Hose is intended to provide even and consistent watering throughout the length of the hose. It is made from recycled vinyl and clog-resistant cover for durability and performance.
The kink-free flat 2-layer design of the JOOSEN Flat Soaker hose allows it to snake through multiple rows of vegetables, trees, and flowers. It is also easy to tightly roll up for storage.
Final Verdict
Whether you are an experienced or a newbie gardening enthusiast, you can benefit from using the One Stop Gardens Flat Seeper Soaker Hose in caring for your vegetable and flower gardens. Thanks to its 4 different gaskets, the hose is able to provide superior water volume and pressure control, making gardening convenient and fun.
For more details about the product, you can check it out on Amazon. Please leave your feedback and comments below.