Aterod Expandable Garden Hose Reviews:
Ease of Use

Quality

Performance

Price
Quick Summary:
Extremely easy to use, tough, and durable, worth the money.
To come up with this independent Aterod Expandable Garden Hose review, we made the product go through rigorous testing. Read on to know how the expandable hose fared.
The advent of lightweight expandable garden hoses solved may common problems that gardeners and hobbyists constantly dealt with in the past – lugging heavy rubber hoses around, untangling kinks, and hose stiffness during winter. While early models of expandable hoses were notorious for giving in to internal water pressure, expandable hose models today are tougher.
One of the newer and more popular expandable garden hoses today is the Aterod Expandable Garden Hose. I tested the hose under more-than-normal conditions – I dragged it around the yard on different terrains, stretched it as long as I could, and even drove through it just to see if it would withstand the abuse. Surprisingly, it did!
Introduction to Aterod Expandable Garden Hose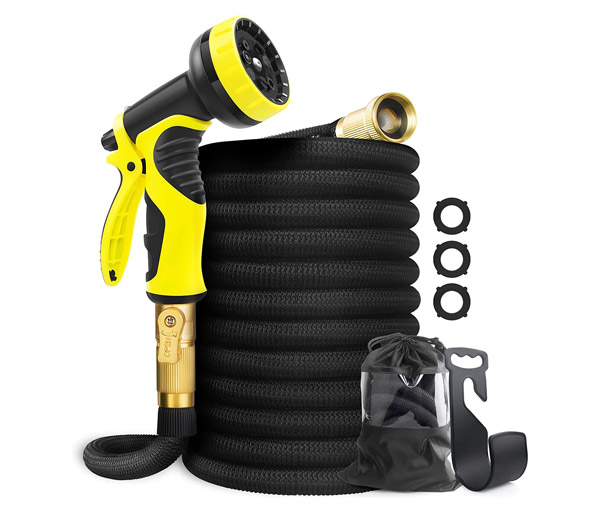 Advertised as expanding to 50' from an original length of 17', I was pleasantly surprised that the Aterod Expandable Garden Hose could actually expand to as much as 52' when full. Made from polyester coating, 3-layer latex inner core, and brass fittings, the hose is easy to store as it will eat up only 1 sq. ft. of space when coiled up in its contracted state.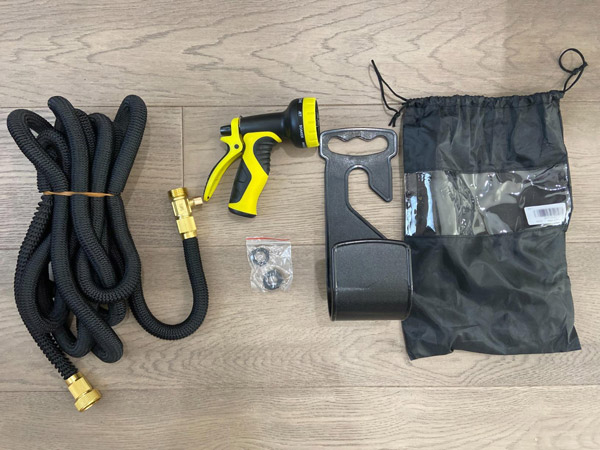 Aside from 50' (which I used for testing), the hose is also available in lengths of 15', 25', 75', 100', 125', and 150'. This allows you to choose the particular length you need.
Dimensions and Specifications
| | |
| --- | --- |
| | Aterod Expandable Garden Hose |
| | |
| | |
| | |
| | |
| | |
| | |
| | |
| | |
| | |
Features and Benefits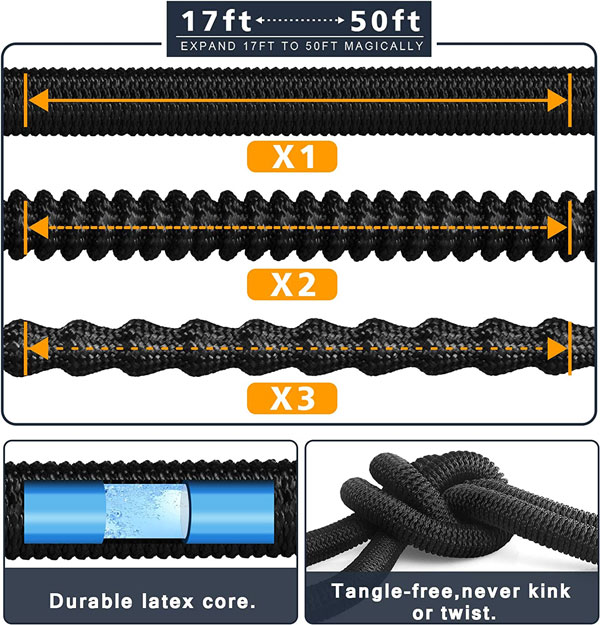 Following are the main features of the Aterod Expandable Garden Hose that were highlighted during my tests.
Easy to Use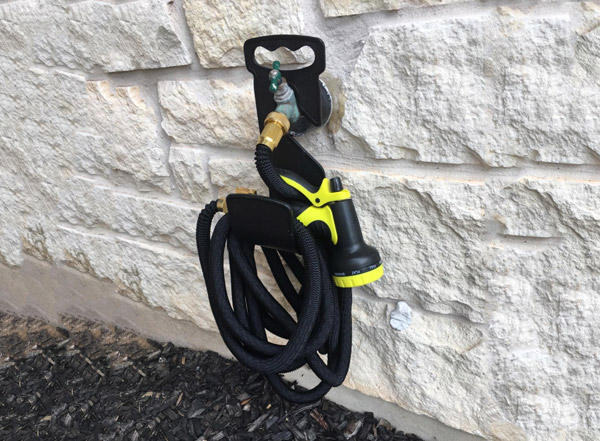 Although the hose came tangled upon unboxing, it was evident that the hose was convenient to use once the kinks were carefully untangled. I later discovered that untangling the hose would be much easier if I connect it to an outdoor spigot, and let the running water untangle the hose.
To use, just connect the included sprayer, then hook the hose to an outdoor spigot. Turn on the water, and see how the hose expands in no time. There were no leaks in the connections as they perfectly fit. Lugging the hose around the garden is a breeze because it weighs a mere 2.7 lbs. It is light enough that even my kid had fun watering the garden.
Flexible and Solid When Stretched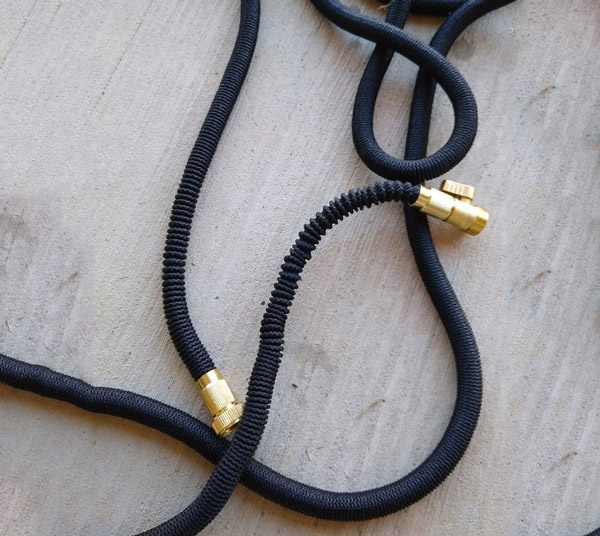 When fully stretched, the Aterod Expandable Garden Hose resembles a regular hose that is solid and not floppy. The expanded polyester cover protects the hose from abrasions when used on rough grounds.
Kink-Resistant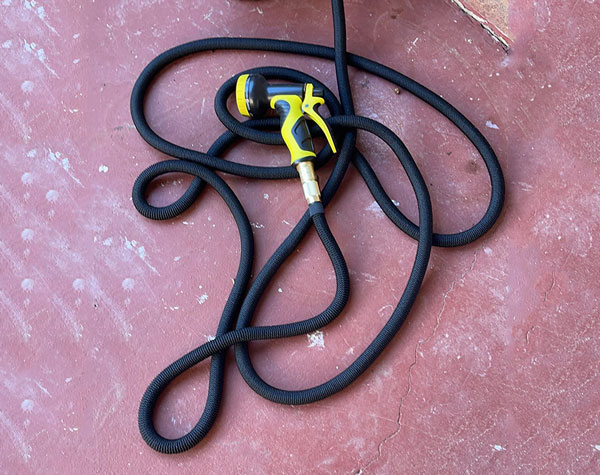 I noticed how the tight fabric solidified and became smooth when filled with water. This allowed me to tug the hose around large bends, and around trees without kinking. All the small kinks that I noticed when the hose was in its retracted state are all gone.
Solid Brass Fittings
To test if the fittings are really made of brass, I tried banging and dragging the hose across concrete and solid ground. They showed no signs of damage, and there were no leaks when I connected them to the hose. I then left the hose outdoors for 1 day, exposed to the elements. Again this did not affect neither the fittings nor the hose.
Tough and Durable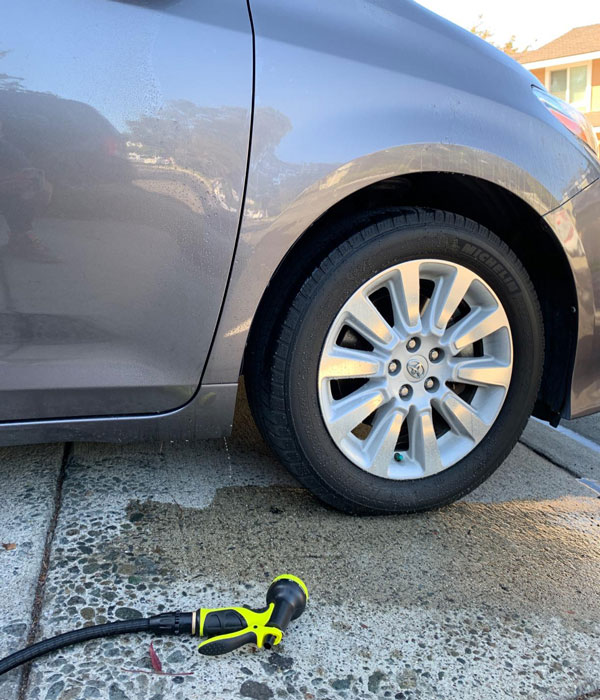 Most expandable hoses would crumble when accidentally run over by a car. Thus, I decided to give the Aterod hose one final test to find out just how tough it is. I laid the hose across my driveway, then backed over it. I drove over it one more time just to make sure. The hose didn't show any visible damage, and when I used it, it still gave a leak-free performance. Impressive!
Plastic Spray Nozzle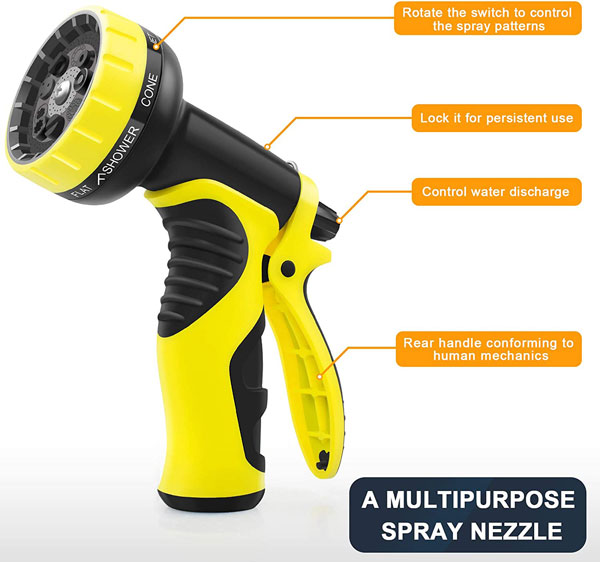 Even at first glance, the included spray nozzle doesn't look impressive. While it doesn't necessarily look fragile, it is light and made of plastic, and you wouldn't expect it to last very long. Also, the sprayer is trigger-type, and not thumb-controlled, which is ergonomic and more convenient to use.
However, there are also good points. The grip is non-slip, even when wet, and it is also easy to spot with its bright yellow and black colors. The spray nozzle also offers 9 spray patterns, including "mist", "shower", and "jet". Just turn the rubber ring to select the pattern you need.
Detachable Shut-Off Valve

The detachable shut-off valve is useful whenever I need to take the sprayer off, but don't want to walk all the way to the spigot just to turn the water off. I can easily stop water flow with a simple quarter turn of the valve lever. I was then able to remove the sprayer without water shooting around. The valve is also easy to attach. However, it is a bit stiff, but I think it's because it is still new and will loosen with frequent use.
Tips for Using the Aterod Expandable Garden Hose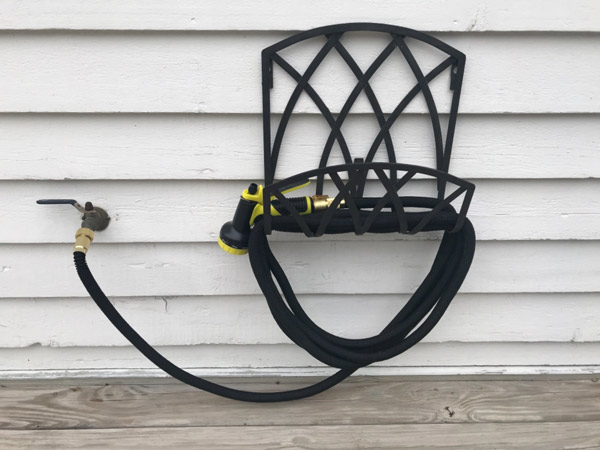 It is important to note that an expandable hose is not ideal for use with a standard sprinkler system as the hose will not stretch far enough when in its contracted state. When you connect it to a sprinkler and turn the water off, it will pull the sprinkler when the hose contracts.
Instead, you have to use the attachable spray nozzle that comes with the hose. Just choose the spray pattern that will approximate watering from a sprinkler.
Customer Reviews of Aterod Expandable Garden Hose
Many satisfied users are impressed with the durable, high quality materials of the Aterod Expandable Garden Hose, as well as how easy it is to use. Some also mentioned its lightweight, compact and easy to store features.
On the other hand, some unhappy customers cited the product's questionable durability. They say that the hose started to leak after only a couple of weeks' use.
We searched online to find online reviews from actual users to validate our review. Following are some of the reviews we found.
Alternatives
The Flexi Hose expands to thrice its original length under normal water pressure. It comes with a 2-layer inner core and solid brass fittings for leak-free use.
J&B Xpandahose Expandable Garden Hose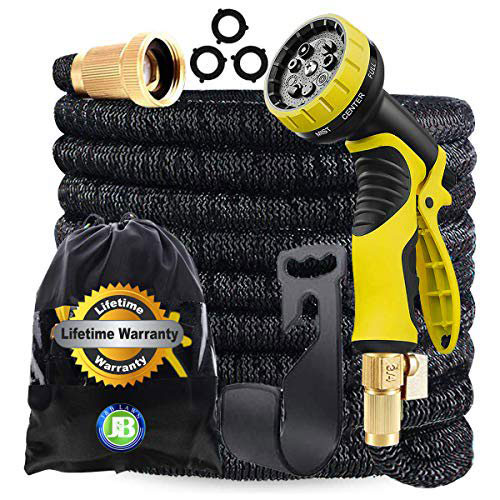 The J&B hose claims to be the toughest hose of its kind. It is also lightweight, tough, and easy to use. To support its toughness claim, it comes with a lifetime warranty.
TheFitLife hose is suitable for various purposes. It is made of high quality materials to ensure durability. It is easy to connect to another hose to achieve length.
Final Verdict
The Aterod Expandable Garden Hose is a good pick if you want a lightweight hose that's easy to store. Just bear in mind that it isn't suitable to attach to a sprinkler system as it will contract once water is turned off. It is, however, a sound choice for normal gardening tasks like watering raised beds, flower pots and other watering jobs that need a spray nozzle.
The hose is among the top expandable hose options today, and it passed my rigid tests unscathed. It is made of high quality materials, except for the plastic spray nozzle, which I find as just average. You can, however, replace it with a more durable nozzle once it breaks.
Overall, I give the Aterod Expandable Garden Hose a rating of 4.9 out of 5 stars mainly due to its toughness, leak-free operations, and space saving features. I would have given it a perfect 5 stars if not for the stiff shut-off valve and the average spray nozzle.
You can check out the product on Amazon.