Like most households, you probably have a garden hose you are using to water your plants and lawn, wash your car, and water down the sidewalk. However, your hose may have deteriorated after many years of use. It now leaks here and there, it has kinks that don't straighten out, or the hose exterior has hardened. Thus, it may be time for a replacement.
When you need a replacement garden hose, it is best that you don't rush the buying process and go for the cheapest or the first product you see. You may regret it later on when problems with the hose like leaking, kinking, and discoloration, among many others, start to appear after only a few uses.
We suggest reading this review of garden hoses first before deciding on which hose to buy. We actually used and tested a number of hoses under real-life watering and washing situations to come up with a list of products that are best suited for particular applications. A lot of products didn't pass the tests and are excluded from this list.
Read on to learn how these models made it into our list of the most ideal garden hoses in various categories. Learn the pros and cons of each product, the materials they are made from, and their best uses.
Our Top Picks: 10 Best Garden Hoses for Your Yard, Lawn Watering and Irrigation
To win our approval as top picks, these hoses must be flexible, durable, and tough, and come with leak-free and easy-to-use attachments. We tested these products at high water pressure (higher than the standard 55psi).
We used the hoses in tight areas, dragged them around the yard, and even drove over them like what usually happens when you take the car out of the garage. The models that survived the grueling tests earned their spot on our list.
We feel that any hose on the list would be a great addition to your garden tools and accessories.
Best Overall
The Yamatic Garden Hose emerged as the best garden hose overall. Made from innovative hybrid materials, the hose is extremely flexible and lightweight.
The Yamatic Garden Hose is designed for optimum performance under any type of weather. With an impressive burst strength rating of 600 psi, it can withstand extreme water pressure and frequent use.
The hose is easy to maneuver around the garden. It is likewise easy to coil when empty as it simply lays flat. It quickly snaps back into shape when called to action. The solid brass fittings are designed for leak-free heavy duty garden and commercial use for a long time.
What Customers Are Saying:
Most rave reviews appreciate the product's durability and easy to handle features. Others say that they like using the hose because it is easy to maneuver. The solid brass connectors also ensure leak-free use.

A few negative reviews point out that the zero-memory claim is not true. Others say that the hose is prone to kinking, though it is easy to fix.
Made from premium quality rubber, the Briggs and Stratton Garden hose takes the runner-up spot on our list. It is designed for heavy duty performance under any type of weather condition – including extreme cold. It can even be used with hot water.
The hose is extremely flexible and easy to coil after each use. It remains flexible even when exposed to the elements. The hose is ideal for residential, recreational, and commercial use. A product of the USA, it comes with a limited lifetime warranty on workmanship and material defects.
What Customers Are Saying:
Positive reviews say that the product delivers on its promise of durability and quality performance. Others appreciate its flexibility that makes the hose easy to use.

However, some users claim that their hands turned black after handling the product. One other review said that the hose isn't made of pure rubber as claimed.
For less than $40.00, you can buy YOTOO Garden hose, a lightweight, heavy duty, flexible and abrasion-resistant hose. This is great value for your money. Made of blended PVC and rubber material, the hose is ideal for all-weather use.
The swivel grip handle makes the hose easy to use and attach. The solid brass fittings are durable and abrasion-free. The rubber washer eliminates leaks in the connection.
What Customers Are Saying:
Many users appreciate the product's flexibility and the fact that it does not kink easily. Others also rave about the hose's various uses, and for its price, it offers great value for the money.

On the other hand, some customers say that the hose is prone to kinking. Others say they would prefer a longer warranty period similar to what other brands offer.
Probably the toughest in our list is the Zero-G Pro Hose. It is not only perfect for the lawn or garden. It also does well in commercial applications like filling containers, commercial cleaning, and mixing concrete. It showed extreme durability when tested. It didn't burst even when run over by a car.
Zero-G Pro works with standard hose reels. Water will flow even if the hose isn't fully extended from the reel. Just make sure to drain the hose after use. This way, it will be easier to wind into the reel for storage.
What Customers Are Saying:
Actual users rave about the product's durability and its affordable price. Customers also mention that the product is easy to maneuver around the garden.

But, some customers experienced difficulty in winding up the hose. A user also commented that the hose would be much better if it is expandable.
While the Continental rubber hose may not be the cheapest, lightest or easiest hose to maneuver, this review finds the multi-purpose hose the most versatile among the hoses we tested.
Made of high quality rubber, the Continental Commercial Grade Hose is durable and abrasion-resistant. While it may be a bit heavy, it is flexible and almost kink-free.
Ideal not only for garden use but for various commercial applications as well, including construction work, the Continental hose is heavy duty and can stand high water pressure. If the added weight is not an issue for you, then this versatile hose may be what you need.
What Customers Are Saying:
According to online reviews, the Continental Garden Hose is everything the manufacturers claim. Users rave about the durable and high quality construction that allows the product to endure heavy duty and frequent use.

Some users, however, find the product too heavy for comfort. There are also claims that the connectors are not durable.
TheFitLife Flexible and Expandable Garden Hose emerged as the best expandable hose we tested. It is durable, tough, and lightweight, among others.
Weighing around 3 lbs., it's light, collapsible, functional, and flexible. From 17 ft., it quickly expands to 50 ft. when filled with water. It then reverts to its original size within seconds after emptying. It is easy to rewind after use, and it doesn't kink, tangle, or twist.
It is also perfect for many applications. Made from premium quality fabric and 100% natural latex, it is durable and not prone to corrosion, leaking, cracking, and bursting. It's also easy to move around and connect to a water source.
What Customers Are Saying:
Happy customers rave about the short time it takes for the hose to expand and shrink. Some are pleased about the product's flexibility, reliable performance, and affordable price.

According to a few negative reviews, the hose easily gets damaged. Others are confused about the conflicting product claims.
The feature we like most about the Swan Xflex hose is its flexibility as it is easy to maneuver around your garden. When in use, it quickly fills up with water, and just as quickly flattens out when done, making it easy to store in your garage. It doesn't take up much space.
Although the manufacturer claims the product is kink-free, we experienced some kinks. It also leaked when we first used it at low pressure. But, overall, the Xflex hose performed well, and we enjoyed maneuvering the hose around the garden.
What Customers Are Saying:
Many users rave about the product's flexibility. They say it is very easy to handle. Some say the love the light weight and easy to store features best.

However, some buyers found the hose difficult to reel in. They also say that the hose is prone to kinks and leaks.
If you intend to use the garden hose for a large garden, then you need a long and durable hose such as a 100-footer. The Bionic Stainless Steel 100-Ft. Garden Hose is perfect for the job, and one of the best long hoses that we tested.
Made from commercial-grade stainless steel, the hose is lightweight and very flexible. It is also rust-free, resistant to punctures and leaks, and you can drag it on rough surfaces.
What Customers Are Saying:
The hose's best feature, according to many users, is its lightness and maneuverability in big spaces like a large lawn. Many also rave about its durability and toughness even under heavy duty use.

On the other hand, some users found the price a bit prohibitive. Others experienced leaking at the connection points.
Based on our testing, the best hose for small spaces is the Dramm Premium Rubber Garden Hose. Made from high quality EPDM rubber, the hose doesn't crack or separate.
The 1/2 inch inside diameter and 25-ft. length makes handling easy. It feels light and is easy to store. It is ideal for small-space gardening such as in patios and decks.
What Customers Are Saying:
Users with small gardens say the hose is perfect for their watering needs. They say the hose is compact, easy to use, and the color options are all pleasant.

But some users experienced leaks. Other reviewers claimed that the product is not as durable as claimed.
For the best attachable garden hose, we pick Flexzilla Garden Hose, with its easy to spot fluorescent color and its flexibility. It doesn't need any special connectors to attach to your water source. The squishy silicone handles on both ends offer a comfortable grip when connecting to a spigot.
Our tests revealed that the hose is ideal for various tasks like watering the lawn, rinsing the garbage can, washing the car, and even adding water to the pool. It also doesn't easily kink during garden tasks.
What Customers Are Saying:
Many users rave about how easy it is to connect the hose; you don't need any special tools and accessories to make it work. It is long-lasting and performs as expected.

However, a few users noted that the hose is a little too heavy to lug around the garden. It is also hard to maneuver.
What to Consider When Choosing the Best Garden Hose?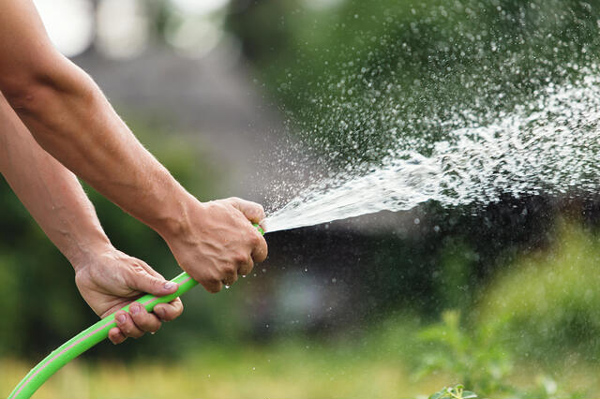 There's no single hose that's perfect for everyone and all applications. The best hose for you depends on your intended use, the area you'll use it on, where you'll put the hose for storage, and of course, your budget.
In general, however, there are some things you need to consider. These include the following:
Type of Garden Hose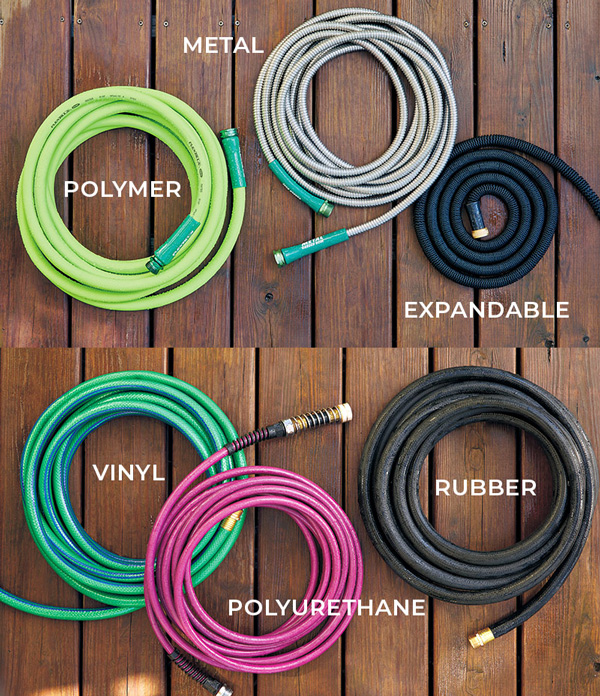 In recent years, the different types of hoses have increased in number to include lightweight and inexpensive options for light watering tasks, and heavy-duty hoses for high-pressure and frequent use. There are even compact models that expand when filled with water. These expandable units shrink to around 1/3 of their full size when not in use. Your particular watering needs will determine the model to buy.
Standard Hoses – Also called all-purpose or all-around basic hoses for watering and cleaning tasks, standard hoses are available in various materials and sizes, and may be classified as heavy-duty or lightweight.
Fat Hoses – These are compact and easy-to-coil models that expand to their full size when filled with water, and just lay flat when empty.
Soaker Hoses – A flexible and inexpensive drip irrigation system alternative, a soaker hose is simple to use. You can move it around similar to a regular hose. The hose comes with thousands of small pores to slowly and evenly drip water at low pressure.
Expandable Hoses – As the name implies, an expandable hose "expands" to its full length when filled with water, and shrinks when empty.
Coiled Hoses – A coiled hose straightens when water passes through, then reverts to its coiled form afterwards. It is compact and thus easy to transport and store.
Material
When evaluating hose materials, flexibility and waterproof features are the most important criteria. While there are numerous hose materials around, the most popular are rubber and vinyl.
Rubber – Among the most durable and strongest hose materials is rubber. It is also one of the priciest and can be too heavy to carry around.
Vinyl – A more affordable option is vinyl. It is lighter and easier to lug around your garden. However, it may be less durable than rubber.
Latex – The materials is made from water (55%) and rubber (45%). It is softer than rubber, but doesn't usually last as long.
Polyurethane – Lightweight and don't kink often, polyurethane hoses are stiff and can be difficult to coil and pull through your lawn.
Reinforced – PVC-reinforced hoses are durable, strong, and multi-purpose, and are designed to be flexible and chemical-resistant.
Stainless Steel – Stainless steel hoses are comparable to rubber in terms of durability. They are also kink-free and puncture resistant, but pricey.
Drinking-Water Safe – Lead-free hoses are considered safe to drink from. However, drinking directly from a hose is not recommended as it may contain mold, bacteria, and other toxic chemicals.
Hose Diameter and Size
Hoses have different diameter sizes, the most common of which are 3/4″, 5/8″, and 1/2″. The measurement is based on the hose's inside diameter. The diameter indicates the amount of water the hose can carry. Bigger diameter means bigger water capacity.
Typically, 5/8″ hoses have more uses. These include heavy duty watering tasks. On the other hand, 1/2″ and 3/4″ hoses are ideal for watering hanging baskets, small gardens, and other light tasks.
Length
Garden hoses are available in 25', 50', 75', and 100' lengths. While you may think that buying a 100-foot hose to use for all your gardening tasks is a good idea, it won't always work.
For instance, if you need a hose for your balcony or deck, a 25' foot hose would be perfect. For a typical urban yard, a 50' hose will be fine. If you need something longer, you can just buy 2 small-sized hoses to join together. Or, you can buy a 75 or 100-footer.
Pressure/Strength (psi)
A hose's psi rating indicates the amount of pressure it can safely handle. Low-quality hoses have a psi rating of up to 200 while high quality hoses can have a psi rating as high as 600.
The typical water pressure in residential areas is around 45 to 80. Most households need a burst pressure rating of 350 psi and higher if the hose is used frequently.
Couplings/Fittings/Connectors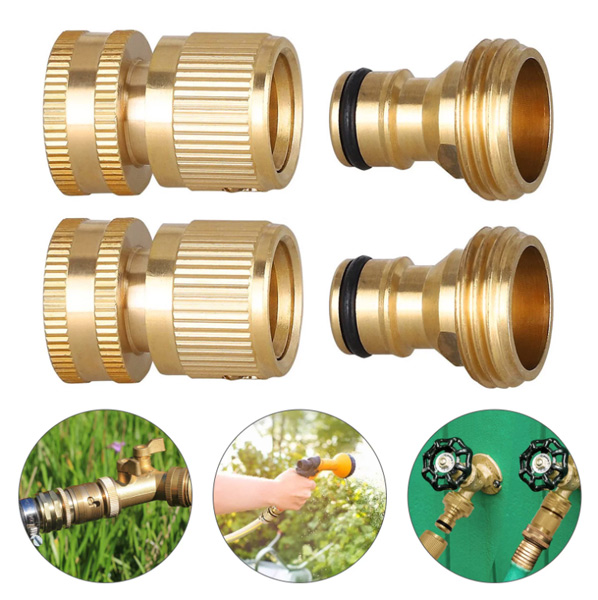 Couplings and fittings connect the hose to a water source to allow water to flow. A hose's fittings are installed at the end so the hose can be attached to a spigot, sprinkler, nozzle, or another hose.
Garden hose connectors come in various sizes and designs for different uses. For instance, there are male and female connectors, depending on how they are attached.
Garden hose connectors and adapters are fittings with a standard garden hose thread (GHT) of 3/4″ on one end, with the other end having a different thread type connection. They ensure a secure connection to pipes, valves, accessories with a different thread type.
Solid brass fittings are the most popular because of their durability. Available in male and female adaptors, the fittings are heavy because of their solid brass construction. Ideal for use in rubber hoses, solid brass fittings are not recommended for expandable hoses.
Safety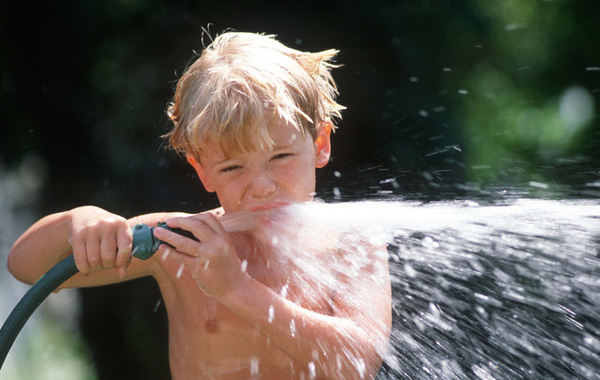 Hoses are generally among the safest garden tools. But if you use the hose to fill your pets' water bowls, or drink from the hose, you should opt for a drinking water-safe option.
More and more manufacturers are now making hoses that don't contain chemicals that may leach into the water, making the water as safe when it enters the hose as when it reaches the end. These hoses are labeled lead-free, phthalate-free, or BPA-free.
Note: Refrain from drinking directly from the hose unless you're absolutely sure that the hose is drinking water safe and phthalate-free. Even small amounts of lead can trigger health problems. Note that some hoses that claim to be drinking water safe actually contain phthalate.
Weight
Typically, a traditional rubber or vinyl hose weighs from 8 lbs. and up. It has a 5/8" diameter and 50-foot length. However, lightweight rubber hoses that weight less than 3 lbs. are now available.
When it comes to expandable hoses, weight is practically a non-factor. They weigh from 1.5 to 3 lbs. or just 1/3 the weight of a typical hose. Nozzles and fixtures contribute to the overall weight, particularly those made from brass. While these fixtures are heavier than plastic, they are more durable.
Colors
Garden hoses are available in various colors including black, green, orange, red, and yellow. The color is mostly just a matter of personal preference and usually does not affect the hose's performance.
Budget
The quality of the hose can make a big difference, depending on your intended use. However, with the staggering number of available models on the market, finding the right hose can be difficult. While you can find affordable hoses that sell for only $20.00, high quality hoses that include equally high quality accessories can cost as much as $150.00.
Final Verdict
Finding the perfect hose for your particular needs and preferences can be tough, but not when you know exactly what you are looking for. We believe that each of the hoses featured in this post can be a good addition to your gardening arsenal, depending on your specific requirements.
Use the tips provided in this article to guide you in your buying decision. All products on our list are durable, flexible, and offer value for your money. Good luck!
---