A garden hose, common as it may seem, has to be of top-notch quality so it can serve its purpose well, be it for washing your car, watering your plant beds, or just for playing around with your kids. To make sure you do not end up buying a bad one, this guide will answer all your important questions like:
How much does a garden hose cost?
We list the brands by cost and discuss the why's behind the tag.
What are the best garden hose brands this year?
We compare a brand to another brand and classify them under three main categories– budget, standard, and premium quality. We also differentiate models manufactured by a certain brand depending on their level – basic, better, and best.  
How do I know the right garden hose for me?
This guide enumerates all the considerations you must think about like climate and purpose before purchasing a garden hose.
Remember that no one can beat a well-informed customer. Know that this guide is your friend who will help you make a purchase you won't regret.
Garden Hose Brands and Factors Affecting Cost
It is interesting how the prices of garden hoses vary from one brand and model to another. Technically, five major factors influence the market value of garden hoses. Not only that, but these factors are also linked to the overall performance of the product.
Therefore, it is quite beneficial to learn these things, so you won't make hasty decisions solely based on the price tag.
1. Quality
Like any other commodity in the market, garden hoses are made to fit the diverse needs of consumers. We can categorize all the brands and models of garden hoses under three main classifications – budget, standard, and premium quality hoses.
Budget Brands – Brands under this category are generally cheap and affordable. Their cost often ranges from approximately 10 – 20 USD. There are good ones that can last for a year or more, depending on how it is used. Some of the popular brands belonging to this group are Tonglubao, Outzest, Autenpoo, Hulosan, Knoikos, and Moonla.
Standard Brands – This category groups brands with mid-range prices usually around 20 USD – 40 USD. They are certainly more reliable than budget brands in terms of durability, performance, and material. There are products under this classification that can serve you for at least 5-10 years if well taken care of. The best ones under this group are Craftsman, GrowGreen, Gilmour, Kurtvana, Briggs and Straton, Kemowo, Specilite, Delxo, Acmind, Wyewye, Aqua Joe, Atlantic, and Suncast.
Premium Brands – These brands are relatively more expensive than most, ranging from 50 to less than 100 USD. Their cost comes with excellent performance, material, durability. These types of products are top of the line and guaranteed to last long. Belonging to this group are Flexziilla, The FitLife, Flexi Hose, Zero-G, Teknor Apex, Dram, Water Right, Vieneci, Stanley Garden, Tuff-Guard, and TBI Pro.
The reputed and premium brand called Flexzilla is owned by Legacy Manufacturing Company. They are most popular for their innovative and striking garden hoses designs. Another pioneering market leader is Teknor Apex who continuously expanded and sequestered multiple standard- to even supreme-level brands of garden hoses like Zero-G and NexFlex. Both of them are competing quite well against standard garden hoses.
2. Performance
Quality and performance are closely related but we have to discuss them separately for you to see closely the difference among several brands. Garden hoses are often designed and manufactured under a certain classification – basic, better, and the best garden hose.
Huge and leading brands often design models that cover the entire spectrum so that their target market size increases. The performance of the garden hose greatly influences the cost of the hose.
Light Duty Performance – There is nothing much to expect from basic garden hoses. They are designed to perform the simplest functions needed from the product. Oftentimes, this type of garden hoses is made from substandard materials that can only withstand certain environmental conditions. Hence, durability is not guaranteed. However, these garden hoses are undeniably cheaper than most products which appeal to many. If you require garden hose for occasional and light use, then this might work for you. This could be great in watering potted plants or small garden.
Medium-duty Performance – Garden hoses tagged under this category are relatively more powerful, durable, and expensive than the basic ones. Most of them are equipped with special features such as increased bursting capacity, internal diameter, and reinforcement that consequently increase efficiency, convenience, and overall performance. Brands pioneering in this type employ technology to improve the materials that they could survive some of the hostile conditions outside.
High-duty Performance – Brands and products under this classification are the front-runners of the industry and they promise nothing but to deliver remarkable results. They certainly outperform the first two categories in almost all aspects. They are durable, stress-resistant, efficient, and capable. They manufacture products from high-quality and premium materials that undergone tedious levels of quality control. Manufacturers often equip these garden hoses with special and unique features like increased flow rate, customized hose length, microbe resistant or memory-less hose material and many more. Not all brands can produce a garden hose of this caliber. However, you can expect that these hoses come with a high price.
Every brand specializes in the development and manufacture of garden hoses that meet specific goals. Briggs and Stratton for example, is well-regarded in the production of heavy-duty garden hoses. Their product are mostly designed to resist hostile climate. On the other hand, there are brands like Craftsman, Atlantic, and Hulosan that aim to meet the standard purposes of garden hose. Therefore , they focus on the production of light to medium-duty garden hoses.
3. Ease of Use
There are several characteristics of garden hose that were specially placed to guarantee maximum comfort and convenience of customers. These user-friendly features are very important before making a purchase.
The first thing to consider is the weight of the garden hose. – Garden hoses with lighter weight make them extremely easy to use during watering, washing, and gardening. People of all ages, heights, and sizes can feel extra comfortable dragging them around, especially around corners and trees.
The second feature you must look out for is compactness. – Garden hoses that can coil well are convenient to store and transport. At the same, this type of garden hose is relatively easy to uncoil, presenting no problem when in use. They would also not consume too much space in your shed or garage.
Another interesting thing about trendy models nowadays is the kink-resistant feature. – Kinks and twisting are frequent problems that inconvenience people whenever using a garden hose. In efforts to solve this problem, kink-free hoses employ a special type of mesh that resists folding and twisting.
The expandable type of garden hose is impressive. – This type expands upon the application of water and deflates when not in use. Expandable garden hose combines convenience and performance, a truly innovative move.
4. Size
The garden hoses come in variable lengths and diameter that suit specific purposes.
Hose Length
Garden hoses are usually offered in lengths of 25 ft., 50 ft., 75 ft., and 100 ft. and some factors need to be considered when choosing the best length for you.
The first thing you must be aware of is the size and span of your intended working area, as well as the distance of the faucet or other water resources from your selected coverage. The farther and bigger your measurements are, the longer hose you might require.
Long garden hoses are often recommended to people with large and spacious urban backyards and driveways. They tackle cleaning projects and water large-sized garden beds with no problem. While a longer garden hose might seem appealing to you, you must know that it comes with certain challenges.
One fact about a lengthy garden hose is that it often delivers a lower amount of water pressure compared to shorter ones. This directly affects the efficiency and total reach of the garden hose when in use. They are also prone to kinks and twists, so make sure you buy the kink-resistant type. Moreover, any 100-ft garden hose must be difficult to maneuver, drain, and stow away, so be prepared.
On the other hand, short garden hoses ranging from 25 ft – 50 ft are recommended for simpler tasks like watering potted plants and a small garden bed, bathing your pets, and filling pet dishes. They can also serve quite well in cleaning and washing cars if the water source is kept close.
Hose Diameter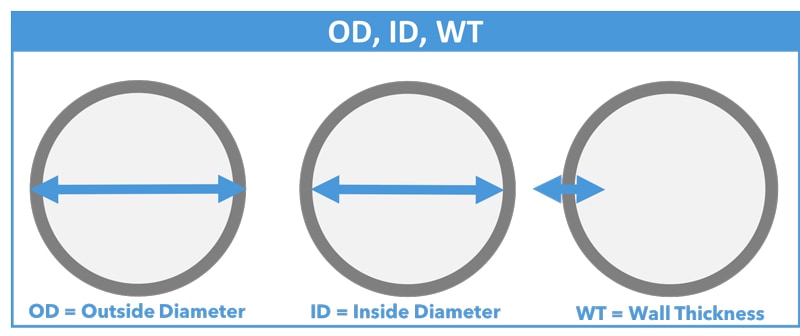 When people are discussing the size of a garden hose, they are just basically referring to the diameter of the garden hose. Garden hoses are commonly manufactured in three available sizes – 5/8 inch, ½ inch, and ¾ inch. In the United States, the standard is 5/8-inch-wide garden hoses.
The size of the garden hose impacts the amount of water it can deliver and by how fast.
Obviously, wide -sized garden hoses such as 3/4 inch can hold more water. According to a technical review, a 100 ft. long garden hose with ¾-inch diameter can approximately hold 1 gallon of water, while 5/8 inch can hold 0.57 gallons and ½ inch 0.25 gallon.
Aside from the capacity to hold water, the hose diameter also affects the total water pressure of the hose. The water pressure is what drives the water out of the hose and keeps it flowing. So, the wider the diameter of the garden hose, the greater the water pressure it can create.
Simply put, a garden hose with wider diameter like ¾ and 5/8 has a greater water output, thus suited for more demanding work like cleaning spacious driveways and watering huge garden beds. A ½" diameter hose can be good enough for basic watering of garden pots, which does not require too much power.
5. Material & Types
A garden hose has a complex cross-section of internal web fibers made from extruded synthetic rubber or plastic polymer to which the flexibility of the hose is largely attributed to. Moreover, the type of material from where a garden hose is crafted dictates the capacity and lifespan of the garden hose. You'll see below the major types of materials used in making garden hoses and the pros and cons of each type.
Polyurethane
Polyurethane is a great type of material for garden hoses. It's extremely lightweight that you can move around with minimal effort. You will also find it very easy to coil and uncoil. There are excellent polyurethane garden hoses that can resist twisting and kinks. However, it may not be as durable as rubber. It may crack sooner than other materials, especially if the temperature and manner of use are not as friendly.
Rubber
Rubber-made garden hose is the way to go if you are looking for something that will survive the test of time. It has the highest level of durability that can withstand changing temperatures. There are brands that pioneer in manufacturing reinforced rubber garden hoses that can survive winter frost and UV rays. They also resist deformation, twisting, cracking, and puncturing. The only problem with this kind of garden hose is that they are too heavy. It could be a challenge maneuvering them around your space, as well as storing them. The price is also quite costly.
Vinyl
Among all the materials used for garden hoses, vinyl is one of the most affordable and budget-friendly. They are also the lightest in terms of weight, making your job less tedious and tiring to do. But vinyl garden hoses are the least durable ones. They are prone to twisting, deformation, kinking, and cracking. They do not survive well in environments with extreme temperatures. On average, a vinyl garden hose can serve you at best, for a year or so.
Polymer
You might have seen polymer-made garden hoses quite frequently since they are trendy nowadays. The material makes the garden hoses extremely light, flexible, and easy to use. You can drag them around corners, trees, and are with relative ease. On top of these things, it can survive very high and low temperatures with no traces of damage or cracking. However, you may want to take extra precaution against curvature memory, which can eventually lead to the formation of kinks if not handled well.
6. Strength
The strength of a garden hose lies in its capacity to withstand a certain level of water pressure without bursting. PSI or pounds per square inch is the measure used to assess the strength of a garden hose. You can see this value in the packing or technical specifications of the product. Generally, a higher PSI rating would translate to a sturdier and stronger hose.
Basic and low-quality garden hoses can survive water pressure under 200 psi. This is actually good enough since the average pressure of home water faucets in America is only around 40 – 60 PSI.
There are heavy-duty and premium quality garden hoses too, that can withstand up to 500 psi without breaking. These types of garden hoses may have several ply or layers that add up to make it as durable as it can be.
For guaranteed results, it is highly recommended to purchase a garden hose that can hold up at least four times the PSI of the water source – spigot or faucet. Furthermore, you can prevent unfortunate bursting in case there comes a sudden and extreme surge in pressure.
PSI rating is also important when it comes to attachments like sprinklers and nozzles. Put extra attention to their psi ratings, to see whether they are suitable or not.
7. Weight
The weight of the garden hose is something you may want to look closer at, especially if you live with people of varying statures and power. By this, you probably know that the overall weight of the garden hose depends on its material, length, and diameter.
We have mentioned a lot about how good it is if the garden hose is lightweight. This is especially true if you have a big and spacious area to water or clean. Moving it around would require less effort and energy, especially if the working area has lots of obstacles like trees, corners, and rocks. At the same time, lightweight garden hoses are more user-friendly among the elderly and children.
Just as well, a lightweight garden hose is extremely easy to store and to transport. You can safely hang them on a corner to save more space.
There are now many brands like Zero-G and Flexi Hose, setting the high bar in the production of top-of-the-line lightweight garden hoses with high performance. On average, the best lightweight models available today in the market can weigh around 1-5 pounds only, a truly outstanding feat.
8. Flow Rate
Flow rate is another essential feature of a garden hose that can determine how many gallons of water the hose can deliver per hour. This value is measured and described by the GPM (gallon per minute) rating.
The GPH value of a garden hose is an indicator of its efficiency. The higher the GPH is, the more reliable the garden hose is. You don't want to buy a garden hose that will cost you a day just to finish your gardening or cleaning job.
There are technically several factors affecting the flow rate of a garden hose – water pressure, diameter, and length of the garden hose.
Longer garden hoses, especially the 100 ft. ones have a slower flow rate than the short ones. On average, a 25-ft long garden hose can have a GPM rating of around 24-72 GPM, while the 100 ft long garden hoses can only have a 6-18 GPM rating. These numbers can go up, depending on the diameter and pressure.
On this note, shorter garden hoses are more recommended for watering garden beds with fast-absorbing soil types such as loam, while low flow rate garden hoses apply to garden soil that drains water poorly. If you still have qualms, then you can opt to attach some accessories to your garden hose like a sprinkler to improve the quality of its performance.
Garden Hose Prices List
To give you an idea of how the market is looking, here's the latest price list of best-selling garden hoses sorted by brand and size.
Length (feet) & Diameter (inch)

Craftsman Premium Rubber Garden Hose

KURTVANA Expandable Garden Hose

Atlantic Premium Hybrid Garden Hose

3FT-Female to Female x 5/8 in.,

5FT-Female to Female x 5/8 in.,

OUTZEST Expandable Garden Hose

HULOSAN Expandable Garden Hose

Colrasn Expandable Garden Hose
Installation Costs and Extras
There isn't much work for installation required for garden hoses. They are extremely simple and self-explanatory to unbox and assemble.
The extra costs are often spent on accessories such as fittings, nozzles, sprinklers, and others, which can affect the performance of the hose in some way.
Furthermore, additional expenses are sometimes spent on installation of new spigots and faucets near the designated working space, but it is completely up to you to include them on your budget.
What Garden Hose Size Do I Need?
You now understand more about the length and diameter of garden hoses, and how they affect the hose's overall performance. However, identifying which size better fits your purpose remains a tricky and daunting task.
Here are some things you can do to determine which size of a garden hose is right for you.
Identify your purpose.
Think hard enough about what jobs you are going to use your garden hose for.
If you are just looking forward to watering your garden pots, hanging plants, and small greeneries, then a ½ inch diameter garden hose could work just fine. It can deliver enough volume of water to keep your potted plants, lawn, or pets hydrated.
However, if you plan to use the garden hose for other tasks like cleaning the driveways, washing your cars, or maintaining a large-sized garden then, it would be best if you get at least a standard-sized (5/8 inch) garden hose. It can deliver up to 17 gallons of water per hour and has sufficient pressure output.
You can opt for heavy-duty garden hoses like ¾ inch ones. However, they are far better choices for commercial purposes like farming and construction since they offer significantly greater water pressure and higher flow rate. Moreover, bigger and longer garden hoses may require additional accessories to meet their full working capacity.
Do the measurement.
As for the length, it is best if you could measure the distance from the nearest water source (faucet/spigot) up to the maximum point in your garden, driveway, or backyard you need to work on. Add a couple of feet to your actual measurement, preferably around 10-15 feet more as allowance. You'll feel more comfortable going around trees, corners, and other blockades with extra length.
What Garden Hose Pressure Is Right for You?
Garden hose pressure is one of the most important features you must carefully think about. So, to come up with a smart choice, here are some helpful tips you can do
The first thing you have to check is the water pressure in your faucet or spigot. The water pressure in the faucet must suit the capacity of the garden hose. If the pressure is too high for the hose, bursting is quite inevitable. On the other hand, if the pressure is too low, then you might require additional accessories to augment the flow of water.
Another point of consideration is the purpose and task of the garden hose. A 200 PSI rated garden is good enough for light gardening and watering requirements. While garden hoses with up to at least 350 PSI can work well in various types of jobs like watering the lawn, washing the car, and cleaning a patio. Higher psi ratings would be better for commercial settings.
Next are the size and length of your target area. Remember that a strong-pressured garden hose can extend its reach; thus, it is capable of covering bigger spaces.
Lastly, you should consider convenience. A garden hose with a higher PSI rating makes cleaning and watering jobs a lot easier. Higher water pressure increases water delivery, thus saving more time and energy.
Garden Hose Brands Reviews
The growing industry of garden hoses is a very competitive and tough market. More than 100 manufacturing companies fight for a spot in your cart. It could be very overwhelming, scanning for reliable products and well-known brands. So, to shorten the time you most probably spend on searching, here some of garden hose brands under one mother company:
BHSD Trading LLC: Ovareom Joey's Garden, Power Flow, Hydroforce, Streamflex
Snow Joe LLC: Aqua Joe, Fiber Jacket
US Wire and Cable Corporation: Flexon, Featherlite, Oasis
Aqua Joe – Snow Joe LLC
Specilite – Emart International Inc. Corporation California
Kernowo – Li Wei Individual China
Acmind – Shije Xu Individual China
Delxo – Baosheng Inc Corporation
Melnor – Melnor Inc
Water Right – Water Right Inc
Suncast – Suncast Inc.
Growgreen – Scooters Inc
Dramm – Dramm Corporation of Manitowoc Corporation
Camco – Camco Manufacturing Inc
Briggs & Stratton – Briggs & Stratton Corporation
Atlantic – Eastup Industrial Co., Ltd.
Flexzilla – Weems Industries Inc. Legacy Manufacturing Co.
Craftsman – KCD IP LLC
TheFitLife – TheFitLife LLC
Flexi Hose – Web Deals Direct LLC
Wyewye – Li Jinghong
Stanley Garden – Stanley Logistics
Double Couple – Double Couple Inc
Kurtvana – Kurtvana Inc
Note: Garden hose, although a common household item is not really easy to find in shops. We suggest that you look first for a trusted and reliable retailer or dealer around your area before proceeding to brand reviews. It will help you land on the best deals.
Best Garden Hose Brand Reviews
1. Teknor Apex Hoses series
Zero-G Hose Reviews
2. Flexzilla
Flexzilla Garden Hose Reviews
3. Craftsman
Craftsman Garden Hose Reviews
4. Silver Bullet Hose
Silver Bullet Hose
5. Gilmour
Gilmour Garden Hose Reviews
Better or Important Consideration than Brands
It's true that brand matters when making a purchase. But there are certainly far more important things when buying a garden hose.
You should give more credit to the overall quality and performance of the garden hose. Well-reputed companies do not always produce the best performing garden hoses. Thoroughly study the product's technical specifications and confirm it via honest customer reviews or testimonials from friends or family.
Another important thing is the appropriateness of the garden hose to your purpose, environment, and budget. Even though the brand produces the best heavy-duty garden hose, if it does not suit your faucet or your stature, then it becomes useless.
Real Garden Hose Prices and Reviews from Readers
Flexzilla Garden Hose, HFZG525YW,

5/8 in. x 25 ft.

13 sq meters

"My husband and I definitely love this product. It keeps our potted plants and small garden well hydrated. The length is perfect too for our rather small space. I cannot look for anything else."

Flexi Hose,
Upgraded Expandable Garden Hose,
3/4 in. x 50 ft.

Michigan U.S.

approx. 144 sq m.

"This expandable hose is the best investment. It performs better that my old brand – no bursting, just the right length, lightweight, and reliable."

Higen,
HG0001-100FT,
3/4 in. x 100 ft.

227 sq m

"I am speechless! It did what it promised. We seldom find heavy duty garden hoses as good as this so I'm relieved. No problems yet encountered with pressure, kinks, and volume."

Amayrose,
Garden HoseExpandable Water Hose,
3/4 in. x 25 ft.

6 sq meter

"After doing a bit of research, I found the Amayrose hose to have all positive feedback that convinced me to try an expandable hose. The product came as promised, and after hooking it up, it worked flawlessly – easy to use, expands easily, no leaks, and recoils back into a short hose that easily stores…"

GrowGreen,
26-BH-25,
25 ft.

49 sq m

"This hose is so light, never kinks, and allows me to spend my time doing what I hope to do -- water! I recommend it highly and will purchase another one immediately for the back yard!"

21 sqft

"This product seems to be actually better constructed than the others; thus, I'm optimistic it will last longer. And the included nozzle is a great bonus."

VIENECI,
Garden Hose Expandable Hose,
3/4 in. x 100 ft.

"I was so excited when I first used this hose. The water flows with no problem and the coolest thing is that it can reach even the farthest points of our space. May seem quite pricey but it is definitely a must buy!"

OUTZEST,
Expandable Garden Hose,
3/4 in. x 50 ft.

"The Outzest is flexible, durable, store-able, maneuverable, and fairly priced. I can't say enough great things about it."

"Excellent hoses with rubber that resists UV damage from sun. Nickle plated brass end connectors hold up well also."

zero-G,
4001-50 Lightweight, Ultra Flexible, Durable, Kink-Free Garden Hose,
5/8 in. x 50 ft.

"They're such a joy to use as they're so lightweight - I hate dragging heavy hose from 1 place to another."

Note: This table is based on the latest reviews from verified local customers submitted online. If you have more things to share to help other gardeners and homeowners, please leave your comments at the bottom of the article!
How To Get The Best Garden Hose Prices?
Keep in mind these three major tips on getting the best prices in the market.
Do extensive research. – You're doing the first step well. Familiarize yourself with everything about garden hoses including the latest reviews, standings, and prices. List your top three choices and try to make a deal for each, so you can have options.
Lookup for rebates, discounts, and sales. – Check your accounts for possible rebates that could help to reduce the total cost. Sales occur frequently, so be alert. You can save as much as 50% of the original price from these events. Ultimately, ask around and look for credible and budget-friendly dealers or retailers and try to hassle. Try bidding your lowest before making the purchase.
Do not compromise. – It's true that budget matters but never ever sacrifice the quality of the garden hose. You might save a couple of bucks now and then regret later.
Conclusion
This guide was comprehensively structured to provide you with all the information you might need in your search for the best garden hose. It is now up to you to culminate all the information – quality and power of the garden hose, purpose, considerations, and market standings to make one big decision.
Choose smart. Choose the best and water with care.
---