Knoikos Expandable Garden Hose Review:
Ease of Use

Quality

Performance

Price
Quick Summary:
Compact and very easy to use, the hose is not the most durable, but should last long with proper care.
I tested the Knoikos Expandable Garden Hose to prove firsthand if it lives up to its easy to use reputation, and if it deserves the positive online reviews it has been getting. Wanna know how it fared? Read on.
For years, I had to put up with heavy and hard to maneuver rubber hoses, but I had no choice. I love gardening so much, and I'm not willing to give it up. Thankfully, there are now lightweight and expandable hoses that make gardening more fun and a lot more convenient.
I researched on various expandable hose models, and one of the more popular models online is Knoikos Expandable Garden Hose. So, I decided to test it to see if it will work for me.
Knoikos Expandable Garden Hose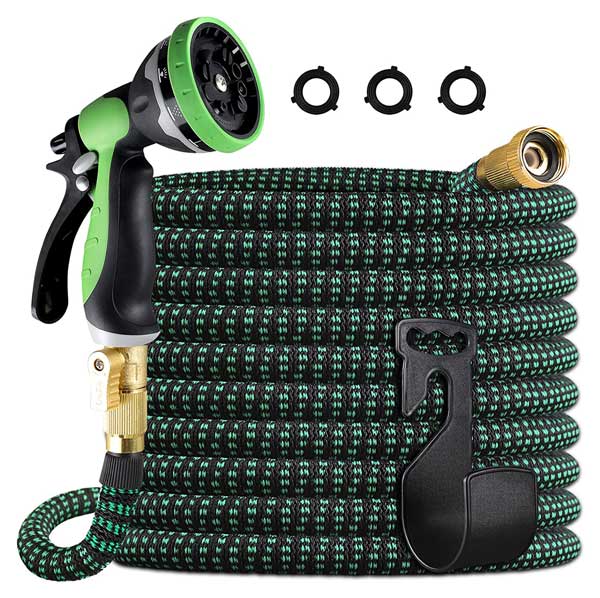 The Knoikos Expandable Garden Hose is designed to be bust and leak-proof. It is also more compact and lighter than traditional hoses, making it easy to lug around the yard, and coil for storage when not in use. It boasts of a 10-pattern nozzle sprayer that, based on my research, is the most offered by an expandable hose.
Tip:
The hose seems to have questionable durability, but it should perform well for many years with proper care and maintenance. You can refer to the included instructional guide to make sure of proper hose usage.
| | |
| --- | --- |
| | Knoikos Expandable Garden Hose |
| | |
| | |
| | |
| | Latex, Polyester, Plastic, Rubber |
| | |
| | |
| | |
| | |
| | |
Features and Benefits
After testing the Knoikos Expandable Garden Hose on regular gardening and other similar tasks, the following features stood out for me:
Ease of Use
The hose came in a 5-in-1 package that looked intimidating at first. However, once I figured out how to attach the accessories with the help of the included instructional guide, actually using the hose was a breeze. The spray nozzle is ergonomic and non-slip. It is also thumb-controlled, and this eliminates the hand fatigue that is commonly associated with trigger-type nozzles.
10-Pattern Spray Nozzle
While I do not have ready use for all the spray patterns available, it is good and reassuring to know that the hose can address any need I may have in the future. After all, 10 is the most number of spray patterns currently offered by expandable hose spray nozzles today.
I tested all patterns just to make sure that the hose really delivers on this claim, and yes, there were really 10 different patterns!
Tight-Fitting Connectors
All the plumbing connections in my house are of standard size. The hose fit my outdoor spigot snugly the first time I attached it. There were no kinks and tangles when I filled the hose and expanded it to its maximum length.
Once filled, I used higher pressure on the hose and it held well, although the maximum water pressure in my home is less than 100psi, so I wasn't able to test if the hose could handle much higher water pressure. What I have seen is enough for my day to day needs, however.
Compact and Easy to Store
After each use, I noticed how the hose self-drained and contracted into its original compact size that made it easy to roll for storage. The storage bag that came with the package makes the hose convenient to store and very portable. The bag also looks sassy enough, and makes for an ideal gift for friends and loved ones.
Many Uses
To determine if the Knoikos Expandable Garden Hose is suitable for me, I used it for my day to day tasks. Aside from watering my garden, I used the hose to clean my pavement, bathe my furry friends, wash my car, and even to provide the needed water for my bathroom renovation project. The hose gamely took on the various tasks – without any problems.
Tips for Using Knoikos Expandable Garden Hose
Keep in mind that the Knoikos Expandable Garden Hose is not designed to run hot water. When not in use, make sure to turn the water source off to relieve pressure, and allow the hose to self-drain.

Store it in a dry shaded area like your garage, and avoid leaving the hose outdoors for a long time to avoid unnecessary exposure to the elements. It will not fare well when exposed for a long time to extreme heat or cold.

Knoikos Expandable Garden Hose Customer Reviews
Online reviews are helpful in determining whether or not a particular product can be useful for you, in this case, the Knoikos Expandable Garden Hose. After all, where can you get a good idea about the product better than from actual users themselves?
Many of the satisfied users are impressed with the spray nozzle that features 10 spray patterns. They also mentioned that the hose was lightweight enough, easy to use, carry around, and store. The included storage bag was a great help for portability.
On the other hand, some users are not happy with the hose's overall quality. They say that their hose started to leak after only a few uses. A few even mentioned the poor construction of the metal parts.
Here are some of the reviews we found about the Knoikos Expandable Garden Hose online.
Alternatives
Here are three alternatives that you can consider if you think Knoikos Expandable Garden Hose is not for you: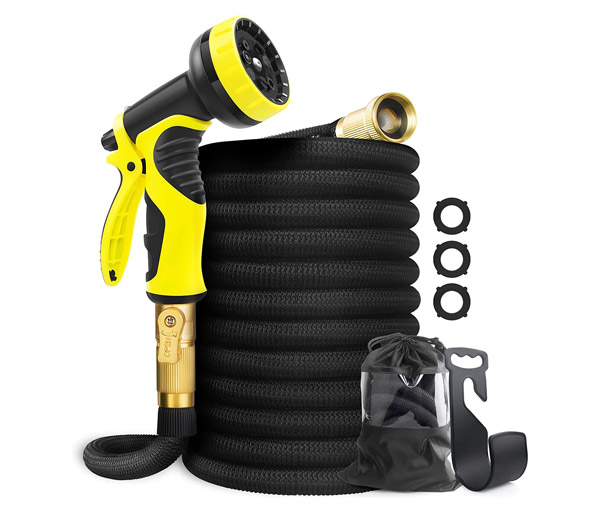 Made from extra-strength fabric, the Aterod Expandable Garden Hose is amazingly lightweight, durable, and functional. It also comes with solid brass connectors to ensure tight, leak-free connections.
Highly-rated in many online reviews, Joeys Garden Expandable Garden Hose offers great water flow and pressure control. Made from high quality latex interior and elastic fabric cover, the hose is designed to last.
Looking impressive right out of the box, the Delxo Expandable Garden Hose matches its impressive looks with an equally impressive performance. It is sleek and snag-free. It can also endure high water pressures.
Final Verdict
If, like me, you just need a hose for day to day gardening tasks, as well as other light jobs, then you may find the Knoikos Expandable Garden Hose perfect for your needs. The product comes in a neat packaging – complete with accessories. It is compact, easy to use, and offers 10 spray patterns, currently the most in the industry.
This review rates the Knoikos Expandable Garden Hose 4.6 out of a maximum of 5 stars. While it is a great hose for everyday use, the Knoikos garden hose is not ideal for everyone – in particular, those looking for a heavy duty hose. However, if you need a heavy duty hose, then it is best that you look for a traditional rubber hose, and not an expandable garden hose.
For more information about the Knoikos Expandable Garden Hose, you can check out the product on Amazon. Please leave your feedback and comments below.