When looking for a garden hose, the best hose is one you enjoy using.
You should look for one that will suit your gardening needs to a T. Conventional rubber hoses are great for what they do. But hoses are not a one-size-fits-all kind of tool.
For me, storability is the most significant feature of any hose. I need to make the most out of my small garden allotment.
25-foot hoses are smoother (I use the term loosely) to manage than 75 foot or 100-foot hoses. But not all gardeners have access to a hose reel or a hose pot. This gardener only has a plastic box in which to store her gardening supplies.
After looking into using different hoses, I believe expandable hoses like the Pocket Hose Top Brass Bullet Hose would have worked to solve my problems.
If you value storability as I do, these might also be a good option for you.
Things to Consider When Buying an Expandable Hose
When shopping around for an expandable hose, you need to pay attention to a few things.
"The best hose is one you enjoy using."
Materials of both the outer shell and the inner core
The outer layer protects the inner core from abrasions and punctures from rocks, debris, etc.
The inner lining or core works like a balloon when filled with water. This core allows the hose to expand to three times its size. It then automatically deflates as it empties itself of water.
Number of Cores
The core of the hose needs to be stretchy and durable. The material is still susceptible to damage over time from dirt that makes its way through the covering.
Many hoses have double, triple, or even quadruple layer cores to combat the potential damage.
These added layers also add to the resistance of the hose. With each added layer, the hose requires more water pressure to expand to its advertised length.
Hose fittings
Hose fittings can come in brass or plastic. There are some cases where aluminum covers the brass fittings. Aluminum coverings add extra protection to the brass threads.
Plastic fittings are inexpensive and easily replaced.
You should check to see if the hose has washers in the female end. If not, rubber or nylon washers are inexpensive but also help to stop potential leaking.
Hose length and weight
These hoses can come in lengths of 50, 75, and 100 feet.
What adds to the weight of the hose are its fixtures and nozzles. Brass connections weigh more but are also more durable.
Remember that extra cores and insufficient water pressure can prevent the hose from reaching its advertised length.
Nozzle
Expandable hoses often come with spray nozzles with different spray patterns. The nozzles can come in plastic or metal but are not indicative of the overall quality of the hose itself.
New Pocket Hose Top Brass Bullet
The Pocket Hose Top Brass Bullet Hose is a high-quality expandable hose developed by Bulbhead. Over the years, various Pocket Hoses have come out with differences in fittings, outer coverings, but they have been more or less the same.
If you're like me with limited space to store your gardening supplies, then this hose is for you.
This hose is easy to move around and is kink-free as well. We all know the silent struggle gardeners have with the kinks in their hoses.
If you only have a limited amount of time to water your plants, you do not want to spend half of that time wrestling the kinks out of your hose. This hose is for you.
Hoses have that annoying problem where they leak from the faucet or nozzle attachment.
Even if your dog did not bite through it, there are other reasons a hose could leak:
Loose or uneven threads;
Torn/ruptured seams;
or holes that happen because of abrasions.
The Brass Pocket House has sealing technology that stops dripping from both ends, allowing for a more consistent water flow coming from the faucet. Your water pressure will not drop.
Brass Connectors
A hose is only as good as its connectors. This hose features brass connectors that provide durability. Brass fittings are also rustproof, scratch-proof, and crack-proof (but not dog-proof). They add more weight to the hose but not enough to be noticeable.
The previous iteration of this expandable hose had plastic connectors that broke quickly. They also cross-threaded after consistent use (always, ALWAYS use Teflon tape on anything that has threads. It will save you a big headache in the long run).
Elastomer Lining
All hoses, expandable or not, require a sturdy inner core to extend their lifespan. This expandable hose uses an elastomer as its lining.
Elastomer is a polymer that has rubber-like properties, just like latex. The lining ensures that the hose can stretch itself to its advertised length and also shrink back down with no problem.
Space-Saving Design (My favorite feature)
When fully pressurized, the hose grows to triple its size (from 17 feet to 50 feet) and contracts on its own when the water is absent.
This feature allows for compact storage out of sight. It is a godsend for those with limited space.
Lightweight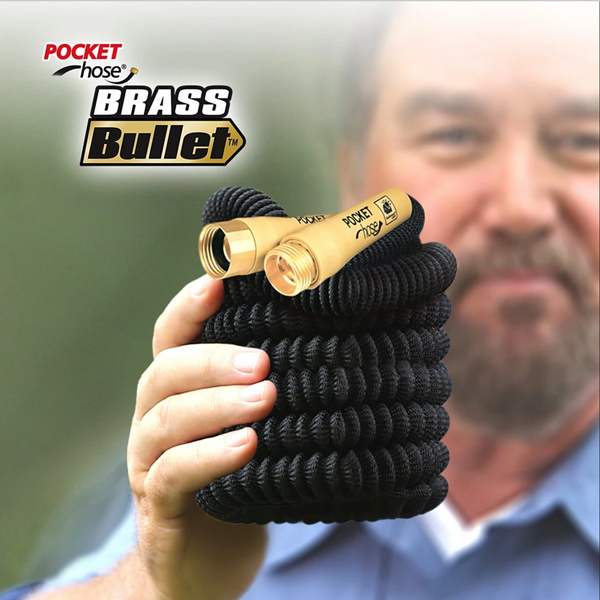 With its light weight of 1.82 pounds, it is obvious this hose is for garden use. Users who have problems controlling conventional hoses are going to love this.
The lightweight design does not detract from its ruggedness. This hose can take a fair beating because of its quilted outer covering.
Indoor Storage
The hose needs to be stored inside to keep it working as it should. Overexposure to UV rays is harmful to the outer covering of the hose, just like it is to our skin.
Remember to empty it of water before storing it.
A customer experimented on the hose, where they left the hose out in the sun while fully pressurized. After an hour, the hose burst close to the brass fitting connected to the nozzle.
Unfortunately, you need to know how to measure the water pressure coming out of your faucet.
The water pressure coming from your valve needs to be just right. Not enough, and the hose will not expand to its maximum length. Too much, and you risk the hose bursting at the seams.
If you can take the time to measure the water pressure coming from your faucet, you can avoid the above problems.
Specifications
| | |
| --- | --- |
| | Pocket Hose Top Brass Bullet |
| | |
| | |
| | |
| | |
| | |
| | brass fittings, nylon exterior |
| | |
Review of Top Brass Pocket Hose
After scouring the internet for users who have used the product, I found a few that are fairly positive.
The brass connectors are well made and there have been no reports of serious leakage after having been used a while.
One thing that you need to pay attention to with this hose is the water pressure. Too much or too little of it will stop the hose from working how it was intended to.
Alternatives
This Knoikos Expandable Hose comes with a ten-pattern sprayer. The nozzle has a thumb control that allows for a quick change of the water pressure flowing through the hose.
This 50-foot hose is perfect for gardens both small and medium. Unfortunately, it only comes in one size, so this is not a good suit for expansive gardens.
The durability of the hose comes from its polyester and latex build material. You can count on its reliability.
Unlike its competitors, this hose only weighs three pounds. The weight comes from its brass fittings and its nozzle. The nozzle has eight spraying patterns, fitting for a variety of things.
The inner core of the hose is burst-proof because of its quadruple-layer protection. Like other hoses, they make the outside shell of 3750D fabric.
This Delxo expandable garden hose includes a hanging bracket, a removable multi-nozzle with nine patterns, and a shut-off valve for easy access.
It only comes in one size but expands from 33 feet to 100 feet in a few minutes.
You can leave this hose outside because it can withstand 32 to 104 degrees Fahrenheit without bursting.
Conclusion
Bulbhead specifically made the Top Brass Pocket Hose for gardeners who want an easily storable hose and don't have the storage space to store it outside.
This hose is also beneficial for those who have a hard time carrying around heavier ones.
The hose is both durable and pliable enough to take a significant beating. Take care of it so that it will last for years to come.