Hose Hero Reviews:
Ease of Use

Quality

Performance

Price
Quick Summary:
This hose is one of the best in the market. It comes with a warranty in case you encounter any problem with it.
"Metal garden hoses are much sturdier and endure longer than rubber water hoses."
Watering the garden, washing the car, and even bathing the pets is difficult with a heavy hose. That is why this matter must be solved, as it has become a hassle for me to water the plants regularly or accomplish other tasks that need the use of a hose. Fortunately, I have researched products that may help me simplify the work. I stumbled across the Novel Brand Hose Hero.
Introduction to Novel Brand Hose Hero
If you enjoy gardening, have a large property to manage, need a lot of water, or know that you'll have to drag your hose for miles through rugged terrain each week, the Novel Brand Hose Hero is the product for you.
Features and Benefits
The Novel Brand Hose Hero has features suitable for professional landscaping, household maintenance, and car washing.
Made of SmartSteel
One of the most appealing features of this hose is that the exterior is made of steel, implying that it has a strong shell to protect the hose and prevent leakage. You won't have to worry about tearing the hose apart while dragging it through rocky terrain.
Kink-free hose design
This hose is specially designed to not kink easily, allowing you to continue working without needing to stop to untangle it. The Novel hero has a flexible rubber on the inside to prevent kinking and keep the water flowing continuously.
Lightweight and easy to store
Because the Novel Brand hose is kink-resistant, it can be easily swirled up and stored. It's also lightweight, making it easier to use around the house and coil it up on your shoulder when you're done.
Tips for Using the Hose Hero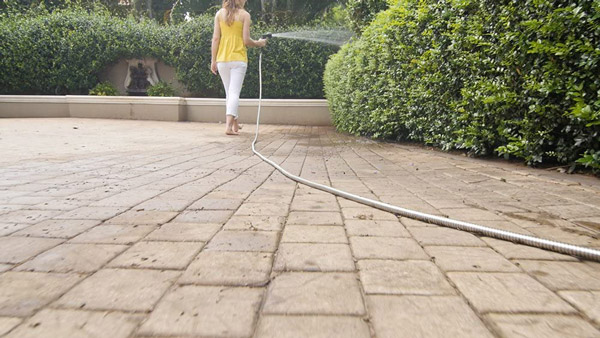 Allow any extra water to drain before storing your hose. Excess water in the hose might produce germs that are damaging to the hose. Coiling your hose carefully over your shoulder after usage might help drain excess water. If you have a hose reel, gently wrap the hose for storage. To prevent kinking hose issues, never place your hose on a hook with concentrated force in one area.
Customer Reviews of Hose Hero: Hose Hero As Seen On TV?
We explored the internet for product reviews and customer feedback that may be useful if you consider purchasing it.
The durability of this product is what customers appreciate the most. It lived up to its claims of being almost indestructible, which is good because you can use it not only at home but also on an athletic rocky field.
A lot of customers also liked how easy it was to maneuver and drag anywhere without worrying about it kinking and blocking the water.
Some customers claim that the Novel Hero can improve their nozzle because it is difficult to fit on the hose.
Alternatives
We explored the internet for options in case you are looking for anything similar to the Novel Brand Hose Hero.
Cesun Stainless Steel Metal Garden Hose
Cesun is a well-known brand of gardening tools and equipment. This metal garden hose measures 50 feet, and is designed for small to medium-sized backyard landscapes, allowing you to effortlessly access all areas.
Tardigrade is one of the most durable and kink-free steel garden hoses on the market. The length of this garden hose is 50 feet, and the diameter is 58 inches. As a result, it is a good choice for small and medium-sized residential gardens.
If you're searching for equipment for your backyard garden, Specilite is recognized for producing affordable options.
One of the great features of this metal garden hose is the spray nozzle, which has 10 spraying modes. Despite its low price, it is made from durable 304 stainless steel and comes with a one-year warranty. In other words, this steel garden hose is built to last.
Final Verdict
Metal garden hoses are sturdy and endure longer than rubber water hoses. It is because they are made of metals such as steel. As a result, if you're looking for a metal hose for your garden, consider the Novel Brand Hose Hero. Its lightweight and long-lasting features make it an ideal pick for your home or landscape needs.