Expandable garden hoses are self-draining hoses that are resistant to kinks, twists, and tangles. They are much lighter than traditional hoses, more compact, and eat up little storage space.
The hose's inner shell serves as a tough wall that protects the hose against abrasions and punctures. The inner core, meanwhile, acts similar to a balloon that can stretch up to thrice its size. When empty, the hose reverts to its original shape and size.  
We tested a bunch of these expandable garden hoses to find out if they are up to the hype. Read on to learn which ones lived up to expectations.
Our Top Picks: The 10 Best Expandable Garden Hoses for Your Yard, Lawn Watering and Irrigation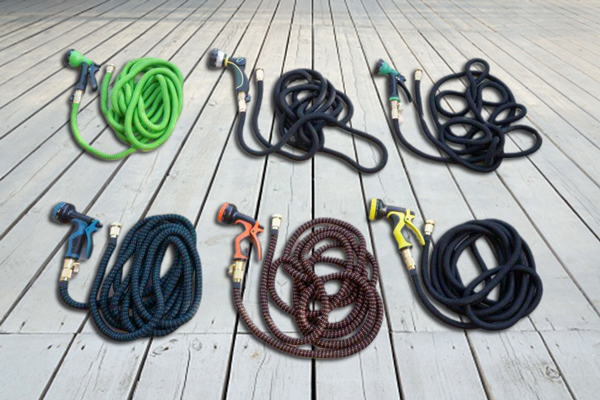 The brands we tested are among the most popular today. To make it to our list, the product must be durable, tough, and lightweight. Likewise, the fittings must be easy to connect to spigots and nozzles, and without leaks.
Having said that, here are the models that we feel are the best in their respective categories:
Best Overall
TheFitLife Flexible and Expandable Garden Hose
Among the many expandable garden hoses we tested, TheFitLife Flexible and Expandabe Garden Hose emerged as the best. It excelled in most of the criteria – durable, tough, and lightweight, among others.
Weighing no more than 3 lbs., it's light, collapsible, functional, and flexible. From 17', it quickly expands to 50' under moderate water pressure, then reverts to its original size within seconds after emptying the water. It is easy to rewind into a hose hanger or basket after use. It doesn't kink, tangle, or twist.
It is also perfect for various purposes. With 8 unique spray nozzle patterns, you can conveniently use it to water your garden, wash your vehicle, clean or fill up your pool, bathe your pets, fill water containers, and many more. The brass valve ensures good control of the water flow.
Made from premium quality fabric and 100% natural latex, TheFitLife is durable and is not prone to corrosion, leaks, cracks, and bursts. It is also easy to maneuver and connect to a spigot or water source.
What Customers Are Saying:
Most satisfied customers rave about how quickly the hose expands and shrinks. Others are happy about the product's flexibility, reliability, and durability. For its price, it's great value.

On the other hand, some users say the hose can easily get damaged when dragged through a rough surface. Others are confused about the product claims and description.
Also making it as one of the best is Joeys Garden Expandable Garden Hose. Starting at a compact size, the hose quickly expands to 3x its length (50') with water pressure. Just turn off the water to bring it back to its original size. The hose rolls up easily and is convenient to store. It doesn't tangle, knot or twist. Durable and tough, the hose doesn't easily burst or rupture.
The hose comes with solid brass connectors that ensure easy and leak-free attaching to standard spigots. The nozzle boasts of an easy to grip rubber handle and is equipped with 8 unique spray functions suitable for various tasks. The outer elastic fabric and inner latex core ensure maximum durability and flexibility.
The Joeys Garden Hose is also ideal if you're looking for a functional gift for your loved ones. The hose is delivered in a ready-to-gift package.
What Customers Are Saying:
Actual users say that they appreciate the hose's functionality. Others say it is easy to use and attach to water sources. There are also mentions of the impressive packaging.

However, one customer was disappointed that the hose broke down after only a couple of weeks, although the hose was performing great. A few others don't like the hose's spray patterns.
Another impressive model is the GardGuard Expandable Garden Hose. It comes with a 10-function safety nozzle, which is more than what regular brands offer. The non-slip rubberized outer coating and ergonomic handgrip make the hose comfortable and easy to handle and use.
You'll know it's a quality product the moment you pick it up. This is also a great choice for an expandable model.
The tough polyester fabric cover and high-density 2-layer latex core help prevent leaks and breakage, and allow the hose to withstand extreme water pressure and temperature. It is designed for long-term use. The impressive expanding design allows expansion from 17 to 50 feet long, or 3 times the original length. It easily shrinks when empty.
You can use the hose for various applications including garden watering, car washing, pet bathing, and yard or sidewalk watering, among others.
What Customers Are Saying:
Many users rave about the product's durability, functionality, and easy to handle features. Some are impressed by the superior design. Some even mentioned that this is the best hose they ever used.

But some users are disappointed by the brittle fittings. Some also mentioned experiencing leaks.
Contrary to manufacturer recommendations that the hose should not be used for pressure washing, and giving a psi rating of only 174, the solid brass connectors and the ¾" diameter suggest otherwise. Our tests indicate that the hose can withstand extremely high water pressure.
With a weight of 4.8 lbs. for a length of 100' (retractable to 33'), the hose can be consider lightweight. The double latex tube is encased in polyester fabric, and the 9-function nozzle is leak-free.
What Customers Are Saying:
Satisfied users rave about how well the hose works. Many are impressed by the lightweight and easy to use features.

Some dissatisfied users claim that the hose starts to leak after only a few uses. A few others said that the hose was easily punctured.
Best Expandable Hose with Brass Fittings
From 17', the Aterod Expandable Garden Hose expands to 50' as claimed, when connected to a spigot. The solid brass fittings can handle high water pressure without leaking either at the spigot or nozzle. The fittings are installed at the ends with durable self-locking connectors. The hose is ideal for all-weather use.
The hose comes with a 9-function nozzle ideal for various purposes like washing the windows, bathing your pets, and watering the garden, among others. Just turn the sprayer's yellow connector ring to change the spray pattern.
What Customers Are Saying:
Many users rave about the product's top quality performance, flexibility and light weight. Others simply love it, and consider it the best hose they ever owned.

Some users, however, had difficulty in maneuvering. Some claim that the fabric cover is prone to tears when used on rough surfaces.
Small but powerful best describes this garden hose. With an expanded length of 26', the LOOHUU Expandable Garden Hose is perfect for small gardens, patios, or yards. When empty, the hose is only 8', which is extremely light, and easy to store.
The hose is ideal for car washing, bathing pets, and other light watering tasks. It is tough and durable enough to withstand normal wear and tear. The included nozzle is capable of 10 spray patterns for various uses.
What Customers Are Saying:
Rave reviews talk about how great and easy to use the multi-function hose is in their small garden. Other users like its light and easy to maneuver features.

However, some reviewers claim that the rubber end connectors easily get loose. Others find the mist spray a bit too strong for small plants.
The moment you unbox the Delxo Expandable Garden Hose, you know you have an impressive product in your hands. You'll notice the hose's smooth fabric casing and know that it won't easily tangle. With a normal length of only 30', it can expand to 104' when used, which is more than thrice the original length.
The package includes a 9-function nozzle to use for various outdoor tasks. It comes with a repair kit that includes 3 spare rubber gaskets, a hose clamp, leak-proof tape, 2-way splitter, and a storage bag. This allows easy DIY repair when necessary.
What Customers Are Saying:
Many users are pleased that the hose comes with a DIY repair kit, and are pleased with the hose's overall performance. Others say that the product feels solid and leak-free.

Some users say they prefer that the sprayer is thumb-controlled and not trigger-type. Although an overall good product, one user says that the sprinkler options are confusing.
The natural latex core and polyester outer layer are responsible for Wyewye Expandable Garden Hose's extreme flexibility and durability. The leak-proof solid brass fittings are also corrosion-resistant even under extreme heat. The package comes with a 10-function spray nozzle, storage bag, and spare sealing rings.
The 100-ft garden hose is perfect for all garden watering tasks as it is lightweight and doesn't tangle or kink. It is likewise a breeze to roll up for storage.
What Customers Are Saying:
Most rave reviews mention the hose's flexibility and how easy it can cover the entire garden. Others also love the solid brass fittings and the spare sealing rings and other accessories that come with the hose.

A few reviewers question the hose's durability. They say they experienced leaks after only a couple of months, and some say their hose broke after only 1 year.
The best expandable garden hose for large areas can expand up to thrice its size or around 100 feet when in use. The Yuharq Expandable Garden Hose comes with ¾" solid brass connectors that are resistant to leaks, breaks, and rust.
The hose is also compact and light, and easy to maneuver around your yard – even when filled with water. It doesn't easily tangle, and it comes with a hose hanger and storage bag.
What Customers Are Saying:
For many users, the impressive expanding design is the product's best feature. Others love that the product is easy to use, compact, and lightweight. Customer service is also great.

On the other hand, some users say that the fittings aren't durable. Others experienced leaking.
Best Expandable Hose for Sprinkler
Made from tough fabric and 4 layers of latex, The TBI pro eliminates many common expandable hose problems: bursts, punctures, twists, and kinks. The hose is also innovatively designed with a protected anti-leak system.
The package comes with a lightweight and flexible 50' hose, 2-way splitter, zinc alloy sprayer, hanger, and storage bag. The tough brass fittings and shut-off valve are rust-free and guaranteed to last.
The TBI pro expandable garden hose can be used for various applications like watering your garden, washing your vehicles, and bathing your pets, among others. You can also attach it to a sprinkler system that will allow you to cover a large area.
What Customers Are Saying:
Many actual users rave about the hose's impressive performance. They claim it is very easy to carry and maneuver. The price is also affordable.

But there are also dissatisfied users who claim that their hose broke after less than a year. Others have difficulty in switching the valve on and off.
What to Consider When Choosing the Best Expandable Hoses?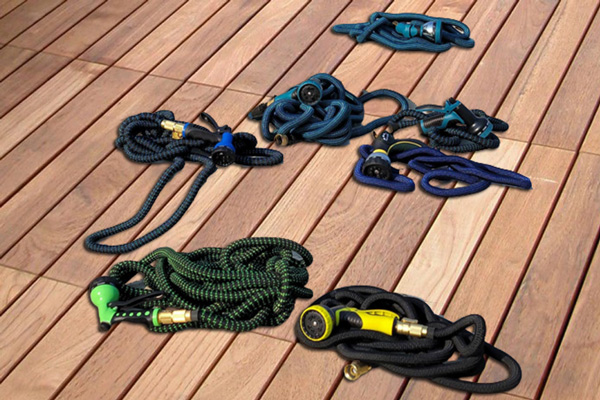 Expandable hoses are suitable for all tasks performed by traditional garden hoses – and more. They're ideal for homes with limited storage space, and for people who hate lugging heavy hoses around. They are easy to navigate through tight spaces where other hoses easily twist and kink.
The ideal expandable hoses gain length when filled with water, and drain themselves when not in use. Because of their light and kink-resistant outer shell, they are able to stand up to normal wear and tear.
The quality varies, depending on the materials, hose length, weight, fittings, and nozzles. Although the models we tested can work with any standard nozzle, most of them offer multi-function spray patterns.
Material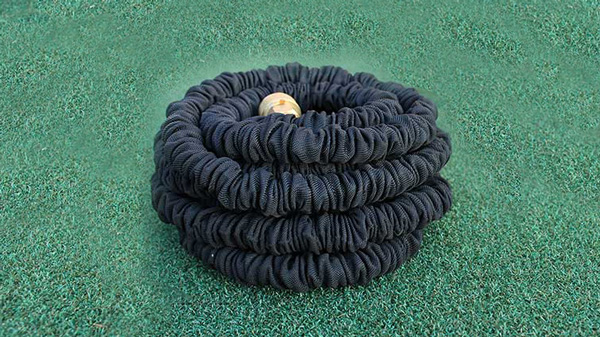 The hose materials determine the quality, expandability, and durability of the product. The exterior should be tough enough to protect the core from abrasions, punctures, and other damages. It must also be quick drying to prevent mildew.
The core must be resilient and pliable to quickly expand to the hose's full length when under pressure, then shrink to the original size after use. Following are some of the available core materials.
Latex – The material comes from natural rubber, and used in balloons, gloves, and other common items. Manufacturers use latex as core for expandable hoses often in 2 layers, but sometimes in 3 or 4 layers.
TPC – Thermoplastic copolyester (TPC) is a tough and durable material often included in industrial tubing. It is a bit pricey.
Protective shells are commonly made of nylon. Rugged and resistant to mold and mildew, the material can withstand regular garden and lawn use.
Inner Core/Number of Cores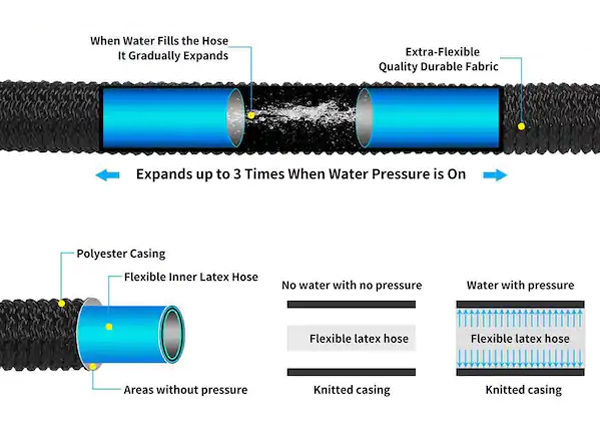 Typically, expandable hoses have a minimum of 2 latex inner cores. While the exterior fabric is designed to protect the core from abrasions and punctures, it can still get damaged when used on rough terrains. A second or third inner can prevent leakage if the first layer fails.
Hose Fittings
The hose is attached to a water source, spigot, or spray nozzle through fittings made of plastic, aluminum or brass.
Plastic. – Affordable but not as durable as plastic or aluminum, plastic is prone to cross-threading after frequent use that, in turn, leads to leaking.
Aluminum. – The material is more durable compared to plastic, but less durable than brass.
Brass. – The most durable material is also rust-free. It withstands frequent threading and unthreading better than other materials. Brass is also found in quick-connect fittings used in some expandable hose models where threading isn't necessary to connect the hose to a water supply.
Nozzle
Most expandable hose models use metal or plastic nozzles. Check the product description to know if the model includes a nozzle. Nozzles typically have several spray patterns for various applications. The better nozzles are equipped with a dial to select the spray pattern – from gentle mist for watering seeds to high-pressure jet stream for clearing cake mud from sidewalks and other tough watering tasks.
Other spray patterns may be available, including the following:
Shower – ideal for watering gardens and individual planters
Flat – ideal for young seedlings and fragile plants
Cone – covers larger areas like big gardens to prep for fertilizer application
Soak – ideal for watering shrubs and large trees.
Length
Hose length is typically 25, 50, 75, or 100 feet. Note, however, that the advertised length may not be achieved with low water pressure. For instance, your 75′ hose may only get to 65′ when attached to your spigot.
Weight
With expandable hoses, weight is practically a non-issue as models usually weigh only from 1.5 to 3 lbs., or about a fifth of a traditional hose. Nozzles and fixtures are the major contributors to the overall hose weight. Brass nozzles and fixtures, although more durable than plastic, are heavier.
Longevity
Expandable hoses are expected to last from 5 to 10 years, depending on how they are maintained. The hose is made of a 2-layer tubing (the inner layer protected by the outer layer), and expands under water pressure. This type of hose is less prone to kinks and punctures, and are extremely lightweight.
If the water pressure is too low, the hose may not expand properly. Because of the nature of the materials, the hose may be torn and punctured when used around sharp objects. The hose may last beyond the expected lifespan with proper care.
Flow Rate
Typical 5/8" expandable hoses have a flow rating of around 17 gpm on a standard spigot with 40 psi water pressure. A thicker ¾" hose has a flow rate of around 23 gpm.
Compact and Lightweight
Expandable garden hoses are compact and lightweight. They expand up to 3x the original length under water pressure, then shrink when empty. They are also convenient to store.
Without water, a 50-ft. hose shrinks to 17 ft. when empty for easy coiling and storage. It is important to remember that before watering your lawn or garden, you must uncoil the expandable hose to its max length away from delicate or young plants to avoid getting damaged as the hose expands rapidly.
Final Verdict
Expandable garden hoses are generally lighter, more compact, more flexible, and easier to store than traditional hoses. They are likewise less prone to kinking, tangling, and twisting. All the expandable hose models on our list are the best in their respective categories.
We hope the tips provided in this post will help you determine the specific expandable garden hose you need. Good luck!
---