Continental ContiTech Premium Commercial Grade Rubber Garden Hose Reviews:
Ease of Use

Quality

Performance

Price
Quick Summary:
For heavy duty use and durable, though a bit heavy and can be a bit hard to maneuver.
When looking for a garden hose, it is important to consider quality above all. You want a hose that is long-lasting, easy to use, and doesn't leak. After all, you don't want to waste money on something cheap, but will only last a few weeks.
The Continental Commercial Grade Garden Hose is billed as a tough hose. So, I bought one to try in my garden. Read the rest of this Continental Commercial Grade Garden Hose to see how it lives up to its claims and how it fares compared to other brands.
Continental ContiTech Premium Commercial Grade Rubber Garden Hose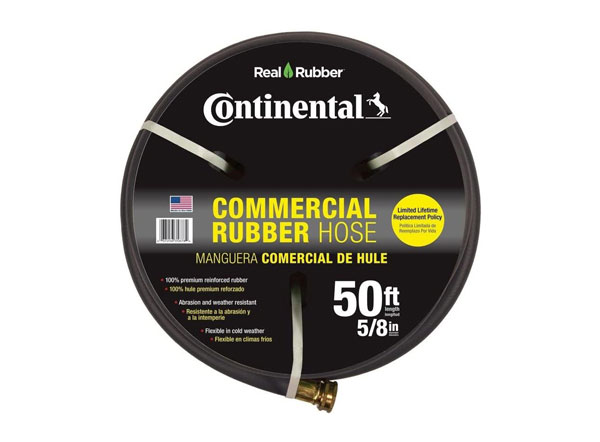 Made from premium quality rubber, the Continental Commercial Grade Garden hose is tough and abrasion resistant. However, it is a bit heavier than vinyl hoses, but definitely more durable. The hose is flexible and doesn't easily kink.
Being a heavy duty hose, the Continental garden hose can endure high water pressure. It is ideal not only for daily garden use, but also for commercial applications.
Note that the hose is a bit heavy. This wouldn't be a problem if you don't mind the extra weight.
Dimensions and Specifications
| | |
| --- | --- |
| | Continental Commercial Grade Garden Hose |
| | |
| | |
| | |
| | |
| | |
| | |
| | |
| | |
| | |
Features and Benefits
Following are the main features of the Continental Commercial Grade Garden Hose to help give you an idea on its performance:
Affordable
One thing I like about the hose is that it is affordable. The Continental garden hose costs only a little less than $30.00, which makes it more affordable compared to the $30.00 to $35.00 average price of other 5/8" rubber hoses.
All-Weather Use
Ideal for all-weather use, the product is flexible and generally performs well even in extreme cold weather. While I found the product suitable for use in all weather conditions, I don't advise storing the hose under the sun for a long time since it can make the hose brittle.
Durable Rubber Construction
I also like the premium rubber construction. This guarantees the Continental Commercial Grade Garden Hose to last a long time even with heavy duty use and under normal care and maintenance.
Flexible
Because it is made from premium rubber, the hose is flexible and doesn't kink often. I did experience some kinking, but all I had to do was to tug a little to loosen the kinks.
Lifetime Warranty
The product comes with a limited lifetime warranty. This shows the manufacturer's confidence in its product. It guarantees that the product is free from factory defects or it will send a replacement.
Tips for Using the Continental Commercial Grade Rubber Hose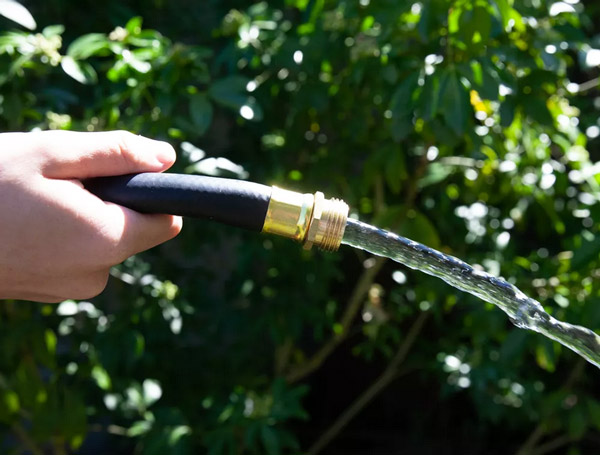 Following are some tips and suggestions to maintain the performance and prolong the life of your Continental garden hose.
Although intended for all-weather use, it is still best to store the product indoors and away from the sun to avoid discoloration and other damages.
Because of its weight, it is best to keep the hose on a reel for easier transport.
After using the hose, make it a point to drain it completely.
Although the hose is resistant to abrasions under normal use, it is best to avoid dragging it in rough surfaces to avoid punctures.
Continental Garden Hose Customer Reviews
After using the hose for several weeks, I found the Continental garden hose to be durable and flexible. To better evaluate the product, we searched online to determine what others think about the garden hose.
Many positive reviews rave about the durability and good performance of the product, especially in cold weather. Many find it affordable and good value for money. However, there are also some negative reviews that claim the garden hose is too heavy to lug around the garden. Some even say that it kinks easily.
Following are samples of the online reviews we found for the product.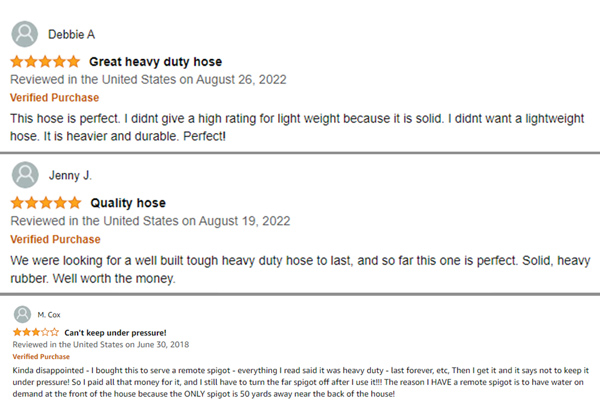 Alternatives
Giraffe Tools Hybrid Garden Hose 50 ft. x 5/8"
Made of hybrid rubber and polymer material, the Giraffe garden hose is lighter than other rubber hoses. It is also touted to be tough and abrasion-resistant.
The EADUTY hose is made from heavy duty PVC and rubber materials. Designed for flexibility, the hose does not kink easily under normal garden use.
Equipped with a no-kink technology, the Worth garden hose is designed to experience minimal to no kinking. The fittings are also rust proof, weather proof, and leak free.
Final Verdict
As mentioned earlier, high quality and durability are very important factors to consider when looking for garden hoses. There is no doubt that the Continental Commercial Grade Water Hose meets these criteria as it provides consistently good and long-lasting performance. However, you may find it a little heavy to carry around.
If you are not bothered by the extra weight, then the Continental garden hose may be for you, and you can check out the product here. But, if you want lighter options, then you may check out the alternative products featured in this post.