Apex Soaker Hose Review:
Ease of Use

Quality

Performance

Price
Quick Summary:
Good for smaller gardens but may not be as flexible as some other newer designs.
You want a lush and green garden in your front or backyard. But the problem is, you don't have the expertise to set up an elaborate irrigation system. No worries. A soaker hose is an excellent way of maintaining your flower and vegetable garden without complicated installation.
This Apex Soaker Hose review will tell you everything you need to know about the product. You'll also get helpful tips on how to use it.
Introduction to Apex Soaker Hose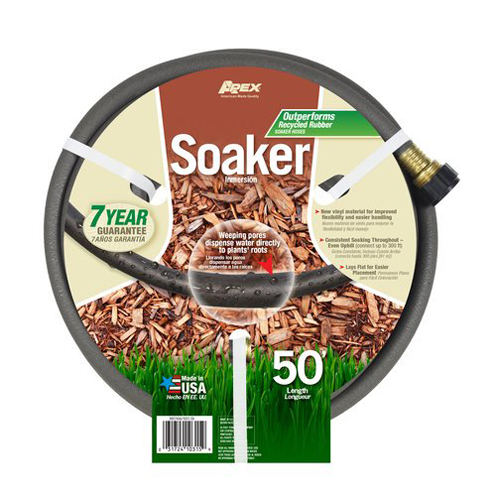 The Apex soaker hose is best for smaller gardens. If you love flowering plants or a raised bed of vegetables, this soaker hose is a great option.
This soaker hose is flexible enough, making it easy to snake around plants and corners. It's well-designed using vinyl as material, promising you years of use.
By using this soaker hose instead of traditional garden hoses, you can save from 30 to 70% more water. It does this by getting the water closest to the roots before it evaporates.
Apex Soaker Hose Features and Benefits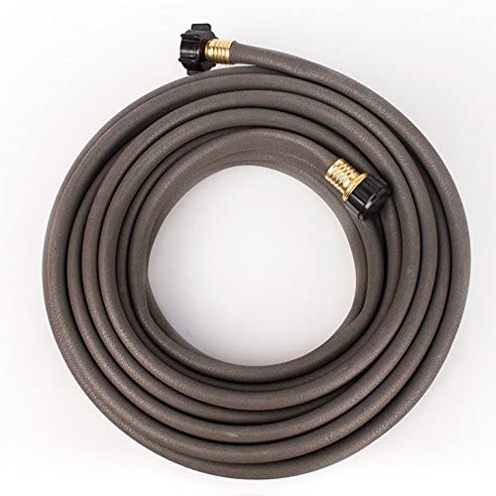 This affordable soaker hose from Apex is good if you are new to DIY gardening. It does not require additional tools to set up, and is durable, making it a practical choice.
Below are more reasons why this soaker hose is a good purchase.
Environment friendly – Made from recycled rubber; you help save nature when you buy this product.
Flows uphill – Some soaker hoses require a flat surface, but this soaker hose from Apex evenly distributes water along its length even in elevated areas.
Length options – Apex soaker hose comes in three lengths. 25, 50 and 100 feet. So no matter how small or expandable your garden is, there will always be a product for you.
Leak-free brass coupling – Its connector fits standard hose threads for convenience while ensuring that water only leaks where it's supposed to.
High quality – Made in the USA, you can trust that this product was created with quality in mind.
7-year guarantee – You know that this will be a long-term investment worth every cent.
How to Use the Apex Soaker Hose Successfully?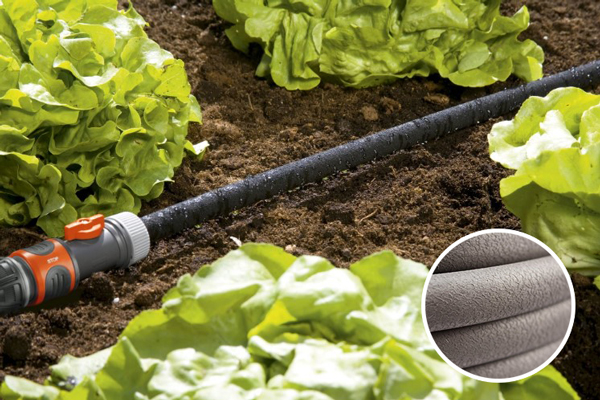 There is always the best and proper way of using any of your gardening tools. For your Apex soaker hose, there are also practices and methods you can follow to make the most of it.
Here are a few helpful tips for using the Apex soaker hose.
The soaker hose can become stiff, especially when stored for a long time. To make uncoiling this soaker hose easier the first time, try letting it sit and warm up under the sun for several minutes.
As mentioned previously, soaker hoses significantly lessen water wastage by delivering the water where it's needed. To help optimize your use of water, it is highly recommended to bury the soaker hose up to 4 inches under the soil. Covering it with mulch is also an excellent practice. This way, the water will make it to the roots faster than it can evaporate.
Be careful when turning up the water pressure. Even the best soaker hose is not safe from breaking due to too much water pressure. Gradually allow the water to fill the whole length of the hose. It will take a few minutes to do this, so please be patient.
Apex Soaker Hose Reviews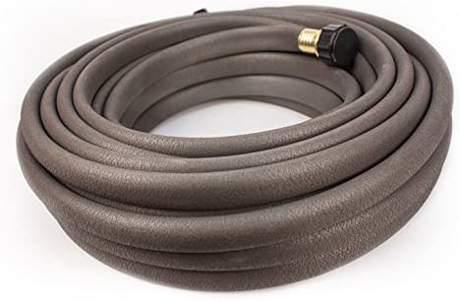 It's best practice to check online reviews before buying any type of product. So, I went ahead looking for what other users have got to say about the Apex soaker hose.
Users did complain about a few issues regarding its flexibility and soaking speed. Nonetheless, the Apex soaker hose delivered satisfactory results for these users.
Check out their comments below.
Alternatives
Maybe you find Apex soaker hose a bit expensive for your current budget, or it's simply unavailable at the moment. You can still get more or less the same performance with a few other brands.
If you need a longer soaker hose, try this one from Flexon instead. It is 100 feet long and comes with connector pieces for an elaborate setup. However, setting this one up will be more complicated than Apex.
Also made from recycled materials, its length of 100 feet is good for bigger gardens. You can cut it into shorter pieces for customized measurement and coupling using different types of connectors included. Like Flexon, installing this one will require more time than Apex's.
The same tubular design and environment-friendly material, this soaker hose is only available in 50 feet length. This is excellent for medium-sized yards. However, since there is no shorter alternative within the brand, there is little room for incremental extension.
Final Verdict
Using a soaker hose for your garden doesn't only help you conserve water. It also prevents fungal growth on your plants and fruits by keeping the tops dry.
Apex soaker hose achieves these without requiring you to do a complicated setup. And unlike other soaker hoses that fail to deliver water upward, with Apex, you can keep your plants and vegetable well hydrated even on elevated ground. And given enough space to bend, you can let this soaker hose snake around your garden without kinking.
If you're looking for a soaker hose to help you maintain your garden with ease, the Apex soaker hose is one of your best options.