GardGuard Expandable Garden Hose Review:
Ease of Use

Quality

Performance

Price
Quick Summary:
Easy to handle, lightweight, and flexible, the hose is perfect for day to day use.
This is an independent review of the GardGuard Expandable Garden Hose, one of the more popular
garden hoses
available on Amazon. Read on to find out how the
expandable hose
did in our tests, and if it is suitable for your needs as well.
When I decided to replace my heavy rubber hose with a lighter model, I immediately searched online for a good replacement. That was when I discovered lightweight, flexible, and expandable garden hoses. So, I decided to limit my search to the popular expandable hoses available today.
One popular option on Amazon is GardGuard Expandable Garden Hose. I wanted to know if it really lives up to all the hype it gets in online reviews, so I decided to try it for myself. I'm glad I did!
GardGuard Expandable Garden Hose
Made from extremely durable polyester fabric, the GardGuard Expandable Garden Hose boasts of unparalleled durability, flexibility and ease of use. It comes with a comfortable to handle spray nozzle that offers as many as 10 spray patterns. The hose comes in a 5-in-1 set that includes a hose hanger and storage bag for convenient storage and transport.
Note:
While the manufacturer offers a warranty, it is not clearly stated on its product page. Thus, it is best to clear it with the seller first before ordering, just to be sure.
| | |
| --- | --- |
| | GardGuard Expandable Garden Hose |
| | |
| | |
| | |
| | 3300D Polyester Fabric, Latex |
| | |
| | |
| | |
| | |
| | |
Features and Benefits
I tested the GardGuard Expandable Garden Hose under normal and some heavy duty conditions to find out if it will suit my needs. Following are the features that I liked and found beneficial the most:
Snug-Fitting Connectors
Although the fittings are made from aluminum, and not solid brass as I would have preferred, they fit snugly and leak-free. They were likewise easy to connect to my outdoor spigot and other water sources. However, only time will tell if they are durable enough to last for many years.
Easy to Use
The hose quickly expanded to its claimed maximum length of 50' when filled with water. I immediately used it to water my garden. I tugged the hose around concrete curves and trees in my backyard without problems. It was flexible and light enough to carry around. The spray nozzle was not cumbersome to use. It was comfortable and did not cause hand fatigue even after an hour of use.
Versatile
With 10 different spray patterns available, it allowed me to use different watering patterns, depending on what the plants need. I alternately used all 10 patterns just to verify the manufacturer's claims, although I didn't really need all of them – soaker, cone, jet, full, center, shower, flat, angle, mist, and vertical. Shifting patterns was easy, and only required a simple rotation on the knob.
Affordable Price
I suspect that the manufacturers were able to cut down on the cost by using aluminum instead of solid brass for the fittings. Well, it didn't matter to me as my testing revealed that the connectors worked just as well, though they may be a little less durable. I guess I just have to wait a little longer to know how long they can actually last.
Compact, Portable, and Easy Storage
After use, the hose self-drained quickly, and transformed into its original compact state. The included storage bag makes transporting convenient. It also takes up very little storage space in my garage.
Tips for Using the GardGuard Expandable Garden Hose
The GardGuard Expandable Garden Hose's expanding and contracting feature is impressive and nice to have. But, remember that although the garden hose is a fun garden equipment to use, it is not a toy. Thus, you should refrain from playing with its stretching feature. NEVER stretch and release the hose UNLESS it is filled with water. Otherwise, it may cause injuries when released.
It is also a good idea not to store your hose outdoors. Ideally, you should keep the hose in your garage or tool shed when not in use to prevent prolonged exposure to the elements.
GardGuard Expandable Garden Hose Customer Reviews
To validate my personal findings, I read online reviews to determine what other users think about the GardGuard Expandable Garden Hose.
Most rave reviews I found liked the product's lighter weight and more affordable price compared to similar products from competitor brands. Others cited the hose's flexibility and ease of use as the features they liked the most.
On the other hand, there are also negative reviews from unhappy customers. Some said that the quality of the aluminum connectors is questionable. One user complained that the product she got did not include a spray nozzle.
Following are screenshots of a few reviews from actual users:
Alternatives
If you need more choices to help you decide which expandable hose is ideal for you, here are a few good choices:
J&B Xpandahose Expandable Garden Hose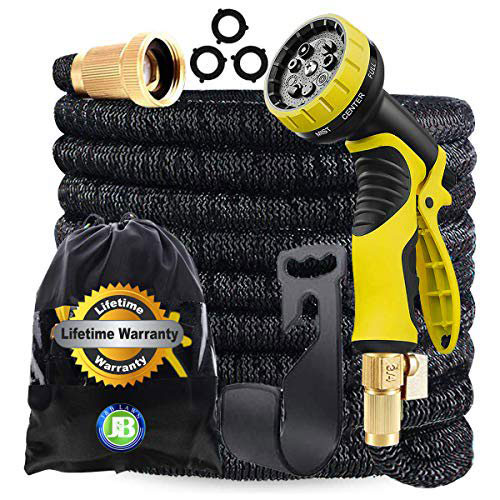 Lightweight and easy to carry, the J&B Xpandahose Expandable Garden Hose is also very versatile with its 10-function sprayer. Water volume and pressure control are also easy.
Final Verdict
If you are looking for an expandable hose for your regular gardening tasks and other light watering chores, then look no further than the GardGuard Expandable Garden Hose. The hose is perfect for everyday use. It is flexible, lightweight, and easy to maneuver. The comfortable handle gets rid of hand fatigue associated with traditional trigger-type hoses.
This review gives the GardGuard Expandable Garden Hose an impressive rating of 4.75 out of a maximum of 5 stars. While it performs well in most of our tests, its durability remains to be seen, and only time will tell if it can sustain its good performance for a long time.
For more information about the GardGuard Expandable Garden Hose, check out its product page here . You can leave your comments or feedback below.