For many, hand-watering is a no-brainer way to keep the gardens hydrated. It can also be meditative and enjoyable. But when summer comes, it becomes a chore – more so if you are covering a multitude of raised bed vegetables, perennials, bushes, and trees!
A better way to keep your garden healthy without breaking a sweat is by using a soaker hose. A soaker hose irrigation system makes gardening and farming much easier, cost-effective, and a lot gentler for young plants.
The soaker hose lets water slowly seep out of the entire length rather than a drip from holes (as with drip irrigation) or shoot out water (sprinklers). It waters the soil gradually, which gives the soil ample time to absorb moisture for a long time.
In this article, we will share the best soaker hoses in the market to get you started with this fantastic irrigation system, and how you can make a wise purchase.
Our Top Picks: 10 Best Soaker Hoses for All Needs
We looked at several soaker hoses on Amazon in search of the best soaker hose in the land. And by best, we mean suitable for every need. Below are the results:
Best Overall
It's a tie between Flexon and Gilmour – two of the most trusted brands in garden needs.
Flexon Soaker Hose – This 100 feet, 3/8-inch diameter Flexon soaker is designed to be non-clogging and porous. It adapts to any garden parameter and size, and can be modified since the soaker hose kit includes connectors. This is one of those soakers that need to be uncoiled and warmed up before use. It can be cut to split as a hundred feet will surely overwhelm a small or medium-sized garden.
Gilmour Soaker Hose – The Gilmour soaker hose is 75-feet long and flat. Its body is made of recycled vinyl and some fabric, and is designed to be clog-resistant. It is one of the cheapest on this list and even then, its manufacturers provide a 7-year warranty; makes an easy DIY watering system. It is great for low-pressure weeping for gardens that don't need heavy watering. Lightweight and flexible. It is recommended for warmer seasons and roll up during winter.
Best Bang for the Buck
Miracle Gro Soaker Hose – This 100 feet, 3/8-inch round Miracle Gro soaker hose comes with feeders for when you want to split water your garden. Note that the product arrives tightly coiled and stiff, so make sure to roll it out to the sun for at least half an hour or until pliable. It is very flexible and great if you want to tuck to narrow flowering bushes or buried under mulch. You would need to assemble this before putting it out to work. It is best for long straight gardens.
Runner-Up
Swan Soaker Hose – This 75 feet 1/2-inch diameter round Swan soaker hose can save you up to 70 percent water usage as it uses 75 gallons every hour. It is priced at the lower spectrum of this list and it provides a 7-year warranty. It boasts of a patented water flow restrictor to manage water flow. It works great for light gardening including flower beddings. That said, it is not best for high water pressure irrigation.
Melnor Soaker Hose – This particular Melnor flat soaker hose measures 75-feet long and is made of vinyl. It is extremely flexible and easy to store. It's also fairly priced. If you are up for light garden watering, with low pressure to use, this could be what you need. Make sure to start with low water pressure and gradually increase as you complete your watering program.
Best Quality / Most Durable
Osmile Soaker Hose – This Osmile round soaker measures 100 feet with a 5/8 inch diameter. It's a thick heavy-duty hose that is great at weeping slowly and evenly. With this length, you could wind this around mature plants, trees, and other water-hungry plants. But as with many soakers, you should watch out as water flow can decrease as it reaches the end of the hose. One of the caveats is it comes with a plastic cap for its price.
Most Versatile
Apex Soaker Hose – This vinyl round soaker measures 25-feet long with a 5/8-inch diameter. You could maximize its short length for vegetable gardens and seedling beds. It is light to medium-duty and this makes it pliable and easy to maneuver. One tip is to give it enough turning space to prevent kinks.
Eco Pick
Flexon Soaker Hose – Flexon soaker is environmentally friendly with no danger of polluting the soil.
Another Eco Pick is the Element soaker hose, 50-feet long and with a diameter of 3/8 inch. It is made of recycled rubber and is certified to meet lead-free standards. It's also great for reducing water consumption.
Best for Large Gardens
Element Soaker Hose – The Element soaker product line comes in varying sizes. This mid-length size is a great start if you are gradually building a soaker hose irrigation system for a large garden.
Or you can also use an Osmile 100 feet soaker hose for a full-fledged heavy-duty irrigation.
What to Consider When Choosing the Best Soaker Hose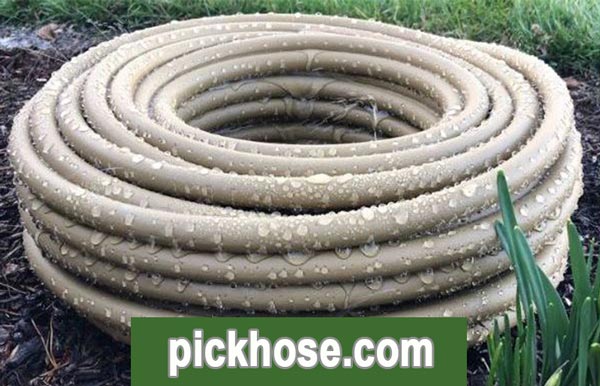 The soaker hose has served many people – from home gardeners to agricultural producers for a long time, and it has been innovated a lot. But the foundation of a reliable soaker remains unchanged. These are some of the things that matter in choosing your soaker hose:
Material
The soaker hose looks similar to your traditional garden hose but is porous. You will find it made of recycled rubber tires with tiny perforations all over where water weeps through. Other materials may be vinyl and polyurethane. Choose one that will last you several seasons. The material affects the weight of the product. Heavy-duty hoses are more durable and have no problem with kinks or wildlife. It also holds pressure much better. Light and medium-duty hoses are great for watering delicate or ornamental plants and deal with low water pressure requirements.
Flat or Round
Flat soaker hoses are commonly made of nylon-coated mesh and are perforated on only one side. These soakers are great for burying under light mulch and soil. It's also more stationary since it can't roll out of place, and winds up more easily around existing plants. Round ones are punctured throughout.
Because of its structure, it tends to be mobile, and more so in an unattended sudden increase of water pressure. But most of the time, it's not a problem. For some soaker hose users, round ones are more durable and less prone to damage and are also efficiently buried under mulch.
Length
The standard lengths for soaker hoses are 25', 50'or 100'. Of course, you can cut your hoses to suit your coverage or snake more of the length on areas that need more moisture. The thing about long hoses is that it tends to develop kinks and impede water pressure on areas that affect water distribution. Choose the length that suits your garden size, and do away with all the cutting and rearranging.
Pressure
The water pressure depends on the hose diameter. Soaker hoses come in either 5/8" or 3/4". Larger diameter hoses are great for holding more water and for uphill terrains. A wider diameter means it needs more water to fill in the tube per minute. It holds varying pressures well too. But if you are tending to plants that require lesser moisture and are laid on flat ground, narrower soakers will do the job more cost-effectively.
Flow Rate
The flow rate of a hose depends on its diameter, water pressure, and length. The idea is that the longer the hose, the smaller the diameter, and the lower the flow rate. You can compute the flow rate here. For example, a soaker hose with a 5/8 inch diameter may need around 200 minutes to water one inch of the ground. The time may change depending on the length of the hose.
Final Verdict
In this article, we narrowed down your choices to several soaker hoses that are available on Amazon. We also shared a few insights when deciding what is it in the product that you need to look for according to your needs. Remember to inspect the kind of material it is made of. Would you benefit from a flat or round design? How much length will you need to cover your area? How much pressure and flow rate does your garden need?
We hope we gave you a clear idea of what soaker hose to buy. Happy gardening!