TheFitLife Flexible and Expandable Garden Hose Review:
Ease of Use

Quality

Performance

Price
Quick Summary:
Compact, lightweight, and easy to maneuver, the FitLife garden hose is made from quality materials.
Compared to a regular hose, an expandable hose is lighter and more compact. At the same time, it can perform all the tasks the former can do. It is also more flexible, easier to use, and more resistant to leaks. TheFitLife Flexible and Expandable Garden Hose is supposed to be all that and more.
Read the rest of this FitLife Flexible and Expandable Garden Hose review to learn more about the product and how it can help you in your gardening chores.
TheFitLife Flexible and Expandable Garden Hose
Weighing a mere 2.7 lbs., TheFitlife Flexible and Expandable Garden Hose is easy to lug around while working in your garden. It expands to 50' or thrice its original size when filled with water. It then collapses back to its compact size of around 17' when emptied and ready for storage.
The hose's end is fitted with a brass valve to allow better water pressure and volume control. It also offers 8 spray patterns that you can use for various garden watering functions.
Dimensions and Specifications
| | |
| --- | --- |
| | TheFitLife Expandable Garden Hose |
| | |
| | |
| | |
| | |
| | |
| | |
| | |
| | TFL-2019NEW-BLACK-50FT-FBA |
| | |
Features and Benefits
Following are some of the main features and benefits of TheFitlife expandable hose:
Compact and Light
TheFitlife hose is very light and compact at less than 3 lbs. or just a third of the average weight of a traditional hose. Thus, TheFitlife is easy to use and carry. It also doesn't take a lot of storage space.
Expands and Retracts Quickly
Preparing the hose for use doesn't require a lot of wait time as it fills up and expands quickly. Once you're done, it only takes a few seconds for the hose to retract after emptying. This saves a lot of time and effort.
Flexible and Kink-Free
The hose is designed for flexibility, and kink & twist-free operation. You know how annoying and tedious untying garden host knots can be. This is almost a non-issue with TheFitLife.
High Quality Materials
The inner tube is 100% latex to ensure product durability and strength. It is designed to easily handle water pressure of as much as 145 psi. The solid brass fittings won't rust or crack under normal use, and allow for efficient water control.
8-Pattern Spray Nozzle
The hose comes with an 8-function spray nozzle to address different types of watering needs. You can easily select a particular function by rotating the bezel switch. The non-slip grip makes the hose easy and comfortable to use.
Tips for Using TheFitLife Flexible and Expandable Garden Hose
Here are some useful tips that can help prolong the useful life of TheFitLife Flexible and expandable Hose:
The garden hose is intended for use only with water; never use it to run other liquids and chemicals.
Make sure that the shut-off valve is "off" before you start filling the expandable hose to allow it to expand to its full length.
Always turn the water source off when not using the hose as even subtle drips can damage the expandable hose when it is not in use.
Even if the hose is self-drying and retracts on its own, try to squeeze the nozzle just to make sure that the hose is completely drained.
Keep the expandable hose away from harsh weather conditions to avoid potential damage.
Customer Reviews for TheFitLife Flexible and Expandable Garden Hose
Knowing what actual users think about a particular product is helpful in buying decisions. Thus, it is a good idea to learn what users think about TheFitLife Flexible and Expandable Hose.
Many satisfied users rave about the product's easy to use and lightweight features. Others like how the hose quickly expands and retracts, and how convenient it is to store the hose.
However, there are some displeased users who said that the product doesn't work well on uneven and hard surfaces as the fabric cover tends to get easily snagged. Others mentioned the poor quality of the nozzle.
Following are screenshots of some of the online reviews we found:
Alternatives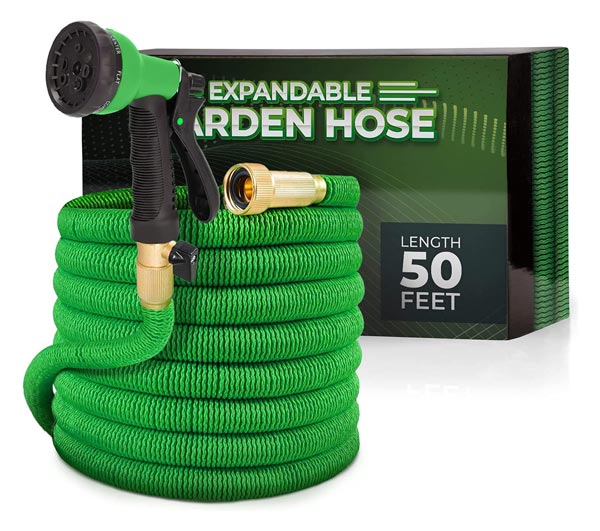 From its original compact size, the Joeys Garden Expandable Garden Hose quickly expands to 50' or thrice the original length when called into action, then just as quickly retracts once empty. It is flexible, durable, and easy to use.
Equipped with a 10-function nozzle, the GardGuard Expandable Garden Hose offers more than what other brands provide. This allows for more watering options. The hose is also comfortable and easy to handle, thanks to its ergonomic and non-slip handgrip.
The Aterod Expandable Garden Hose delivers a tough and leak-free performance even when fully-stretched. Ideal for all-weather use, the hose can handle high water pressure without bursting.
Final Verdict
The ideal expandable garden hose, as mentioned, must be both flexible and lightweight enough to lug around as you do your garden watering chores. It must also be versatile enough to be useful in various watering requirements. This review finds TheFitLife Flexible Expandable Garden Hose up to the task, and offers a decent performance.
To learn more about the product, just click on this link. You can leave your comments and feedback below.